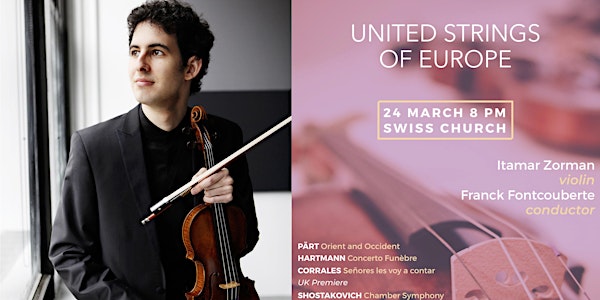 USE - Orient and Occident - Itamar Zorman's London Debut and Swiss Premiere
Location
The Swiss Church in London
79 Endell Street
London
WC2H 9DY
United Kingdom
Description
For the second instalment of the NEW HORIZONS International Artist Series, the United Strings of Europe will be joined by celebrated violinist Itamar Zorman in a programme that includes the UK Premiere of Swiss-El Salvadoran composer Arturo Corrales' Señores les voy a contar.... The performance at the Swiss Church will also feature United Strings of Europe's Principal Conductor Franck Fontcouberte.
24 March 2019 at 8 PM
Swiss Church in London, 79 Endell St, London WC2H 9DY
Pärt Orient and Occident
Hartmann Concerto Funèbre (soloist: Itamar Zorman)
Corrales Señores les voy a contar
Shostakovich Chamber Symphony Op. 110a
United Strings of Europe (leader: Julian Azkoul)
Conductor: Franck Fontcouberte
The performance is supported by Arts Council England and the Swiss Church in London.
Itamar Zorman

The recipient of an Avery Fisher Career Grant and a Borletti-Buitoni Trust award, joint winner of the 2011 International Tchaikovsky Competition, Itamar Zorman has appeared with, among others, the American Symphony Orchestra in Carnegie Hall, Het Gelders Orkest in the Concertgebouw, the Tokyo Symphony in Suntory Hall, as well as the Jerusalem Symphony, Israel Philharmonic, Haifa Symphony, Polish Radio Chamber Orchestra, Südwestdeutsches Kammerorchester, Philharmonie Baden Baden, St. Petersburg Philharmonic, and Russian State Symphony Orchestra. His performance with the United Strings of Europe will mark his London debut.
Franck Fontcouberte
Formerly an orchestral percussionist, Franck Fontcouberte forged his craft with David Robertson, Zoltan Pesko, Armin Jordan and Pierre Boulez. Professor of Orchestral Conducting at the Conservatoire for the Region of Montpellier, Franck is Principal Conductor and Artistic Director of Orchestre 'Contrepoint', Director of the Chorale de Sète and Artistic Director of the festival 'MusicaSète'. He has been invited to conduct in Belgrade, Kotor, London, Rome, Florence, Athens, Istanbul, Barcelona, Valencia, Salzburg, Riga, Prague, Szombathely, Durban and Johannesburg. He has recorded a number of CDs and DVDs, including Liszt's Coronation Mass, Verdi's Requiem, Mozart's Symphony No. 29 and Great Mass in C Minor, Puccini's Messa di Gloria and Bartok's The Miraculous Mandarin.
Arturo Corrales

Born in El Salvador but established in Switzerland, Arturo Corrales pursued composition studies in Geneva and Lugano with Eric Gaudibert, Nicolas Bolens, Michael Jarrell, Nadir Vassena; electroacoustics with Rainer Boesch, Luis Naón, Eric Daubresse; and orchestral conducting with Giorgio Bernasconi. Winner of the Edmund Pendleton Prize in 2004, co-founder of the Ensemble Vortex in Geneva, Corrales has a Masters in Musicology from Paris VIII Univeristy where he studied with the composer Horacio Vaggione.
Imbued with a resolutely experimental approach, his creative work is often inspired by ethnic and popular sources. Constantly attentive to the formal coherence of his works and to the control of their projection in space and time, he wants to facilitate the expression and perception of a "liveable and human" music.
Alongside his activities as a composer, performer and conductor, Arturo Corrales teaches the guitar and is a professor of composition and analysis at the Conservatoire Populaire in Geneva; he was recently awarded a Doctorate in Musicology from the University of Geneva, with a very honorable mention and unanimous praise from the jury.