User Experience (UX) workshop
User Experience (UX) workshop
Sat 5 November 2016, 10:00 – 14:00 CET
Description
A technológia fejlődése új helyzeteket teremt a vállalkozások, a tervezők számára és a piaci versenyt is növeli. A technológia fejlődése a vásárlói igényszint emelkedését is magával hozza. Nagyon sok vállalkozás a felhasználói élményre úgy tekint, mint egy érintkezési pont, a felhasználó és egy online felület vagy termék között. A legsikeresebb cégek azonban figyelembe veszik a Brand/vállalkozás minden részét - a terméktől a csomagoláson át a munkatársak viszonyáig a felhasználókkal vagy a vállalkozással szemben. Mindent.
A piacvezető vállalkozások ügyfélcentrikus modellt építenek fel, amelyek a felhasználókkal történő interakciókon, párbeszédeken alapulnak. A design thinking és a human centred design módszerei ebben, az új lehetőségek felfedezésére és egy teljesebb és jobb felhasználói élmény tervezésére adnak lehetőséget.
Workshopunk segít
- megérteni hogy mit is jelent az hogy User Experience
- hogyan hozz ki többet a felhasználóiddal való kutatásból
- megérteni hogy miért fontos a UX kutatás
- megérteni, hogy milyen lépései vannak egy UX projektnek
- megérteni, hogy hol tudod a leghatékonyabban alkalmazni.
A Központban az ember workshopjait elsősorban olyan magánszemélyeknek, vállalkozásoknak, alapítványoknak vagy egyéb szervezeteknek ajánljuk, akik felhasználókkal közösen akarnak pozitív változást elérni.
A workshopon általában a következő módszereket vesszük át
- Interviewing
- Contextual interviewing
- Five whys
- Abstraction laddering
- Persona maps
- Rough, Ready prorotyping
- Round Robin
- Bull's eye diagramming
Kiknek, mikor ajánljuk?
Emberközpontú (Human Centred Design) megoldások tervezésénél nem az az elsődleges szempont, hogy szebb vagy jobban eladható terméket, szolgáltatást tervezzünk, hanem hogy a felhasználók igényeit szem előtt tartva és velük együttműködve értéket teremtsünk.
A jegy tartalmaz egy reggeli Nespresso kávét vagy teát és délutáni snacket.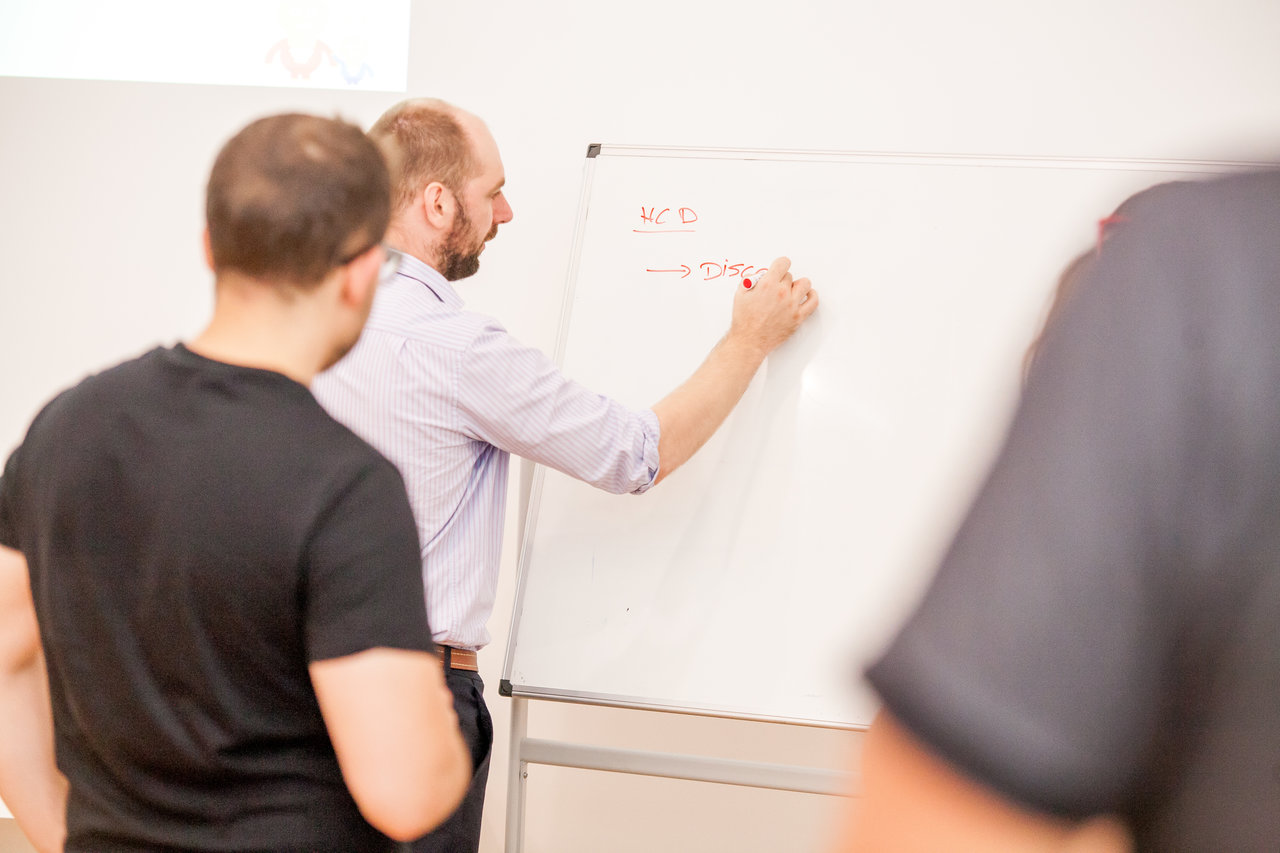 Felhasználási feltételek
Nem áll módunkban a kifezetett összeget semmilyen formában visszatéríteni vagy visszafizetni. Egy jegyet csak egy alkalommal lehet felhasználni és nincs lehetőség azt egy következő workshopra átvinni. Kérjük vegyék figyelembe, hogy a változtatás jogát fenntartjuk és 14 nappal a workshop előtt jogunkban áll az időpont módósítására vagy törlésére. Amennyiben ilyen eset előfordul akkor arról a workshopra regisztrálókat értesítjük és visszatérítjük a teljes jegy árát vagy felajánlunk egy következő workshop dátumot. A Francis& Son Ltd. nem tartozik felelősséggel semmiféle felmerülő költségért, amely a workshopra történő eljutásból származhat.
Francis& Son Ltd. a regisztráció során birtokába jutott személyes adatokat (például név, telefonszám, emailcím, stb.) harmadik félnek nem adja át, nem értékesíti, és azokat kizárólag saját, megjelölt tevékenységei céljaira használja fel.
Terms and Conditions
We do not offer refunds. We do not permit transfers from one workshop date to another. However it is possible to send someone else in your place should you be not able to attend. 
Also, please note that we reserve the right to cancel any public workshop up to fourteen (14) days prior to the start date of that workshop. In such a case, registrants will be promptly notified and will receive a full refund or be given the option to attend a future public workshop within six (6) months. We are not responsible for travel expenses or any costs that may be incurred as a result of a cancellation.
All materials and handouts provided by Francis& Son during the workshop are published, copyrighted works proprietary and owned exclusively by Francis& Son and its licensors. Workshop participants do not acquire title nor ownership rights in any of these materials, and agree not to reproduce, modify, or distribute any of the materials received from or provided by Francis& Son.