Using Creative Approaches in Supervision workshop with Jo Birch and Shirley Smith
About this Event
Supervisors (and Supervisees) often ask:
'How do I introduce creative approaches with image cards into my work online?'
and then....
'When someone selects an image…. what shall I do next?'
We hope that you might explore these, or any other questions, for yourself during our session. It will be a highly experiential workshop - drawing on our imagination, and our capacity to create visual metaphor through image cards in a virtual setting.
Today we will play with tools suitable in a range of settings for supervision as well as counselling and coaching – experiencing working with, and facilitating, using simple decks created through set of cards, magazine images and virtual boards.
We will offer a check-in exercise with images, a practical section on making virtual card decks suitable for your work, a demo supervision with practice space for you in small groups.
The instruction on creating your own deck will be available as a PDF after the session.
Maybe you will come prepared to dive in ...SPLASH! or perhaps you would like to dip a toe DIP...or simply test the water SWISH? However you arrive....you are welcome!
You will be able to practice and play with others in the group. The joy with creative tools is that we can immerse ourselves in an imagined world....and, part of the practice, is to also hold the responsibility of that enormous privilege. Working with imagery is fun, playful and light....and it also requires great daring and sensitive, skilled facilitation.
Want to explore this some more? Come along and join us.
Bring your tool kit.
TODAY'S TOOL KIT
A willingness to bring, and engage in service of the learning of self and others
A willingness to engage with technology
Image cards (a physical set!), magazine with images / photos, or postcards.
Our sessions are based on the Person-Centred Approach of working with art pioneered by the late Liesl Silverstone and the concept of simple rules which hold our practice.
This workshop will be hosted on the Zoom meeting platform where we will use our camera and microphones to interact with each other as a group.
To support practitioners in this time of extraordinary circumstances we are offering access to this group for a self-select fee.
The self-select fee is a radical inclusion policy to open learning for all colleagues. The guide price for this event is £20.00, however, we appreciate that income varies greatly in different locations and circumstances. Please contribute what you can to help us maintain inclusive professional training.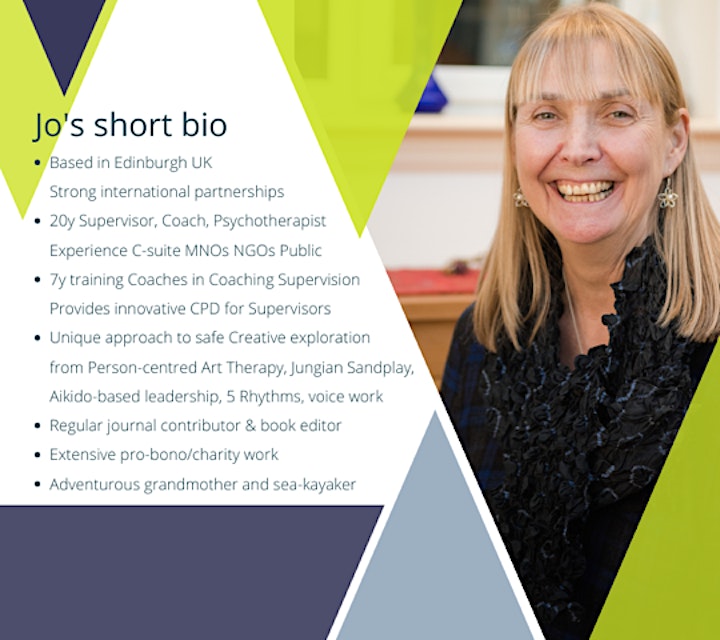 Jo Birch
Jo has been working with creative approaches for over 20 years. Previously one of Liesl Silverstone's small team of specialist trainers for Person-Centred Art Therapy Skills courses, Jo integrates creative approaches throughout her portfolio of work. She has extended her skills in creative approaches through Jungian Sandplay, Aikido-based leadership with Wendy Palmer (Leadership Embodiment), Toke Moeller (Warrior of the Heart/Practising forPeace); 5 rhythms dancing; voice work and more. Jo is currently exploring social presencing theatre, and the application of drama based techniques and improvisation in counselling/psychotherapy, coaching and supervision.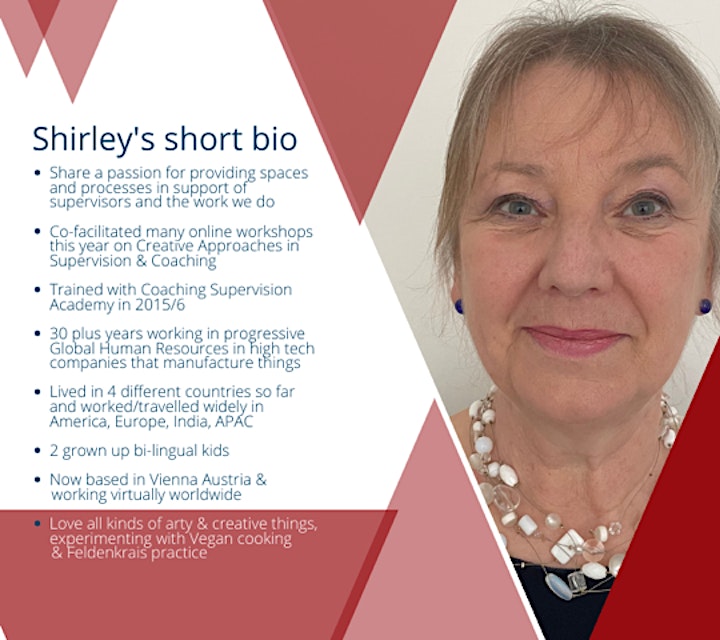 Shirley Smith
Shirley works mainly with people who are either themselves, or the people they support, living in a different country from where they were born. Perhaps thinking in or speaking a language that is not their mother tongue. As a coach, supervisor and facilitator creative tools provide a gateway to a different way framing themes, discovering possibilities and expressing difficult emotions or dynamics when our constraint of language can not readily or easily express what we are feeling or experiencing. From first hand experience Shirley believes that imagery, art based and embodied approaches can work both in-person and virtually. These are tools and skills that anybody can learn. Shirley has fine-tuned her skills in working with creative tools on a foundation of over 30 years in global human resource roles enabling both organisational and leadership development.