Description
As we all know, content plays a crucial role in the sales and conversion funnel. Whether to inform a buyer about a product description or maybe to engage and inspire a target audience to book their next dream trip, hotel stay or flight with your brand.
In association with SEMrush this month we will be looking at how data can be used to create content that is relevant, topical and has the potential to reach a wider audience than might usually.
This webinar will also be looking at how content plays a crucial part in the user journey as well as your brands CRO, PPC, SEO, and UX strategy.
Ashley Ward from SEMrush will discuss how we can use data to generate new topic ideas and create content that your chosen demographic wants to engage with. Looking specifically at the travel industry and we'll be analysing a set of data based on search volumes.
Key takeaways from this webinar will be:
How to use data to inform content creation decisions

How to reach a wider and more engaged audience
Why the user's journey is important in creating experiences that convert
Webinar details will be shared automatically upon event registration.
---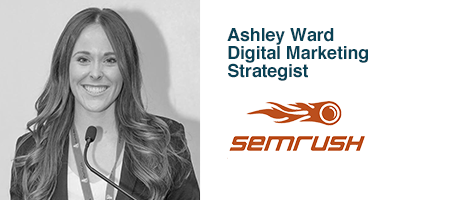 Ashley Ward is a Digital Marketing Strategist at SEMrush, an all-in-one digital marketing tool. Her passion is focused on helping businesses and marketing professionals gain long-term ROI through teaching content and social media marketing techniques.
Speaking both internationally and throughout the US, Ashley regularly teaches workshops and speaks at conferences like Pubcon, BrightonSEO, SearchLove, Digital Summits, Retail Global, and SMS Sydney.