Multiple Dates
USING INK TO THINK workshop: Scriberia's key techniques for visual thinking
Event Information
Refund Policy
Refunds up to 7 days before event
Eventbrite's fee is nonrefundable.
Become a better visual thinker and communicator with Scriberia's foundation drawing course for non-artists
About this Event
In our challenging world, how effective are your standard ways of presenting, reporting and planning? How easy is it to share complex ideas and collaborate to solve problems? Do you need more lively ways to fire up people's energy, attention and imagination? Especially for colleagues and clients who are tired of reading reams of onscreen words?
Scriberia is a world-leading visual storyteller. Everything we do is drawing-based. We know just how effective a simple picture can be in cutting through confusion, uncertainty and disengagement. So we've created this 2-hour live and interactive workshop as our foundation course for non-artists. It's designed to help you get started on using drawing to explain things more clearly, tell better stories and get to the point more quickly than you could with words alone.
When is it happening?
Choose your preference from these upcoming dates:
Thursday 25 February 2021, 15.00-17.00 London time (GMT)
Thursday 25 March 2021, 15.00-17.00 London time (GMT)
Thursday 22 April 2021, 15.00-17.00 London time (BST)
Thursday 27 May 2021, 15.00-17.00 London time (BST)
What will I learn?
• Build your skills and confidence to use drawing as an everyday tool
• Gain simple techniques to tackle any drawing challenge
• Understand that a drawing is good if it does its job, regardless of whether it looks "artful"
• Develop a visual language in common as a team
• Go from drawing simple objects to people, action, emotions, and more complex concepts and scenarios
• Discover how drawing helps you analyse and explain
• Ask our experts
• Come away with techniques and inspiration to keep drawing to help you think, work, create and communicate.
How does this Scriberia Academy session work?
You'll be coached in a group live on Zoom by one or more of our expert trainers. We'll take you through a series of fun lessons and practical drawing exercises together to discover Scriberia's essential methods for visualising anything. Our aim is to give you the core techniques and confidence to start using drawing as a powerful multipurpose means for thinking, creating and communicating.
At the end of the session we'll send you a poster (PDF) summarising the ten key lessons so you can keep referring back to it as you develop your practice.
What special drawing tech do I need? (Just paper and pen)
It often feels safer to make pictures with digital tools. But they can distract from the task or muddy the message. So this workshop focuses on capturing clear and sharp ideas at speed just with paper and pen. That means you don't need special kit to take part. We will, though, recommend drawing software for your own projects outside the session.
Who trains with Scriberia Academy?
We set up Scriberia Academy to help adults from any background or discipline build drawing skills for critical thinking, creative problem-solving and flexible collaboration. We've trained architects, media planners, data analysts, engineers, health researchers, marketing executives, museum professionals, policy advisers, product managers, teachers, strategy consultants, science communicators, software engineers and UX designers. We've run workshops for Bupa, D&AD, Deloitte, Facebook, Google, IDEO, Mars, Mediacom, News UK, NHS England, Oxfam, the Royal Society, M&C Saatchi, Springer Nature Digital, Suntory, Tesco, Twitter and the UK Government.
"Scriberia show even the most hopeless doodler how to capture and communicate ideas in their simplest form, with tricks and tips that make drawing a useful everyday work tool. And it's all done with immense charm." — Tom Firth, Managing Director, M&C Saatchi
"I got back to my desk the next day and started to draw. Things I'd been trying to visualise came out so much better. Drawing things out helped my thinking and helped me evolve my own ideas. And, using drawing to pull ideas out of other people - getting them more comfortable with ideating visually - is great!" — Oz Maqsood, Global Head of Business Analysis, Springer Nature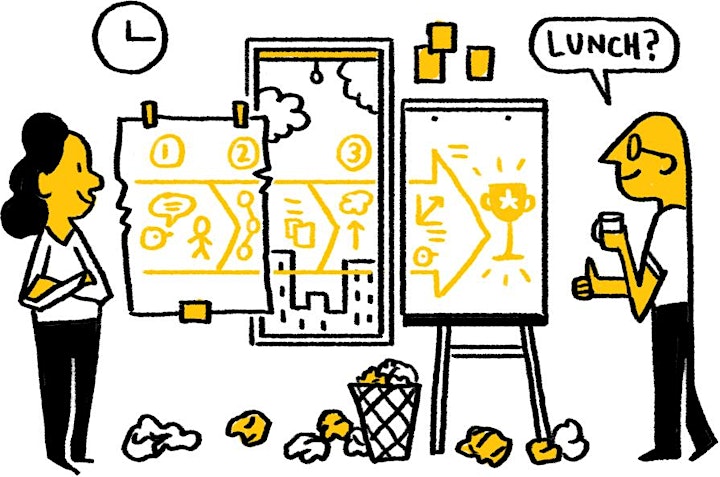 "Scriberia did a fantastic and impressive job of navigating everyone through a series of hands-on exercises that raised the collective confidence in being able to visualise our ideas."
Richard Beecroft, Associate Director, Mediacom
Location
Refund Policy
Refunds up to 7 days before event
Eventbrite's fee is nonrefundable.