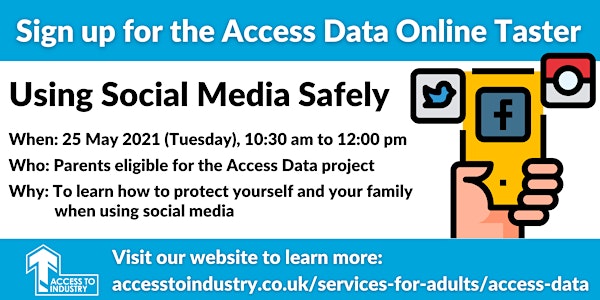 Using Social Media Safely - Access Data Taster Session
Access to Industry would like to invite Edinburgh parents to our Access Data Online Taster Session titled "Using Social Media Safely."
About this event
How can you protect yourself and your family when using social media? Based on advice from the National Cyber Security Centre, we will highlight some of the current social engineering cyber-attacks related to COVID-19 and show you the steps to take to protect yourself.
You'll see live demonstrations of attacks and learn how to spot them. Then you'll get the chance to get your own cybersecurity questions answered.
These tips will help you feel more confident about using a computer safely. No technical knowledge is required to take part.
The session will take place on Tuesday, 25 May 2021, 10:30 am – 12:00 pm. Our taster sessions are aimed at parents eligible for the Access Data project (see below).
Who can register:
Access Data is made for parents, or those with parental responsibilities, living in the City of Edinburgh, who are either unemployed or on a low income, and find themselves in one or more of the groups listed below:
They are disabled or have a disabled child
They are from a minority ethnic background
They are a lone parent
They have 3 or more children
They have a child below 1 year of age
They are below 25 years of age
To learn more about Access Data, please visit our website.