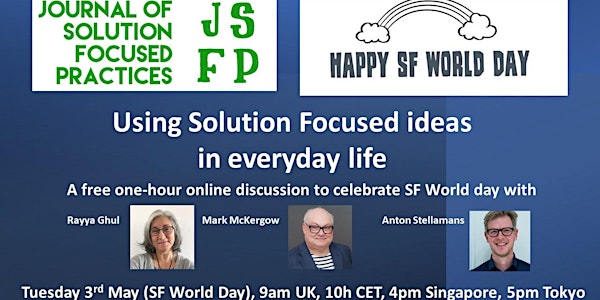 Using Solution Focused ideas in everyday life (SF World Day)
Do you want to use more Solution Focused ideas in your everyday life? Find ways forward, handle tough situations, clarify your next steps..
About this event
The Journal of Solution Focused Practices (JSFP) is a free online resource, available to all. While it is a peer-reviewed journal aimed at an academic audience, it is also a source of all kinds of information, inspiration and ideas which can be used in many settings.
In this free one-hour session on SF World Day (3rd May) Rayya Ghul (University of Edinburgh, UK), Mark McKergow (SFWork, UK) and Anton Stellamans (Ilfaro, Belgium) will each be picking a paper from the journal and, with the aid of some very special guests, be showing how they use Solution Focused (SF) ideas in 'everyday life'. That means not therapy, coaching or professional helping – it's about how we go about tackling the challenges, the ups-and-downs that life presents us.
Among the topics to be discussed on the call are:
• Using SF in disagreement (led by Rayya)
(Read the paper Co-Creating Solution Focused Conversations in Disagreement by Marcella Stark, Rayya Ghul, Marjan Gryson, Brian Jennings and Jonas Wells)
• Finding ways forward in tough situations with an SF Aesthetic (led by Mark)
(Read the paper Solution Focused Work as an Aesthetic by Mark McKergow)
• A Taste of Wittgenstein SFBT. 1: The Tractatus (led by Anton)
(Read the paper A Taste of Wittgenstein SFBT 1: The Tractatus by Nick Drury)
These papers are free to access, read and download, as are all JSFP papers. (And you don't need to read them before the session... though you could.)
This is a grand opportunity to connect with some experienced SF practitioners and thinkers, and meet those from around the world who would like to use the powerful and pragmatic SF approach in many small ways to cope and thrive in tackling everyday life. After all, as writer Annie Dillard put it,
"How we spend our days is, of course, how we spend our lives."
Come and join us for this very special hour. Free to join, all welcome.
SF World Day is celebrated on 3rd May every year. It is the anniversary of the publication of Steve de Shazer's paper The Death Of Resistance in 1984, a key step in the development of Solution Focused practice.