Description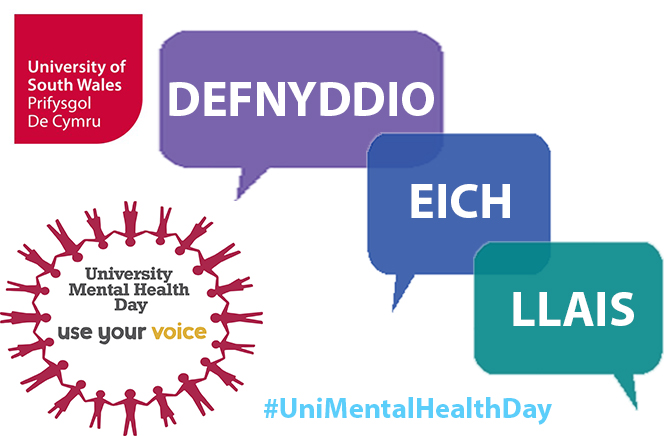 I ddathlu Diwrnod Iechyd Meddwl Prifysgolion ym mis Mawrth 2019, mae Prifysgol De Cymru yn eich gwahodd i Ddefnyddio Eich Llais; cyfle i glywed lleisiau dau unigolyn llawn ysbrydoliaeth yn adrodd eu straeon ac yn rhannu'r hyn maen nhw wedi'i ddysgu o'u profiadau am bwysigrwydd iechyd meddwl da.
Noder: Caiff y digwyddiad hwn ei gynnal ar ddydd Llun 4ydd Mawrth ac mae Diwrnod Iechyd Meddwl Prifysgolion ar ddydd Iau 7fed Mawrth.
Elusen yw Amser i Newid Cymru sy'n ceisio gwaredu'r stigma sy'n gysylltiedig â materion iechyd meddwl. Daw eu Pencampwyr o bob math o gefndiroedd ac maen nhw'n adrodd eu straeon personol am ddioddef a rheoli eu materion iechyd meddwl. Yn 2017, llofnododd PDC Addewid Cyflogwyr Amser i Newid Cymru i ddangos eu cefnogaeth i helpu'r elusen i wireddu eu gweledigaeth.
Cafodd Ben Smith ei fwlio yn gyson yn blentyn, gan olygu nad oedd ganddo unrhyw hyder na synnwyr o hunan-werth. Pan oedd yn 18 oed, ystyriodd mai hunanladdiad oedd ei unig opsiwn. Er goresgyn hyn i ddringo'r ysgol gorfforaethol a dod yn ddyn busnes llwyddiannus, roedd Ben yn dal i ddioddef o iselder, a dim ond ar ôl cael strôc rannol y sylweddolodd fod angen iddo newid ei fywyd. Ar ôl derbyn cynnig gan ffrind i fynd i glwb rhedeg, er syndod iddo dechreuodd fwynhau rhedeg. Filltir wrth filltir, cynyddai hyder Ben. Daeth yn fwy gonest gydag ef ei hun ynglŷn â phwy oedd go iawn. Newidiodd ei fyd er gwell, a llwyddodd i gyflawni campau athletig rhyfeddol, gan ysbrydoli eraill ar hyd y daith. Gan redeg 401 o farathonau mewn 401 o ddiwrnodau, sefydlodd Ben y 401 Foundation i helpu prosiectau a mentrau llawr gwlad sy'n ymwneud â chymorth gwrth-fwlio ac iechyd meddwl. Er mwyn ceisio ei herio ei hun ymhellach, mae Ben yn cynnig her newydd, y 401 Challenge, yn yr Unol Daleithiau, sy'n cynnwys 50 marathon mewn 50 talaith, a seiclo rhwng prifddinas pob talaith, sy'n gyfanswm o 18,500 milltir mewn 104 o ddiwrnodau.
Mae'r digwyddiad hwn yn agored i bawb, yn rhad ac am ddim, gan gynnwys parcio a lluniaeth ysgafn. Byddwn yn casglu rhoddion gwirfoddol i bob elusen sy'n bresennol ar y nos, neu gallwch roi drwy ein tudalen.
Bydd gan elusennau partner PDC – Llamau, Amser i Newid Cymru a Stonewall Cymru – ac elusennau iechyd meddwl lleol eraill, gynrychiolwyr ar gael i siarad am eu gwasanaethau.
Caiff y digwyddiad hwn ei gynnal gan Grŵp Lles Staff PDC, sef grŵp o wirfoddolwyr o blith y staff.
Lluniaeth a rhwydweithio yn cychwyn am 17:00 a'r siaradwr cyntaf am 17:30.
Os oes gennych unrhyw ofynion neu ymholiadau ynglŷn â'r digwyddiad hwn, cysylltwch â, Coralie Slight, coralie.slight@southwales.ac.uk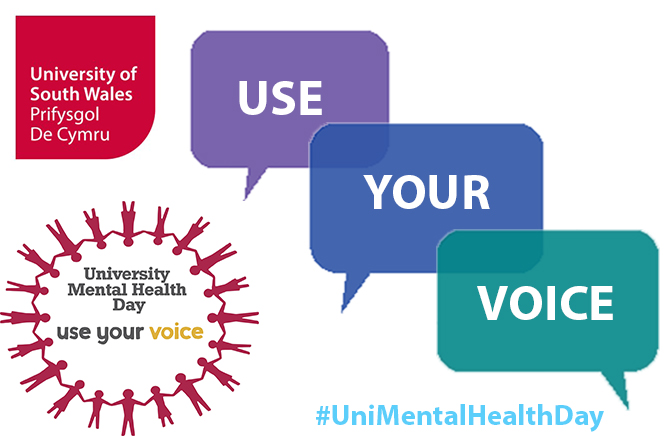 To celebrate University Mental Health Day March 2019 the University of South Wales invites you to Use Your Voice; hear the voices of two inspiring individuals telling their stories and sharing what their experiences have taught them about the importance of good mental health.
Please note: this event will be on Monday 4th March and University Mental Health Day is Thursday 7th March.
Time to Change Wales (TtCW) is a charity dedicated to eliminating the stigma surrounding mental health issues, their Champions come from all walks of life and give their personal stories about suffering with and managing their mental health issues. USW signed the TtCW Employer's Pledge in 2017 to show their support in helping the charity in their mission.
Ben Smith experienced consistent bullying as child, resulting in zero confidence and self-esteem, at 18 years old Ben contemplated suicide as his only option. Despite overcoming this to climb the corporate ladder and become a successful businessman, Ben continued to suffer with depression and it took suffering a partial stroke for him to realise he needed to change his life. After accepting a friend's offer of going to a running club, to his own surprise, he took to running. With each mile run, Ben's confidence grew, he became more honest with himself about who he really was, changed his life for the better, and achieved a truly astounding athletic achievement, inspiring many others along the way. Running 401 marathons in 401 days, Ben established the 401 Foundation to help grass-root projects and initiatives involved with anti-bullying and mental health support. Looking to challenge himself further, Ben proposes a new 401 Challenge in the United States including 50 marathons in 50 states and cycling between each state capital to cover 18,500 miles in 104 days.
This event is open to everyone and completely free of charge, including parking and light refreshments. We will be collecting voluntary donations for all charities in attendance on the evening or you can donate via our page.
USW charity partners: Llamau, Time to Change Wales and Stonewall Cymru and other local mental health charities will all have representatives available to talk to about their services.
This event is brought to you by USW's Staff Wellbeing Group, made of staff volunteers.
Refreshments and networking from 17:00 and the first speaker at 17:30
For any requirements or queries regarding this event, please contact, Coralie Slight, coralie.slight@southwales.ac.uk