Uttoxeter Masterplan Consultation Workshops - Workshop 2
Opportunity to enquire further about details of the Uttoxeter masterplan, and collaboratively explore ideas for key priority sites
About this event
URBED are working with East Staffordshire BoroughCouncil to provide the opportunity for more in-depthengagement on the Uttoxeter Masterplan, and address prior public feedback.
URBED are an independent consultancy whospecialise in community engagement and urbandesign, and are experienced at facilitating consultation in market towns across the UK.We would like to invite you to a series of stakeholderworkshops, which will offer participants theopportunity to enquire further about details of theUttoxeter masterplan, advise us on how the widerresident consultation process should be led, explorethe future of UK High Streets together, andcollaboratively explore ideas for key priority sites(including the Maltings, Trinity Shopping Centre, theWheatsheaf, the Quarry – and with the potential toconsider additional priority sites).
1) Masterplan 2) Prior Feedback 3) Consultation strategies 4) Council Q+A 
July 13th 18.00 - 19.45 (virtual) /or July 15th 15.00 - 16.45 (virtual)
Workshop 2
1) High Streets Context 2) Key Priority Sites 3) Precedents + Ideas
August 3rd 15.00 - 17.00 (in person) /or August 5th 18.00 - 20.00 (virtual)
Workshop 3
The final session would be held following the public consultation process,to discuss and analyse wider public responses and work together onKey Priority Site recommendations
September (date/ time/ location TBC)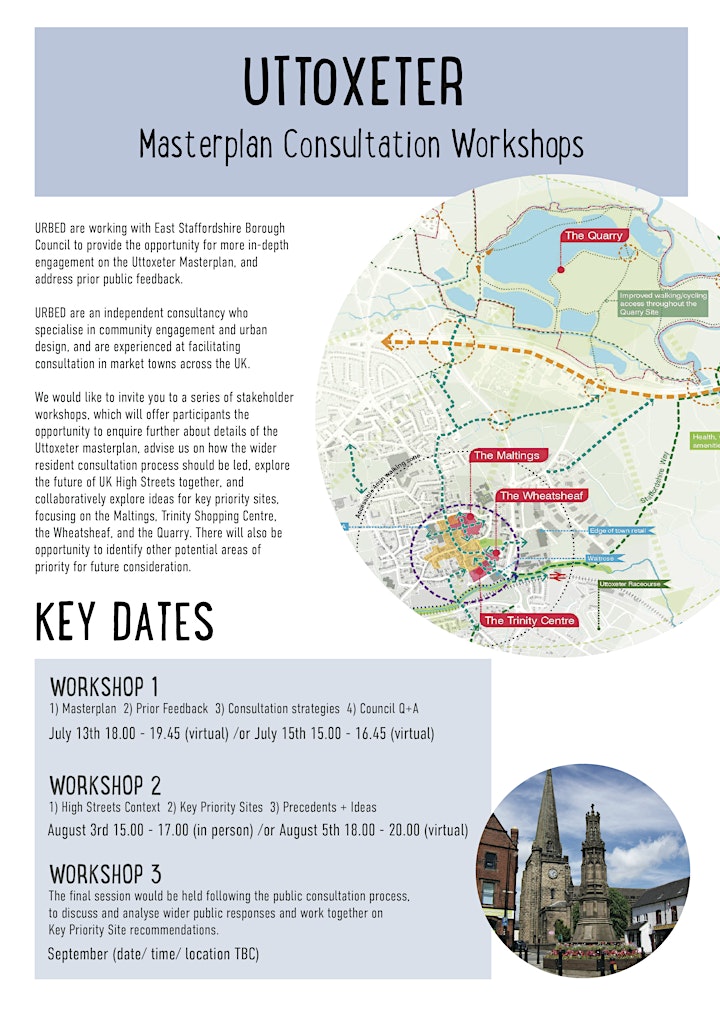 Organiser of Uttoxeter Masterplan Consultation Workshops - Workshop 2
URBED (Urbanism, Environment and Design) Ltd are an award winning design practice specialising in urban design and sustainability. We are run as a co-operative and work across the UK from our base in Manchester. We have been commissioned by Cumbria Action for Sustainability (CAfS) to complete this research as part of the Rebuilding Together programme.