Sales Have Ended
Registrations are closed
Thank you for registering. If you have any further questions, please contact Leighanne Montgomery via email at leighecomm@gmail.com
Sales Have Ended
Registrations are closed
Thank you for registering. If you have any further questions, please contact Leighanne Montgomery via email at leighecomm@gmail.com
We are pleased to invite you to our first online UWE Meet and Greet "Celebrating European Women" hosted by the IrFUW.
About this event
We are pleased to invite you to our first online UWE Meet and Greet "Celebrating European Women" hosted by the Irish Federation of University Women (IrFUW) on Saturday 15th May 2021, 10:30 am -1.00 pm* (GMT). This is a free event.
We may not travel to Ireland which is why we are bringing Ireland to you. After we will be introduced to Women in European Film, we will take a virtual tour to the Oratory of the Sacred Heart, Dun Laoghaire, a taste of Ireland will be told through the Irish coffee, Irish Brown Soda Bread and a medley of Irish songs. There will be enough time left for questions and discussion between us.
We are looking forward to meeting you. Speakers, a detailed programme and recipe information can be found below or on the UWE website.
We hope that a large number of you will be able to join us on zoom. The Event is open to all members of the University Women of Europe and their friends.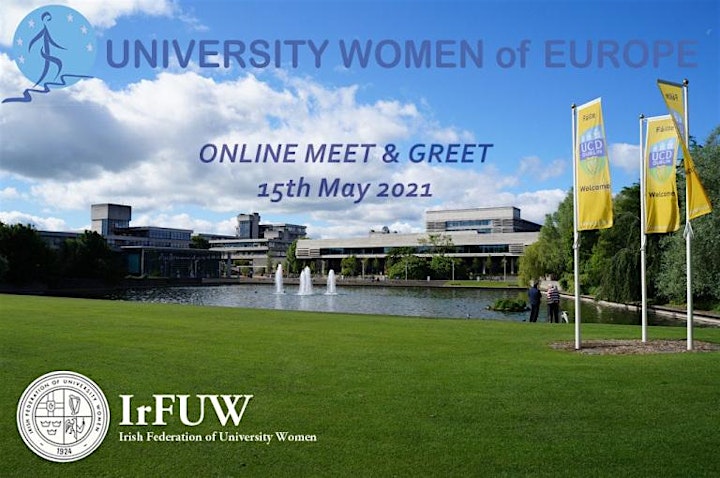 Meet and Greet Programme:
10.30am – 10.40am WELCOME / FÁILTE Frances Patton, President IrFUW
Dr. Anne Nègre UWE / NFA Greetings
10.40am – 11.15am Dr. Angela Vaupel, Women in European Film
Introduced by Leighanne Montgomery, QWG Belfast, CER
Followed by Questions and Discussion
11.15am – 11.50am Dr. Síghle Bhreathnach-Lynch, The Oratory, Dun Laoghaire
Introduced by Dr. Máire O'Connell, Vice- President IrFUW.
Followed by Questions and Discussions
11.50am – 12.05pm Veronica Campbell, TWG Dublin and Felix Campbell.
A Taste of Ireland: Irish Brown Soda Bread and Irish Coffee.
Introduced by Martina Mulrine TWG Dublin
12.05pm – 12.30pm Lunchtime Entertainment
A Medley of Irish Songs sung by Colette Grant UCD WGA
Some Irish Tunes played on the flute by Sophie O'Neill RIAM
Introduced by Margaret Watchorn, former President UCD WGA
12.30pm Finland UWE AGM update and UWE Young Members Reports
1.00 pm Zoom Meeting concludes.
The Irish Federation of University Women (IrFUW) is affiliated to UWE and GWI.
We have four constituent College Associations:
GAWG Galway Association of Women Graduates
QWG Queen's Women Graduates (Belfast)
TWG Trinity Women Graduates (Dublin)
UCD WGA University College Dublin Women Graduates' Association
We can be contacted at president.irfuw@gmail.com
Today's 'Meet and Greet' Speakers.
Dr Angela Vaupel is a Senior Lecturer in International Studies in St. Mary's University, Belfast.
Her main areas of expertise include the teaching of European Culture, Literary History and film as well as the study of conflict and minority experiences in Europe. Her research interests are interdisciplinary and focus on multilingualism, the promotion of transcultural competencies and the representation of minorities in European film.
Dr. Shíghle Bhreathnach-Lynch is an Irish Art Historian. She is a Lecturer, writer and former Curator of Irish Art at the National Gallery of Art, Merrion Square, Dublin. She originally studied languages at UCD and returned to study Art History as a mature student. She completed a PhD and became a Lecturer in UCD as well as a regular guide and speaker at NGI. In 1998 she was appointed as the first Curator dedicated exclusively to the Irish Collection in the Gallery. Dr. Bhreathnach-Lynch has written extensively on Irish Art. Among her writings are:
'50 Works of Irish Art you need to know' (2015).
'Art, Nation and Gender: ethnic landscapes, myths and mother-figures' (2018).
Landscape, Space and Gender: Their Role in the Construction of the Female Identity in Newly - Independent Ireland (1997).
Recipes - Please prepare in advance if you wish to join in!
Multi-seed Brown Soda Bread.
350g whole meal flour. – I use a coarse wholemeal.
50g plain white flour
70g mixed seeds
1tsp salt
1 level tsp bread soda, sieved (bicarbonate of soda/baking
soda)
1 egg – free range if possible
1 tbsb extra virgin olive oil
1 tsp honey
425ml buttermilk or sour milk – (approximate)
Some extra seeds to sprinkle on top (optional)
Equipment:
1 loaf tin 23 x 12.5 x 5cm
Preheat oven to 200C/Gas mark 6
(150C for a fan oven)
Method:
Put all the dry ingredients including the sieved bread soda into a large bowl, mix well. Whisk the egg, add the oil & honey and buttermilk. Blend together. Make a well in the centre of the
dry ingredients. Pour in the liquid. Mix well. The mixture should be soft and slightly sloppy, pour into and oiled or lined tin. Sprinkle some seeds on the top if you want.
Bake for 45 – 60 mins approximately, or until the bread is nice and crusty and sounds hollow when tapped. Cool on a wire tray.
Enjoy.
Note: This brown bread is my current favourite, because it is so easy to prepare. The quantity of buttermilk can vary, depending on its thickness, so add enough to the dry mixture to get a soft sloppy texture. The seeds are optional, I use them to create a modern twist to soda bread. Currently I am using a mix of pine nuts, pumpkin seeds & sesame seeds. Choose your favourites. This bread keeps well for several days, and is delicious toasted.
Lunchtime open sandwich suggestions:
Smoked Salmon & Avocado on Multi seed brown bread
Ingredients:
Half an avocado
Chilli paste
Squeeze of lemon
1 slice of Multi seed brown bread
A few slices of smoked salmon
Method:
Mash the avocado with a little chilli paste & a squeeze of lemon.
Spoon the mixture over the slice of bread.
Arrange the smoked salmon on top with a wedge of lemon.
Arrange the salmon so that some of the avocado is visible.
A grind of fresh pepper will finish off the delicious combination of flavours.
Cream cheese & tomato sandwich
Ingredients:
1 slice of multi seed brown bread
2-3 tablespoons of cream cheese
1 large ripe plum tomato.
Salt & freshly ground pepper to taste.
Fresh basil leaves – 4 approx
Method:
Spread the cream cheese on the bread.
Top with sliced tomato
Sprinkle with salt & pepper to taste
Decorate with fresh basil leaves.
Irish Coffee.
Ingredients:
50ml whipping Cream
150ml freshly brewed black Coffee
50ml Irish Whiskey
1-2 tbsp soft brown sugar (adjust sweetness to your taste)
Method:
Lightly whip the cream just so it's slightly thickened, then set aside.
Heat your glass with warm water. Dry glass.
Pour in a measure of Irish whiskey.
Add sugar.
Pour in the freshly brewed coffee. Leave room at the top of the glass for the cream
Stir until the sugar is dissolved.
Turn a spoon upside down, & place the tip of the spoon inside the glass, just on top of the coffee.
Make sure the edge of the spoon is touching the glass.
Now slowly pour the whipped cream over the spoon. It should flow over the top of the spoon, and land gently on top of the coffee.
Relax and enjoy.
Sláinte.