Description
UX CRUNCH - WINTER JOB FAIR 2017
After the astounding success of the UX Crunch's Summer job fair, we are back again in February to help you find your ideal role for the new year!

This year will be bigger and better, with more companies & attendees than ever before. We are aiming for 25+ companies and 600 vetted mid-senior user experience practitioners (we have over 450 signed up already) this time around!
The UX Crunch Winter job fair is a fantastic opportunity to explore career opportunities with major tech companies, commercial brands and start-ups here in the UK.
Seasoned contractor, passive permanent employee or UX newbie, the UX Crunch Job Fair opens a window of opportunity to have the personal conversations with the brands that interest you and progress your career in 2018.
Our summer fair featured roles at Lloyds Bank, IBM, Secret Escapes, Capital One, Bunny Foot, Reed.co.uk Foolproof, Salt, Conjure, Zebra People, Indeed and many more. This year will be bigger and better than ever!
Key reasons to attend:
Tickets 100% free for jobseekers

Free career talks & tips throughout the evening

Out of hours, 6pm – 9.30pm, so no need to make excuses to get time off work

Meet major UX employers

Hand your CV and portfolio directly to decision makers

Meet a diverse range of companies face to face

Meet & network with industry experts

And finally…… the best bit - Unlimited FREE BEER all evening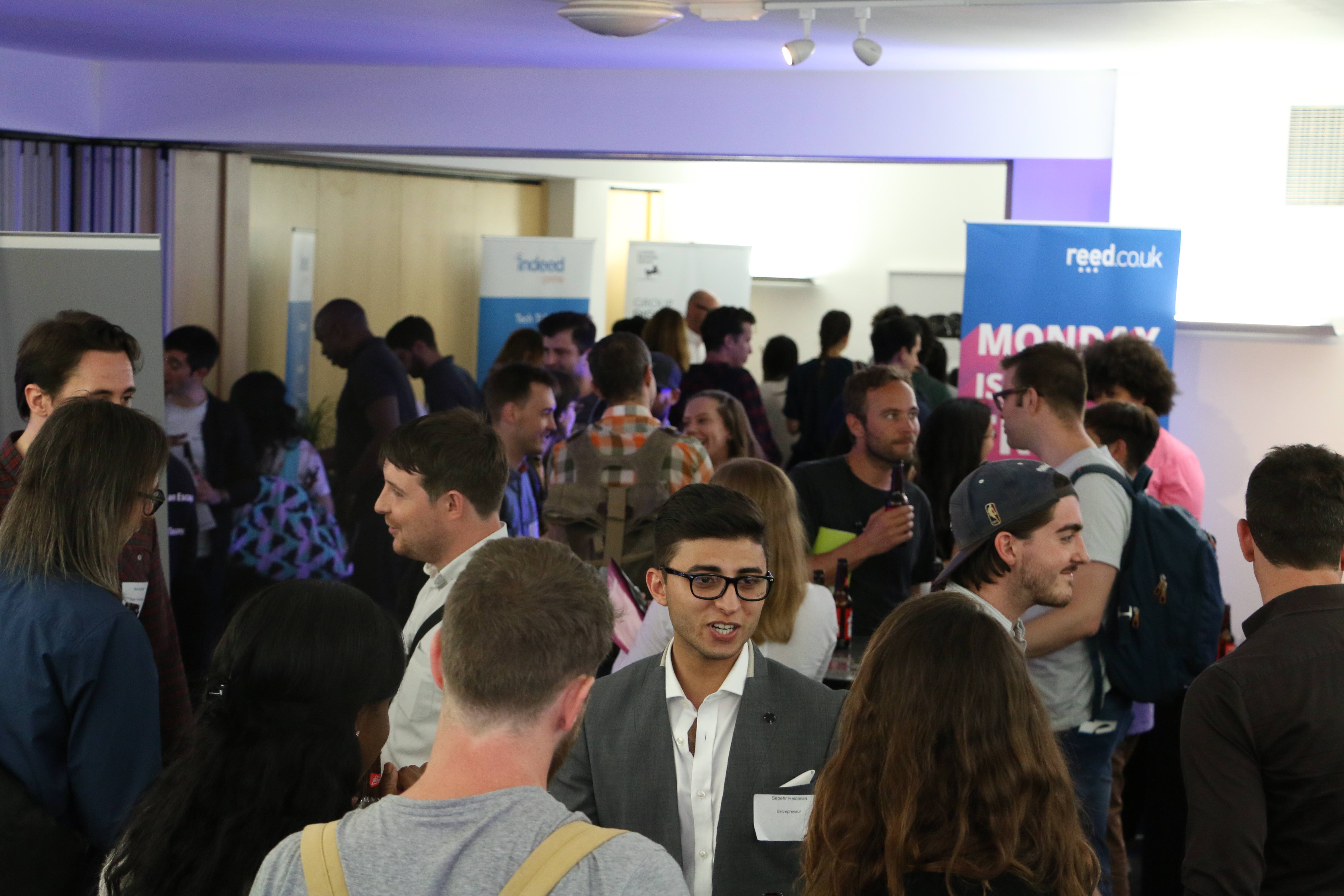 Want to exhibit your UX Vacancies?
Looking to hire Designers?
We know how hard it is to find great design talent, so we have created the UX Job Fair to bridge the gap and aid your recruitment process.
The UX crunch is Europe's largest UX networking event company, with one of the best UX followings in the world. With over 450 designers already registered, there is no better, cost & time efficient way to recruit in the current market. We will have over 600 designers attending the event, so if you would like a job stand, please reach out directly to luke@thedigitalshowcase.co.uk or myles@thedigitalshowcase.co.uk for further details.
We will try to accommodate as many companies as possible, however must be selective about who exhibits, to ensure they have active roles which will appeal to our community.
We are also looking for a major event sponsor and session sponsor, so there is plenty of scope to be involved!!
Looking for a new UX Role?
In addition to meeting 25 great companies, all exhibiting their live UX & Design vacancies, we want to ensure you get the most out of our careers event, so are also providing talks throughout the evening, all aimed at improving the soft skills associated with finding that perfect role, identifying the right culture for you, exploring the skills required to move from UX Practitioner to Design Leader and how to approach the job searching process. This will include:
Career Stories
Hear the career stories of industry leaders; how they entered the industry, how they work and their top tips. Plus, ask your own questions!
Leadership Talks
Explore the skills required to take your career to the next level and understand the qualities that make up a Design Leader.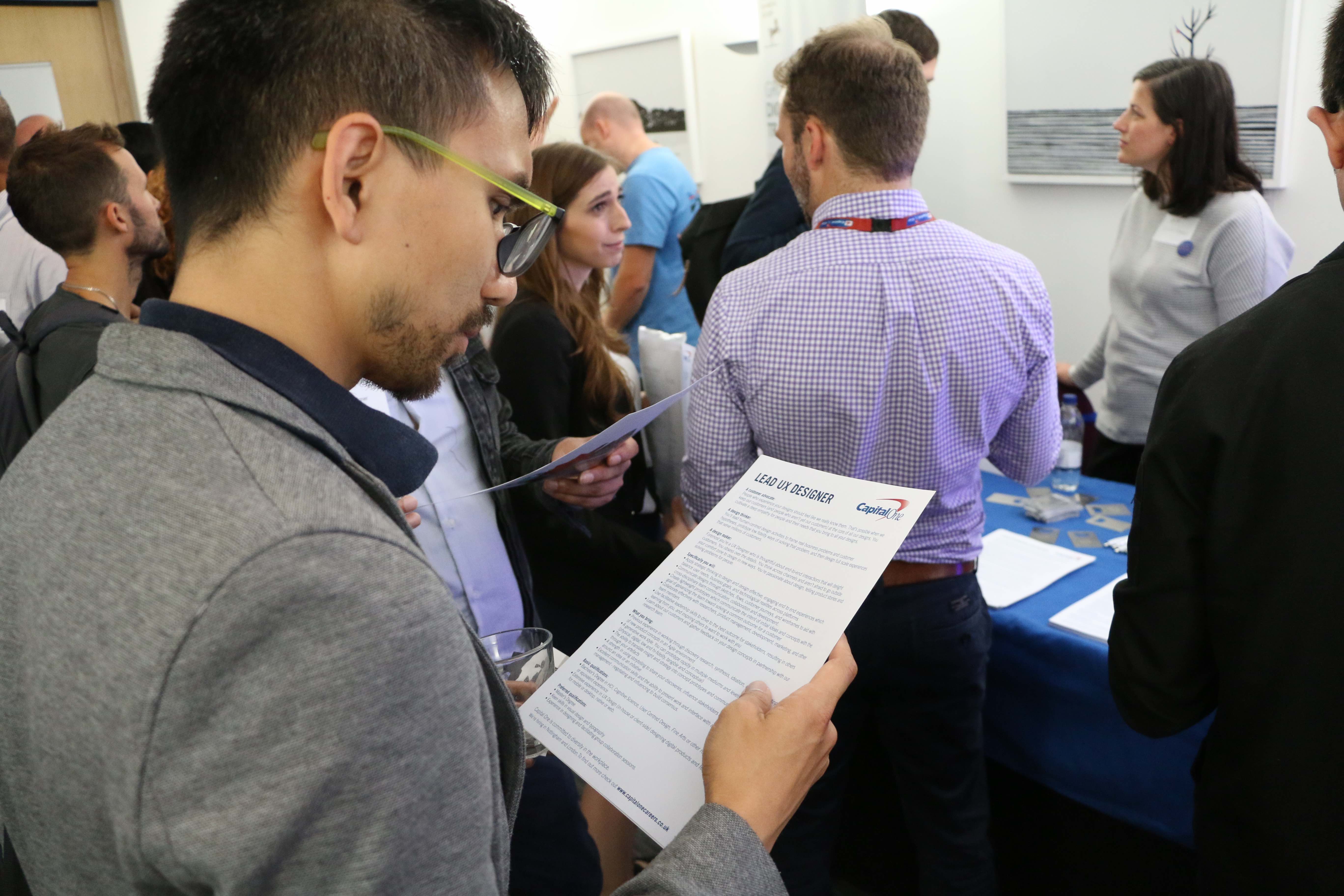 Venue & Travel
The Event will be held at the Cavendish Conference Centre in central London, with space for up to 400 attendees at a tim.
Nearest stations are:
Oxford Circus (9 Min walk)

Regent's Park (5 min walk)

Great Portland Street (5 min walk)

Marylebone (15 min walk)

Euston (15 min walk)
Ticket Registration
There are two tickets and two time slots so that employers get to meet everyone throughout the evening and fill their vacancies at a range of levels. The majority of roles at the job fair will be mid to senior, however we welcome junior designers, graduates & people without UX specific experience. Please respect the timings, to ensure a fluidity to the evening.
From 6.00pm - Experienced UX Practitioners
(Minimum 1 year commercial UX specific experience)
From 7.00pm Juniors, Graduates and people looking to change career paths
(All tickets are subject to application)
Please download your free Eventbrite ticket to confirm your attendance – do not take one unless you are certain to go, as we have limited space - No Ticket = No Entry
Free Networking Beer Bar

As always, networking is at the heart of our events and we are providing the bar throughout the evening to ease those "networking nerves". There will be ample opportunity to network with your peers, so whether you pop in for 10 minutes or 3 hours, come on down to see what is on offer, its free... so you have nothing to lose!