Description
Product Talks group, was created to be a network of top Product Managers, where people can share ideas, and foster their own professional development. After a little break, these events are back, with a great speaker line up, talking about digital products from every sector.
See what has worked, how people have done things, and see what you might be able to use yourself.
Agenda:
6.00pm - Open and Networking
6.30pm - Speaker with Q&A
7.30pm - Close and Networking
8.00pm - To the pub
Speaker:
This months speaker is Andrew Lavelle, who will be talking about User Experience design.
Andrew Lavelle is the Co-Founder of Talent Pool, a platform that connects startups and SMEs with graduates that's been used by over 500 companies such as Deliveroo, Monzo and Beauhurst and over 45,000 graduates. Andrew has worked hard to develop TalentPool's UX to create a simple seamless user experience, and he'll be sharing some of his learnings with all of us.
Host:
This Meet Up is being hosted by the lovely people from Rain Making Loft, who have this to share:
"Rainmaking Loft is a co-working space set up by Rainmaking, one of Europe's leading players within entrepreneurship. We support tech startups by providing them with a highly inspiring work environment at an affordable price. We strive to be a community where promising entrepreneurs develop their innovations faster through collaboration. This is something we take seriously. We believe that the sole focus of tech startups should be disrupting the way we shop, communicate and organize our lives. We take care of the rest.Rainmaking Loft's members are Heroes at work. Our mission is to give them the best possible environment in which to grow their company. Whether that is connecting them to an experienced fellow member, helping them to find a suitable investor or offering access to our extensive network of experts. The London Loft is part of a family that also consists of a Loft in Copenhagen. In addition to co-working spaces, Rainmaking founded Startupbootcamp, an international accelerator program and Rainmaking Innovation, a global innovation consultancy in addition to an extensive portfolio of successful startups."
'For further information about Rainmaking or to book a tour of the Loft, please contact the team at info@rainmakingloft.com'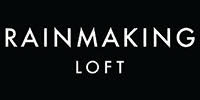 This meet up is run by Innovify