Description
DESCRIPTION
Looking for a job in UX or trying to work out how to take your UX career to the next level?
This free event lets employers and practitioners meet, learn and find new career opportunities.
*** Please note: this event is free! We only ask for a £10 deposit (fully refunded to all event attendees) so we can cater for approximately the right number of people ***

If you are an Employer with vacancies and you would like a table at this event, please contact james@uxpa-uk.org.
Open House Careers Development Event
Drop in anytime from 19:00 to talk with organisations currently recruiting for UX positions, network and enjoy complimentary refreshments.
These companies are looking for a range of specialisms and experience, if you're looking for a new role in UX you can't afford to miss this event.
To make the most of this event don't forget to bring copies of your CV and portfolio.
Programme
19:00 – 21:00: Open house careers development fair, networking and drinks
19:15 – 20:45: CV & Portfolio clinic with Futureheads & Zebra People
19:30 – 20:00: "How to be a mentor" panel discussion

20:15 - 20:45: "The three stages of leadership" by Jane Austin
Exhibiting companies
Some of the companies waiting to meet you....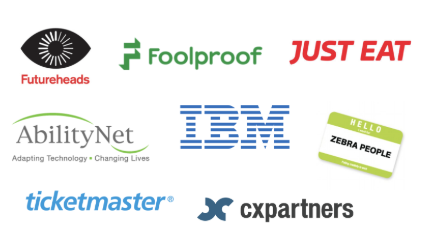 CV & Portfolio Clinic
Bring your CV and/or Portfolio with you on the night and get one-to-one expert advice and feedback. Sessions will be one-to-one, short and focussed. Come prepared!
Experts from: Futureheads & Zebra People
Sessions start from 19:15 pm to 20:45 pm.
Book your spot on the night!
Talk
"How to be a mentor?" panel discussion
When advancing your career, one natural step is to start mentoring others. But what makes a good mentor? What skills do you need, and who should you be mentoring? In this panel discussion we have 5 experienced mentors giving advice about how to mentor, talking about the mistakes they've made along the way and things mentees can do to optimise their time with a mentor.
Panel:
Andreas Conradi - Red Badger

Angela Boodoo - IBM

Carl Myhill - HSBC

Helen Casewell - Vox Generation




"The three stages of leadership" by Jane Austin
In the words of Cap Watkins: "Congratulations. You got promoted – now prepare to suck at a completely different job."
This is exactly what happened to Jane multiple times in her twenty year career. She has gone from being a designer, to leading a few people, to leading a team, and now as a director, leading multiple teams. The transitions to each of these three stages of leadership were tough, and painful, and yes, she sucked every time she got promoted into a new stage of leadership. In this talk Jane shares her experiences of each transition and talks about the mistakes she made and the lessons she learned, and gives you hard won advice so that when you get promoted you won't suck at all.
This event is free!
We ask for a £10 deposit that is fully refunded to all event attendees. This is necessary to limit the amount of people who book tickets and don't attend. Otherwise we end up wasting a lot of food and drink. If you have booked a ticket and can no longer attend, providing you cancel the ticket 48 hours before the event you will be refunded in full.
Hosts
Many thanks to our partners IBM for hosting this event.
IBM is a global cloud platform and cognitive solutions company, which has continually evolved over the past century to remain at the forefront of technological innovation. Our capabilities in data and analytics, cloud, mobile, social and security have helped the UK evolve to become one of the world's most digitally advanced nations. This digital revolution empowers us and our clients to gather and analyse data in ways that have never been possible before—helping UK organisations unlock new insights and usher in a new era of cognitive business.
At IBM Design, we don't just make great products. We painstakingly craft experiences that delight our users and shape the future. Take a look here: https://www.ibm.com/design/
FAQs
What's the refund policy?
You are paying a £10 deposit and will be refunded when you check in at the event.
We will reimburse within 7 days after the event.

What are my transport/parking options for getting to and from the event?
We strongly suggest catching the bus or tube to the event.
Closest station is Waterloo, London.
What can I bring into the event?
Please bring your CV and/or portfolio.
Complimentary food and drink supplied.
How can I contact the organiser with any questions?
Please contact UXPA UK with any questions about the event.
Our curators for the evening are:
James: james@uxpa-uk.org
Megan: megan@uxpa-uk.org