Description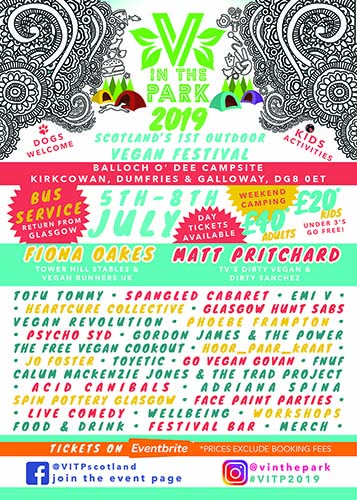 ---
Scotland's 1st Outdoor Vegan Festival. After the success of V IN THE PARK 2018, we are bringing the festival back bigger and better than before!
With delicious food & drink, camping, talks from inspirational speakers and live music, we invite you to bring friends and family to a totally guilt-free weekend.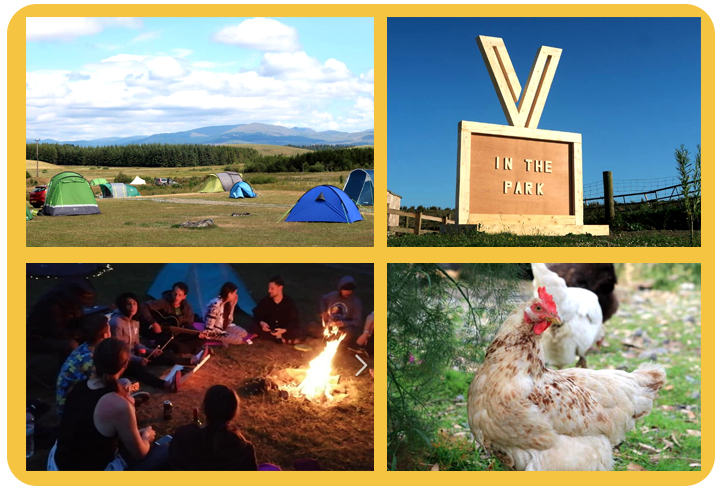 ---
Fri 5th - Mon 8th July 2019

Balloch O' Dee Campsite
Kirkcowan, Newton Stewart
Dumfries & Galloway
DG8 0ET

FRI: 14:00 - 23:00 Arrival, tent pitching & welcome party
SAT & SUN: 08:00 - 23:00 Programmed activities
MON: 12:00 Farewells & event close


Directions can be found in the FAQs below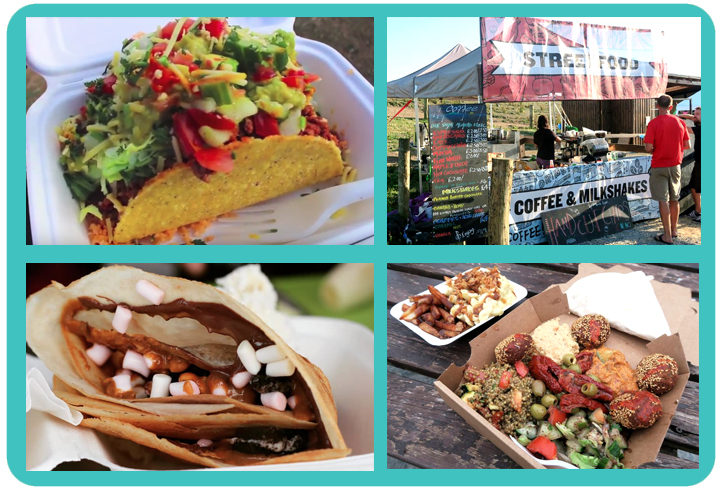 ---
Adult (17+) Weekend Pass: £40 (excl. booking fee)
Child (age 3-16) Weekend Pass: £20 (excl. booking fee)
Kids under 3 GO FREE (don't forget to register them when you book your tickets)
Parking Pass: £10 (excl. booking fee)
Adult (17+) Return Coach Pass: £20 (excl. booking fee)
Child (0-16) Return Coach Pass: £10 (excl. booking fee)
Weekend Passes (Adult & Child) are PER PERSON, not per tent. Your camping fee is covered in your event ticket.
Parking Passes are PER CAR, not per person. Please car share where possible as parking is limited.
Coach Passes are sold each way seperately to allow for selection of correct departure time. You MUST buy one for each journey and ensure it is the correct journey to secure your seats as seats are LIMITED.
If you miss the coach there will be no alternative transport arrangement so please arrive at your pick up point half an hour before departure.


We can't wait to see you all this summer!



---
Follow us on Instagram
@vinthepark #VITP2019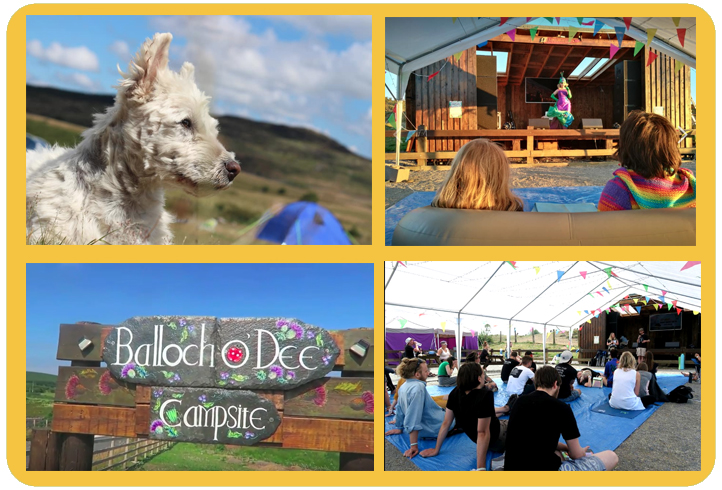 ---
Age Requirements?
The event is family friendly. Adult weekend & Child weekend tickets are available. Kids under the age of 3 go free - you still need to register them when you bok your tickets
Under 16's must be accompanied by an adult 18+
What can I bring into the event?
Your lovely self and your friends & family!
A tent (1-man size tent for 1 person, 2-man size tent for 2 people etc) - space is limited!
Camping gear
Food & Drink (if you like)
Bus - where do I get picked up?
The festival bus leaves on Friday 5th July
11am from Glasgow Central Station (canopy entrance, near the blue Lagoon Chippy) - there will be a festival volunteer to meet and greet.

Return bus leaves from Baloch O'Dee Campsite on Monday 8th July
12pm returning to Glasgow Central Station
Can I book the on-site accomodation at Balloch O'Dee campsite?
Unfortunatley, we are unable to offer on-site accomodation. The festival is camping in pitched tents only.
Can I bring my campervan / caravan to V In The Park?
The festival is camping in pitched tents only - we are unable to offer power to campervans at this time.
I'm disabled - Is V In The Park fully accessible?
The campsite is fully accessible including into the hardstanding showers and toilets. Wheelchair users please be aware the campsite is on soft land / grass and the main arena is gravel. Please note however there are limited sockets to charge wheelchairs. Please email info@vinthepark.org
I want to play / cater / speak / perform / host a workshop at the festival. How can I apply?
The festival programme is fully booked, however we are open to squeezing in some freestyling! Get in touch.
Refund Policy
Tickets are strictly non-refundable as is standard event ticket procedure. You are responsible for the reselling of your own ticket if you can no longer attend the festival. This can be done by emailing your e-ticket to the new buyer. Try posting in our social group on Facebook or in the event page
Printed Tickets
It is always a good idea to have a hard paper copy of your ticket as phone and internet signal can be quite unpredictable. Please have your ticket at the ready upon arrival. An environmentally friendly option would be to screem shot your ticket and save to your device / phone ahead of arrival when access to wifi is plentiful.
Quiet Camping
There is a Quiet Camping section, no need to book separetley! First come first pitch
Prohibited Items
Illegal drugs & weapons - this is a family friendly event!
Please refrain from bringing animal products with you as this is a vegan event.
Fires
Only allowed on designated camp fires across the campsite. Camping stoves are allowed. So are disposable barbeques, but they cannot go directly onto the grass (putting bricks underneath are okay)


Firewood is available to purchase from Balloch O'Dee campsite
Water
There will be water points across the site, available free of charge. Please be aware you are encouraged to boil the water from on-site befoe use. Don't forget your reusable water bottles!
Showers & Toilets
On-site hard standing showers & toilets are available on the campsite. We are really excited about these unique and beautifully decorated washing facilities, you will not be disappointed! All showers and toilets are disability accessable
Dogs
Your doggo companions are welcome! All we ask is for dogs to be kept on a lead at all times while on site and will have to sleep in your tent with you. Bring a dog bowl incase of hot weather!
PLEASE NOTE - there will be free roaming animals on site including ducks, chickens & Shetland Ponies. Consider not bringing your dog compansion if they cannot behave around other small animals. Keep them on a lead at all times!
Day Tickets
Due to high demand we have now released day tickets. Valid on either Friday, Saturday or Sunday only - no overnight camping with day tickets.
These are also available to purchase on site at the box office - CASH ONLY
Families / Children
This is a family friendly event. There will be some children's acivities & entertainment across the weekend.
Show Respect - Campsite & Nature
Recycle your rubbish, use the bins provided. Bring a bin bag for your camp & dispose of your rubbish before you leave. Do not abandon your tent, if you plan on dumping your tent considering politley dumping it to a homeless charity or donate to someone that needs one if you don't.
Food Stalls
There will be a selection of local caterers for the duration of the festival. Please do not just rely on caterers only to provide food at all times, consider packing some camping meals as an alternative during busy times / for allergens etc. CASH ONLY
Alcohol
It's B.Y.O.B, please drink responsibly
Courtesy / Ejection
If anyone is being violent or dealing in any kind of illegal activity, they will be ejected from the event!
Animal Products
This is a vegan festival, please refrain from bringing animal products on site
Campsite Directions


FROM GLASGOW
Take the M77/A77 to AYR then Maybole then Girvan and onto Stranraer - join A75 East and head towards Newton Stewart go past Glenluce on A75 and about 5/6 miles past Glenuce you will see a brown tourist info sign directing you to the Three Lochs Caravan Park - take this left turn (Durnow Rd) go over two cattle grids and about a qtr of a mile past the second cattle grid you will see our sign for Balloch O' Dee on the right.
FROM THE SOUTH
Come up the M6 past Carlisle and where the M6 becomes the A74, exit onto the A75 to Stranraer/Dumfries this is a few hundred yards past the 'Welcome to Scotland' sign.
Continue on the A75 through Dumfries, past Castle Douglas and Gatehouse of Fleet to Newton Stewart. About 7 miles past Newton Stewart you will see the brown Tourist sign for the Three Lochs Caravan Park - take this right turn (Durnow Rd) - go over two cattle grids and about qtr of a mile past the second cattle grid you will see our sign on the right for Balloch O' Dee.
How can I contact the organiser with any questions?
Please email
info@vinthepark.org