Description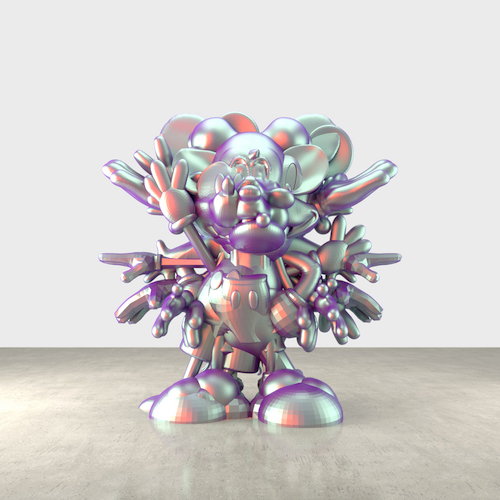 Now in it's fifth year, the V&A Digital Design Weekend brings together artists, designers, engineers and scientists celebrating the intersections of art, design and technology. Designers and artists will take over the Museum with pop up installations, open workshops, labs and family-friendly activities taking place around the building, exploring themes of civic design, sustainability and collaborative making.
The weekend kicks off on Friday night with a screening of techno-explorer and futurologist Nelly Ben Hayoun's new film "Disaster Playground" (66min), which will open with a performance by the TradAcademy Sea Shanty Choir. The TradAcademy Sea Shanty Choir is a non-audition community choir, based in London, exploring the work songs of the golden age.
Book a free ticket here: http://www.londondesignfestival.com/events/disaster-playground-feature-film-and-presentation-new-project-nelly-ben-hayoun
Over the weekend we will be showcasing a huge programme of cutting edge, international projects, including:
This Space Will Change, a new site specific installation by Oliver Marlow, co-founder of award winning design practice, Studio TILT.
Every Object by Prix Ars Electronica winner Matthew Plummer-Fernandez, a mixed media installation that explores an infinite, digital, 3D V&A collection that may soon exist.
Circular Knitic, an open source replicable circular knitic machine produced with digital fabrication and maker's tools.
If You Go Away, an interactive, cinematic game from Invisible Flock which will lead you on a story you can direct around the V&A and the surrounding area.
Marginalia Machine, a drawing robot, and Collidoscope, a musical microscope that allows you to zoom into sounds you've just recorded, and play and perform your sonic discoveries like an instrument.
Seven Seconds Ago, a live feed portal to wildlife at a watering hole in Africa and Digital Futures UKMX, a collaborative prototyping showcase on the themes of civic awareness, collaboration and innovation from Mexico City and Dundee.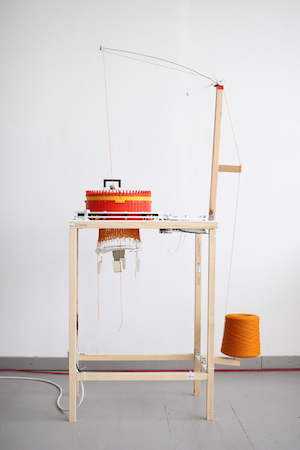 There is lots for young people and families to enjoy, including Young Rewired State Coding Challenge, a hack for young digital makers in partnership with the Met Office, and Family fun trails by Gamar, a mobile augmented reality app that allows families to follow clues, solve creative challenges and uncover hidden stories in our Paintings and Theatre and Performance Galleries.
On Saturday 26, a one day symposium - Friction and Fiction: IP, Copyright and Digital Futures - in collaboration with Goldsmiths University of London and CREATe, the RCUK Centre for Copyright and new Business Models in the Creative Economy, will bring together leading writers, technologists, publicists and agents and ask whether the existing framework of publishing copyright can be adequately adapted to meet - and balance - the rights, needs and creative ambition of authors and publishers. Book a free ticket on:
https://www.eventbrite.co.uk/e/friction-and-fiction-ip-copyright-and-digital-futures-tickets-18521068013
On Sunday 27, a special This Happened meetup, guest curated by Provenance, brings together Jessi Baker, Vinay Gupta, Tomas Diez and Mara Balestrini to discuss how technologies can transform society - http://www.meetup.com/This-Happened-London/events/222502201/
A mobile app - ArtWonder - will connect visitors at the Digital Design Weekend and help enrich their experience. iBeacons will tell visitors when their are near selected projects and give them the ability to ping people around them and join them for the visit - www.artwonder.net
All events are free and drop-in, and available on a first come, first served basis.
For the full programme visit:
http://www.vam.ac.uk/whatson/media/uploads/files/Digital_Design_Weekend_September_2015.pdf
PARTICIPANTS:
Future Cities Catapult, http://www.urbaninnovationcentre.org.uk
Met Office Informatics Lab, http://www.informaticslab.co.uk
Studio TILT, http://studiotilt.com
Fixperts, http://fixperts.org
Civic Shop, http://www.civicworkshop.city/civic-shop
Interaction Design Studio, Goldsmiths University of London, www.datacatcher.org
Nelly Ben Hayoun, www.disasterplayground.com
Uniform, http://uniform.net
Small Society Lab Dundee, Creative Dundee & University of Dundee, http://creativedundee.com/ssl/
This Happened, www.thishappened.org
Invisible Flock, http://invisibleflock.com/portfolio/ifyougoaway
studio deFORM, www.studiodeFORM.com
Michael Burton & Michiko Nitta, supported by the EPSRC and CORE at Loughborough University, www.burtonnitta.co.uk
Matthew Plummer-Fernandez, http://www.plummerfernandez.com
Sarah T Gold, http://www.sarahtgold.co.uk/citizendatalicences
Varvara Guljajeva & Mar Canet, http://www.varvarag.info/circular-knitic
Anna Dumitriu in collaboration with Alex May and The Modernising Medical Microbiology Project, http://www.sequenceart.tumblr.com
Bhavani Esapathi, www.bhaesa.com/designing-innovation
Jamie Jenkinson, www.jamiejohnjamesjenkinson.com
Koby Barhad and Mike Vanis, www.swipetoshoot.com
Friederike Glaser, http://www.rikeglaser.de
Ben Bengler and Fiore Martin, http://isam.eecs.qmul.ac.uk/projects/collidoscope/collidoscope.html
Miki Shaw, http://www.mikishaw.com/art
Gamar, http://gamar.com/app
Young Rewired State, supported by the Met Office, http://www.yrs.io
Supported by Arts and Humanities Research Council Digital Transformations Theme and Connected Communities Programme:
Dr Helen Manchester, University of Bristol, http://tangible-memories.com
Simon Popple, University of Leeds, http://pararchive.com
Tom Schofield, University of Newcastle, http://bloodaxe.ncl.ac.uk
Dr Ming Lim, University of Leicester, http://affectivedigitalhistories.org.uk
Prof. Claire Taylor and Brian Mackern, University of Liverpool, https://latamcyber.wordpress.com
Supported by and in partnership with the British Council, http://creativeconomy.britishcouncil.org/projects/digital-futures-ukmx:
Laboratorio para la Ciudad, http://labcd.mx
Centro de Cultura Digital, http://www.centroculturadigital.mx
Laboratorio de Arte Alameda, http://www.artealameda.bellasartes.gob.mx
Social Tic, http://socialtic.org
hacedores Maker Community, hacedores.com
IMAGE CAPTIONS:
Digital Futures UKMX, Centro de Cultura Digital, Mexico City, Arturo Téllez & Diego Delgado
Every Object, Matthew Plummer-Fernandez
Circular Knitic, Varvara Guljajeva & Mar Canet