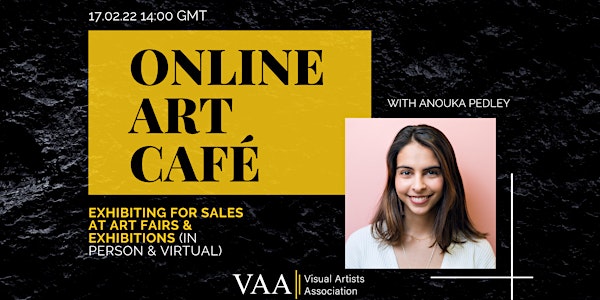 VAA Art Café: Exhibiting for sales at Art Fairs & Exhibitions
Join our free online Art Café with Anouka Pedley, Senior Fair Manager of The Other Art Fair London, presented by Saatchi Art.
About this event
This session is for artists of all levels who would like to understand the best tips for enjoying a successful show, as well as the selection process for commercial art fairs and exhibitions.
Anouka has over four years' experience working with artists from across the globe at art fairs and exhibitions. Before moving to her current role, Anouka managed artist outreach and creative programming for the UK Fairs, as well as artist communications for the global Fair brand. Her expert knowledge of the Fair's artist community and the London creative scene has led her to assist on Art Advisory projects for Habitat, CALM, musician Loyle Carner, Soho House & Co. and the Hoxton Hotel group
This session will help artists of all levels to pivot their art practice, covering:
• Exhibiting for success at Art Fairs & Exhibitions
• Self-representation, how to build your tribe through events
• How to reach new audiences & art buyers through events
The Art Café will take place via Zoom Webinar at 14.00 GMT on Thursday 17th February 2022. Spaces limited, book online now.