About this Event
Join us as we celebrate Valentine's with an exclusive six-course tasting menu served in our stunning Long Room on Friday 14th February.
Begin your romantic evening with a welcome cocktail and canapés, as our live music entertains you and you take your seats.
Our beautiful menu has been lovingly developed by our kitchen team and will be served in the breathtaking , historic and downright fabulous Long Room overlooking the Barbican.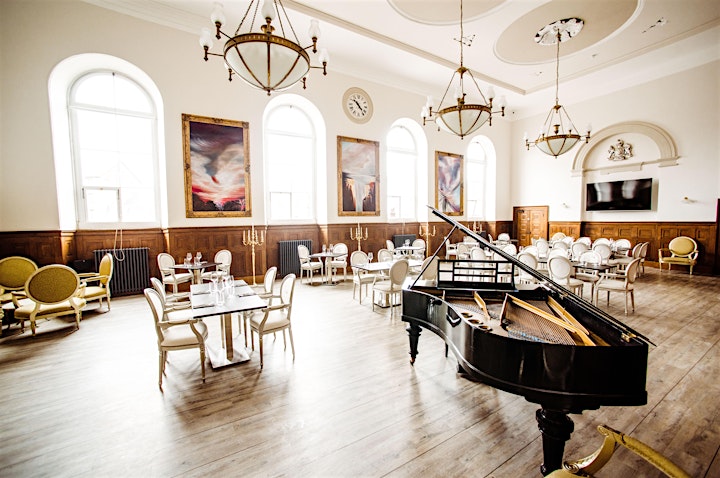 Our menu is £69.95pp and bookable via this Eventbrite page. When you book you'll have to pay a non-refundable deposit of £15 for each person. Simply select how many people will be at your table on this page.
***Please be aware, £15pp is a non refundable deposit; this amount will be taken from your final bill on the night, the remaining £54.95pp will be payable on the date.***
THE MENU
Cocktails
Canapés: Truffled Custard, Crisp Bacon, Chicken Liver Parfait, Madeira Jelly, Crispy Oyster, Lemon Aioli
Bread and Butter
Potato & Chive Veloute, Crispy Onion
Tea Smoked Pigeon, Red Cabbage, Raisin
Cornish Crab Linguine, Ruby Grapefruit, Ginger, Coriander
Treacle Cured Beef Sirloin, Celeriac, Onion Confit, Red Wine Sauce
White Chocolate & Raspberry
Petit Fours & Coffee
VEGETARIAN
Cocktails
Canapés: Truffled Custard, Truffle Straw, Mushroom Pate, Madeira Jelly, Smoked Cheddar Mousse, Caramelised Cider
Bread and Butter
Potato & Chive Veloute, Crispy Onion
Quail Egg Tart, Onion Confit, Chive Butter Sauce
Jerusalem Artichoke, Linguine
Mixed Mushroom, Celeriac, Gnocchi, Spinach Veloute
White Chocolate & Raspberry
Petit Fours & Coffee