About this Event
We were blown away by the response from our Christmas Workshops, so of course we're back bringing the Floral Fun our home town Wigan!
Contemporary Wreath Customer_
'The most enjoyable evening, thank you!'
Come and join us at our fave local, Posthouse in Orrell where I show you guys how to make a super vibrant, beautifully textured and quirky floral arrangement! We'll be creating a front facing potted arrangement using Eco Friendly Techniques with lots of exciting Flowers and Foliage.
Traditional Wreath Customer:_
'I found it a bit daunting at first but once I got into it, I absolutely loved it!'
Pester your partners for a Valentines Gift or just come along with your besties for a fun evening with a bit of you time. You'll be feeling refreshed and leaving on a high when the evening draws to an end!
Table Centre Customer_
'I got so lost in what I was doing, that time just passed me by!'
PLUS_ We'll be bringing along our NEW Art Deco Stand created in a photo station for you to get some fabulous shots of your master pieces!
\ \ \
The 'need to know' bit_
Tuesday 11th Feb | 6.30pm | £35
Posthouse, Orrell.
PLEASE BRING A PAIR OF SCISSORS WITH YOU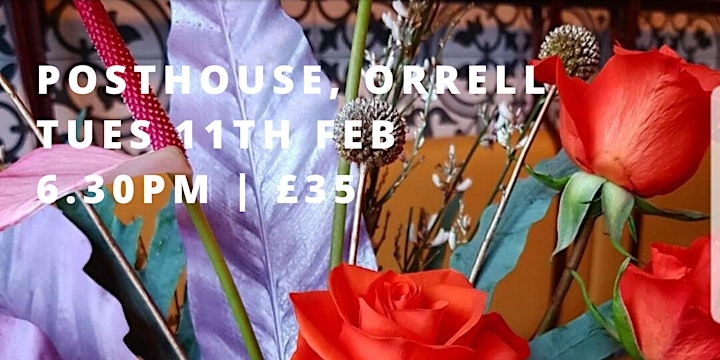 By purchasing this ticket(s) it means that you are adhering to our Terms and Conditions
T&Cs
1. Full payments for the workshops are non refundable or transferable without a valid reason stated no later than 14 days before the event.
2. It is your responsibility to remember the date, location and time of the event. Reminder emails may be sent via Eventbrite - these may be found in your junk folder.
3. You must be at least 18 years old at the time of booking.
4. During and after our workshop sessions, we take photographs for our website and social media. If you are at all unhappy about this, then please let us know before the workshop begins.
5. All materials and flowers are included in the course fee. If you are required to bring anything, we will let you know at the time of booking.
6. Should you have any allergens/intolerance it is important you let us know. Some flowers can cause irritation to the skin, especially those with sensitive skin or hay fever. We will provide medical gloves should this be the case.
7. Guests are asked to be respectful towards other guests, venue staff and myself.
8. Should we find that a guest is being disruptive or disrespectful to others, to myself or my staff, then a warning will be issued. Should this behaviour continue, we are within our right to ask the person to leave. No refund will be given.
9. Guests are expected to follow the Health and Safety rules when participating in the workshop. Guest will be asked to leave if they do not follow the Health and Safety rules. A full H&S brief will take place before the event begins.
10. Guests should wear appropriate clothing and footwear. Some plant materials and equipment can cause damages to clothing such as stains, wear and tear, plucking, etc. An apron would be advised.
11. During workshops you may have to use sharp tools or materials. Should you feel uncomfortable with any of the equipment, myself or a member of staff will aid you.
12. If the workshop does not have a minimum amount of attendance numbers then we reserve the right to cancel/change the event. You will be given 3 days warning for this and we will refund the amount or allow you to transfer the amount to another workshop event.
13. Arriving late - we can keep your place for up to 60 minutes but any time after this and your flowers will be shared out with the rest of the group to avoid wastage. It is important you ring and let us know if you're going to be late - 07375296590. No refund will be given.
14. Cancellations: Tickets cancelled 3 days before the event are given a refund. Tickets cancelled within 3 days or less will not receive their refund.