About this Event
Enjoy enhanced connection and intimacy with your partner within the nourishing space of a sensual play workshop. These practical 3-hour sessions celebrate touch as a keystone for deepening how couples relate, connect, communicate and experience pleasure together.
The evening includes activities to expand the senses, to encourage sharing and bonding and reawaken passions. There will be playful exercises, demonstrations and you will be guided through a hands-on sensual touch discovery highlighting how and where to touch your partner for heightened pleasure and delight.
Through dialogue and body-based practices, you will:
increase capacity for deep listening to both yourself and your beloved
practice communicating boundaries and asking for what you want at any given moment
explore identity as giver and receiver in relationship
practice feeling before acting to connect with desires
expand senses and reawaken passions
engage in practical exercises including a guided consensual hands-on touch sequence
uncover the art of tease and the power of foreplay
learn how to awaken increased arousal with your partner
elevate your body's feelgood chemicals, to deeply relax and create more calm, security and trust together
The workshop is for couples only and you will only practice with your partner. Everyone is welcome ( above 18 years ). Numbers are restricted enabling quality attention to be given to all participants.
What to bring along to the workshop:
Ladies can practice in a loose fitting t-shirt, shorts, a sports bra, sarong or if you wish dress down to your underwear (so to expose your arms, legs and stomach ) Whatever you feel comfortable in.
Men can bring a loose fitting t-shirt and shorts
Each £85 ticket is for two people ( a couple )
About the facilitators:
Jan-Michael is a tantric masseur based in London. The content of these workshops has evolved from years of working intimately with women, providing a depth of practical understanding about female sensual desires and needs. So many of his clients have expressed the wish that their partners ( or future partners ) could consciously touch them and prolong lovemaking. What is offered in these workshops is the kind of experience that no book can teach. In the safe space where we are all equal, he offers with humility and respect what he has learned so you can connect with your beloved.
Samantha's main passion is in the sharing of yoga tantra and embodiment practices to support modern living. She guides those who practice with her into a deeper relationship with body-mind in order to generate greater presence, freedom and vitality in their lives. She supports women via regular wild feminine classes, hosts sacred sexuality workshops, teaches jade egg initiation and is currently curating empowerment courses in partnership with a sex therapist in the Cotswolds.
Between them, Jan-Michael and Samantha have many years of professional experience of touch as a healing art, supporting clients in discovering the possibilities and pleasures of their bodies and exploring somatic intelligence.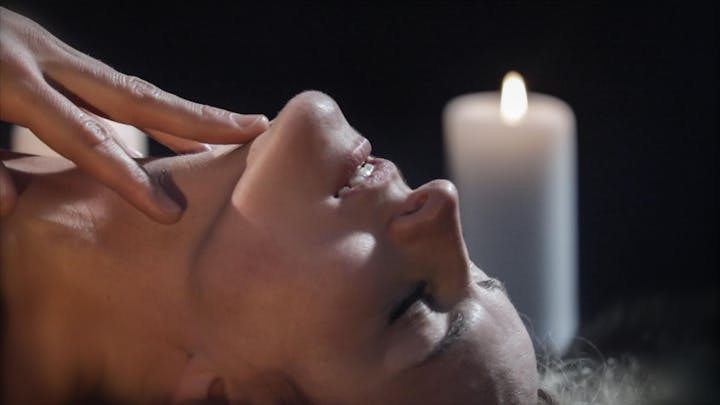 Some words from previous participants:
"The workshop was held in a very professional and loving way. The leaders complimented each other extremely well" Serena.S
"We enjoyed watching the demo and the the flow between Jan-Michael and Samantha, and then being guided through the touch sequence." Aradhana.K
"Beautiful setup and positive vibes. Lovely experience with my partner" Andrew.S