With special guest speakers flying in from all over the world including VP of sales Mr Mansour Tawafi
About this event
Validus presents the UK Prelaunch Event 2022. We welcome you to this exclusive VIP invites only event, where you will have the luxury of being exposed to, and participate in the opportunity which is to alter the course of financial education and network marketing.
We have in attendance, our keynote speaker and Vice President of Sales, Mansour Tawafi. A gentleman who has to date, generated 9 figures in sales in the world of network marketing, featured on Business For Home's top 15 earners in the world and he will be flying in from Dubai to share his insights on success in the business.
You will also hear from UK momentum creators and leaders, Danyal Islam and Humraz Khan who are rapidly expanding the UK market and have achieved tremendous success in the business already.
Ensure you book your seat and don't miss out! We will see you at Chelsea Harbour Hotel!
#nft #gaming #forex #crypto #staking #stocks #defi #nft #nodes #equity #pads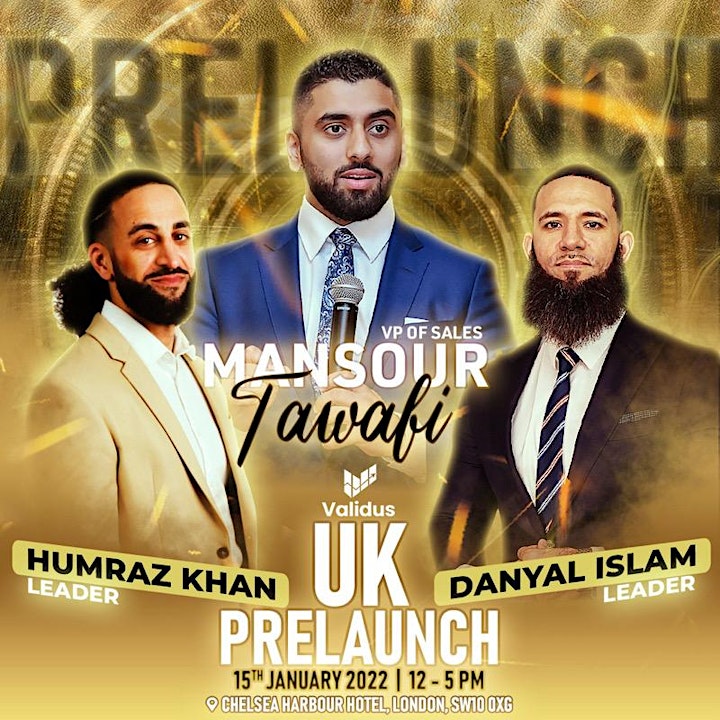 Organiser of Validus UK Prelaunch Event 2022