Description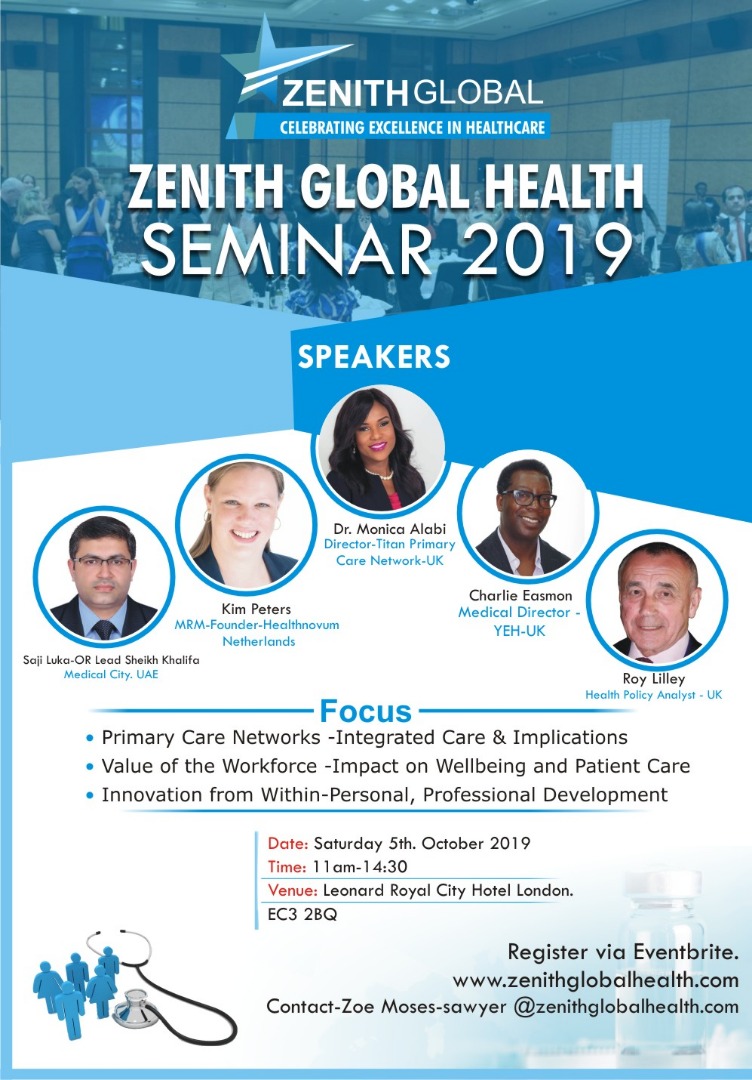 Zenith Global Health are pleased to announce their 4th.Celebrating Excellence in Healthcare 2019. . Established by Healthcare Professionals for healthcare professionals and first of its kind.
As the healthcare system is developing in a rapid and innovative ways, it is important that we at Zenith Global Health as a platform for training, innovation and collaboration continue to provide training to educate and inform healthcare professionals in health and social care and those working in and with them across the sector.
This seminar is aimed at all healthcare professionals at every level as the topics impact everyone from policy makers, managers, to frontline staff.
Who Can Attend?
NHS Private
CCGs General Practitioners
Clinicians Senior and Intermediate Managers
Practice Nurses Practice Managers
Healthcare professionals in Acute and Community
Allied Health Practitioners
Nurses and Clinicians
The Seminar will cover –
Primary Care Networks –
What it means to us as healthcare professionals,individual practice, patients and clients

Issues in health and social care

Development of Primary Care Networks ,establishing and fostering culture change

Role of PCN in Intergrated Care Partnership
Value of the Workforce
Implications of valuing and investing in the Workforce

Forging and enhancing integrated Workforce

Embedding the 5year forward plan into current practice.

Shared learning and benchmarking

Patient Safety and efficiency
Join us as we learn, share and build a network of colleagues from around UK and beyond.
Zenith Global Health Seminar 2019
Primary Care Networks

Value of the Workforce
Venue- Leonardo Royal City Hotel,London.EC3N 2BQ
5th October 2019
Programme
11.00 – 11.15
Registration and coffee
11.15 – 11.25
Welcome and introductions
11.25 – 11.45
Building an integrated workforce
Speaker -Roy Lilley
NHS Writer & Healthcare Policy Analyst-UK
11.45 – 12.05
Primary Care Networks
Speaker -Monica Alabi
Clinical Director Titan Primary Care Network -UK
12.25 – 12.35
Coffee Break
12.35 – 12.55
Value of the workforce
Speaker -Charles Easmon
Medical Director-Your Excellent Health-UK
12.55 – 13.30
Lunch
13.30 – 13.50
Workforce and cost improvement project
Speaker -Saji Luka
Sheikh Khalifah Medical City, Abu Dhabi
13.50 – 14.20
Adding Value to Health by Innovation from within
Speaker - Kim Peters
Director Healthnovum -Netherlands
14.20 – 14.40 - Break Out session-Facilitated by Speakers in small Groups
14.40-14.55-Evaluation and Close
*** Certificate of attendance will be issued for this Seminar
For more information,please contact-Zoe via email
zoemoses-sawyer@zenithglobalhealth.com