8 January - 28 February 2021, Wednesday - Sunday, 12-6pm, late opening until 8pm every last Thursday of the month.
About this Event
Vanessa Baird: If ever there were an end to a story that had no beginning
Drawing Room is pleased to announce the first UK survey of renowned Norwegian artist Vanessa Baird.
Raw, outlandish and utterly individual, Vanessa Baird's charged works in pastel and watercolour range from room-size murals to intimate self-portraits and draw on a wide range of references from the artist's own lived experiences, as well as Scandinavian folklore. Her extraordinary drawings depict 'her world', centred on the house that she grew up in and still inhabits with her three teenage children and elderly mother, for whom she acts as carer. Baird captures the difficult everyday tasks of looking after a family in a kaleidoscope of startling imagery, permeated with exhaustion, boredom, frustration, bodily functions and the chaotic detritus of domestic life. Whilst rooted in the autobiographical, her work equally references wider concerns, from fairy tales and legends, to the international politics of the European refugee crisis and the Oslo bombings of 2011; these all feed into uncompromising images underpinned with a dark, often disturbing humour that is both confidential and confrontational.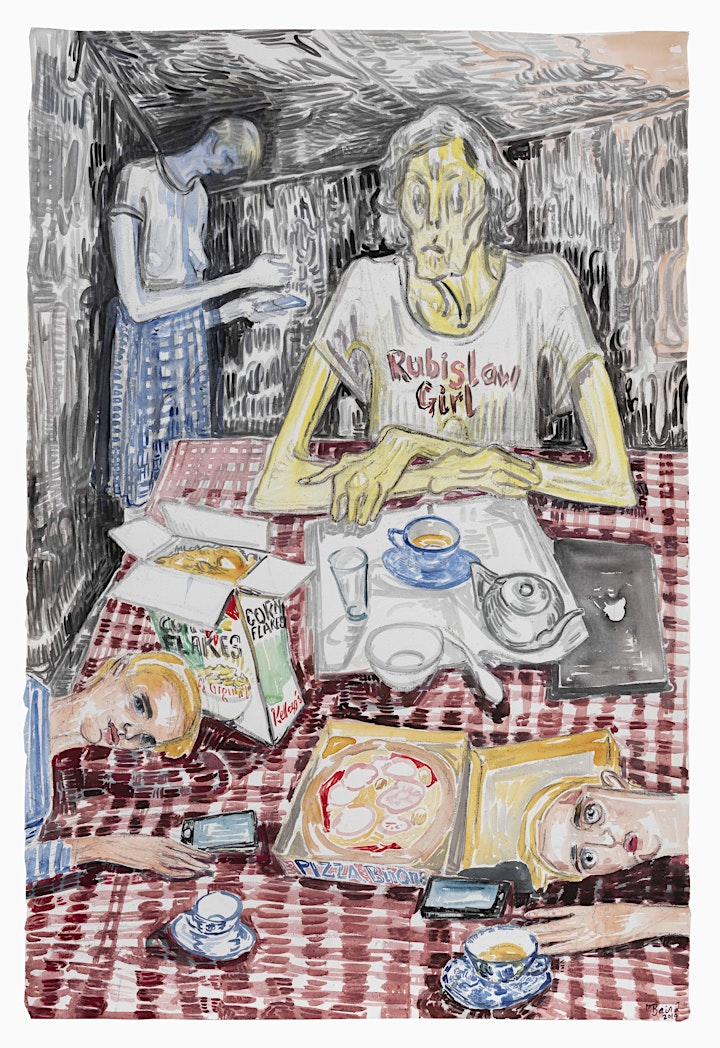 Vanessa Baird, Rubislaw Girl
2020
Watercolour on paper, 100 x 150 cm
Courtesy the artist and OSL
Parallels with other artists can be seen throughout Baird's work: familial psychodramas are played out through the language of folklore and personal symbolism, as with Paula Rego and Louise Bourgois; shocking scenes evoke the scatalogical pandemonium of Hieronymous Bosch's Garden of Earthly Delights or the blunt gruesomeness of Goya's witches and war victims. There is common ground with the comical and highly sexualised drawings of Robert Crumb, George Condo and Paul McCarthy, though Baird offers a different, strikingly female perspective on the grotesque. And her haunting figures populating nightmarish rooms that twist around them at uncanny angles, captured in both gloomy and garish colours, echo the sickly expressionism of Ernst Ludwig Kirchner and, of course, Edvard Munch.
Despite these commonalities however, Baird's work remains emphatically idiosyncratic; this exhibition, the artist's first solo survey in the UK, features a selection of recent works that immerse the viewer in her very particular vision of quotidian domesticity. Baird's images of family and friends reveal highly personal responses to universal themes - motherhood, sex and shame, as well as illness, fatigue and the ageing female body - continuing a curatorial focus on the body and bodily experience threaded throughout Drawing Room's programme for 2020-21. Vanessa Baird handles these themes in a uniquely unforgettable and searingly provocative manner.
Vanessa Baird (b. 1963) lives and works in Oslo. This will be the her first solo exhibition in the UK.
This exhibition is co-curated by Mary Doyle and Gillian Fox.
*Please note that, in accordance with current Tier 2 guidelines, we remind visitors not to mix indoors with anyone who they do not live with or have not formed a support bubble with.*