VA invite their biggest guest to date for an incredible Rojo session
About this event
If any genre can claim a gravitation towards the futuristic and technological, it's drum & bass. From its earliest incarnations the music was about forward-thinking musicians pushing the envelope of what was technologically possible. At a young age Metrik found himself pulled into D&B's magnetism, drawn in by its clinical precision and emotive compositions.
Within this world he discovered a deep resonance with the pairing of man and machine. A marriage of man-made instruments manipulated by samplers, computers and effects plugins; overlaid with synthetic noises comprised of ones and zeros. That resonance gave him an unshakeable conviction and set the course for the rest of his life, taking him from setting up an online radio station in his bedroom to performing on the world's biggest festival stages.
It's a story that many present day producers can identify with, but when an artist's debut single becomes a bona fide classic, topping the download charts and clearing record store shelves, you know they've got something special. That's what happened when Metrik dropped 'Your World', an instant hit which saw support from the likes of Pendulum, Bad Company and Viper Recording's founder Futurebound. A slew of incredible tracks were then released including his second big hit, the Annie Mac and Zane Lowe supported 'Technicolour' and timeless anthem 'Freefall' featuring Reija Lee which racked up over 4 million plays.
As an artist, Metrik draws inspiration from a diverse pool of styles. His love of the technology and aesthetic of the '80s is a clear influence on his music. Close your eyes while listening to a Metrik album and you can practically see him weaving visual references to science fiction and the movies of his childhood. What you're left with is something that looks to the future with a distinctly nostalgic hue, fuelled by love for synthwave, film soundtracks and neo-soul.
Since signing to Hospital Records and releasing his debut album Universal Language, Metrik's career has gone from strength to strength. He's scored a UK Dance Chart Top 10, mixed an edition of the prestigious BBC Radio 1 Essential Mix hosted by Pete Tong, as well as been given his own residency on BBC Radio 1. Off the airwaves, Metrik has taken his high-energy dancefloor sound to the world, from the very best nightclubs through to festival appearances at Glastonbury, EDC, Global Gathering and Hospital's own festival brand, Hospitality In The Park.
With such a meteoric rise it's little wonder that artists such as Eric Prydz, DJ Fresh, Gorgon City and Swedish House Mafia are lining up for a Metrik remix. Meanwhile fellow D&B high flyers - including TC and Netsky - and acts as diverse as Elisabeth Troy, Gunship and the Ragga Twins are lining up to collaborate.
Despite this success, there comes a time in every artist's career where they need to take time to reflect. Introspection can often be the death of a flourishing career, but once again Metrik's long-standing musical vision has paid him dividends. Building on the sound he's been honing since his first record, Metrik has evolved into an artist fuelled with confidence and exploding with fresh ideas. The release of his sophomore long player LIFE/THRILLS took Metrik to new heights, in terms of widespread critical acclaim, and artistic fulfilment. Lead track 'Chasing Sunrise' dominated the airwaves hitting the 1Xtra and Beats One playlist for 6 weeks and championed by Annie Mac, Danny Howard and Julie Adenuga.
Metrik has a fascination with how things fit together. His early inspirations have carved a path for him that is littered with achievements, and yet it feels like the main thing the drum & bass superstar has achieved is an inimitable musical vision. An artist who has always wanted to bring a futuristic edge to his music, Metrik has become an artist who shapes the future of music itself. His vision is brought to effortless fruition thanks to his romance with the past. And his determination for crafting a musical vision that reaches far into the future is what makes him one of the most important drum & bass artists of today.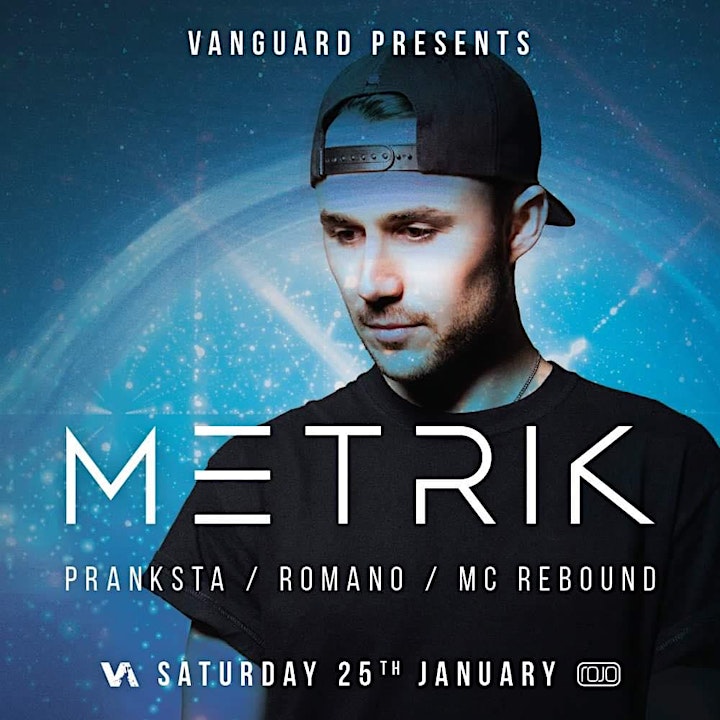 Organiser of Vanguard invite Metrik
Jerseys' foundation Drum and Bass promoters who have been representing this sound since 1994. Terminal State aka Robin & Lee who run Vanguard have had other brands such as Elementz and Terminolgy holding events all over Jersey, Guersney, England and Holland. 
Orignally both DJ's and producers they have had their music played across the globe on radio stations such as BBC Radio 1 & Kiss FM and by all the leading names in Drum and Bass. Playing at such iconic venues like Labyrinth, Bar Rumba and The End they have been involved in D&B since the very start also signing to such heavyweight legendary labels such as Renegade Harware and Formation to name a few.
Their progression as event organisers started when they craved a platform to play the music they loved to fellow friends after making many trips to London to experince events like New Jack City, Dreamscape, World Dance etc and to bring these unique vibes and underground culture to their birth place and hence the Jungle/Drum and Bass scene was born in Jersey.
Originally starting at small long gone venues such as Pesos & Vespas holding around 50-80 people this progressed as they broke new ground to hold events at Jersey biggest clubs at the time, The Watersplash, Madisons and The Venue. This in turn brought a new sound to the island and tuned into a new generation of junglists against a dominate house music scene, along the way getting a lot of dislike and what kinda music is this? which only motivated them further.
 Their 1st ever guests were MC Power, L Double and DBO General. This was followed by the biggest names at the time, artists such as Goldie, Grooverider, Fabio, Randall & Hype who delivered legendary sets which will forever live long in the memory, such an exciting time when the music was breaking new ground week on week.
To be continued........