VA return to Rojo after over 18 months. St. Helier's favourite nightspot plays host once again to some of the UK's finest DNB heavyweights !
About this event
Vanguard are delighted to once again return to Jersey capital to deliver to you some of the finest most upfront DNB events in St. Helier's favourite nightspot.
With their ears to the ground for the best production VA team up with some of the best sound and lighting engineers to deliver more sold out unforgettable intimate events !!!!
STANDARD TICKETS OUT NOW (LTD)
Early Bird SOLD OUT
We are delighted to welcome the mighty Document One from Shogun Audio and Elevate Records to kick start some insane nights bringing some sick vibes back just how we do
SATURDAY 25TH SEPTEMBER 2021
ROJO NIGHTCLUB - ST HELIER
DOCUMENT ONE (SHOGUN/ELEVATE)
YAANO (OVERVIEW)
ANDRE B. B2B LARKIN
MCS REBOUND & PRINCE
This event is limited to 250 tickets and will sellout in advance so please secure you please if you wish to attend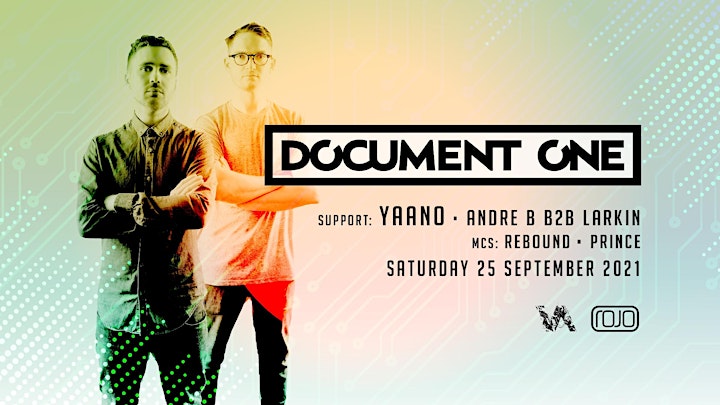 Organizer of Vanguard present Document One (Debut Rojo Show) support YAANO + More
Jerseys' foundation Drum and Bass promoters who have been representing this sound since 1994. Terminal State aka Robin & Lee who run Vanguard have had other brands such as Elementz and Terminolgy holding events all over Jersey, Guersney, England and Holland. 
Orignally both DJ's and producers they have had their music played across the globe on radio stations such as BBC Radio 1 & Kiss FM and by all the leading names in Drum and Bass. Playing at such iconic venues like Labyrinth, Bar Rumba and The End they have been involved in D&B since the very start also signing to such heavyweight legendary labels such as Renegade Harware and Formation to name a few.
Their progression as event organisers started when they craved a platform to play the music they loved to fellow friends after making many trips to London to experince events like New Jack City, Dreamscape, World Dance etc and to bring these unique vibes and underground culture to their birth place and hence the Jungle/Drum and Bass scene was born in Jersey.
Originally starting at small long gone venues such as Pesos & Vespas holding around 50-80 people this progressed as they broke new ground to hold events at Jersey biggest clubs at the time, The Watersplash, Madisons and The Venue. This in turn brought a new sound to the island and tuned into a new generation of junglists against a dominate house music scene, along the way getting a lot of dislike and what kinda music is this? which only motivated them further.
 Their 1st ever guests were MC Power, L Double and DBO General. This was followed by the biggest names at the time, artists such as Goldie, Grooverider, Fabio, Randall & Hype who delivered legendary sets which will forever live long in the memory, such an exciting time when the music was breaking new ground week on week.
To be continued........