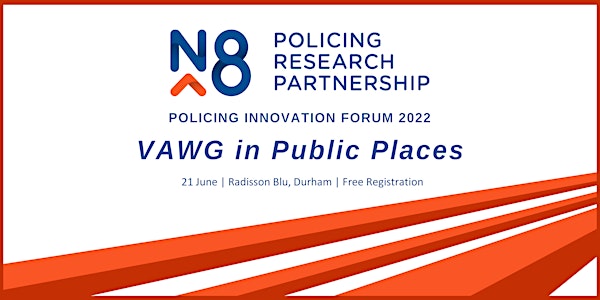 VAWG in Public Places - The N8 PRP Policing Innovation Forum 2022
Location
Radisson Blu Hotel, Durham
Frankland Lane
Durham
DH1 5TA
United Kingdom
Featuring major campaigns, influential research, and innovative projects - a day of knowledge exchange, innovation, and collaboration.
About this event
How do we think about the harms of harassment, what does justice look like, and how should police respond? How are practitioners and researchers innovating?
The 2022 N8 PRP Policing Innovation Forum is an opportunity for researchers, police, and other stakeholders to share knowledge and experience, increase understanding of current thought and practice, and find opportunities for collaboration.
PROGRAMME
Chaired by Chief Supt. Ngaire Waine (Merseyside Police, N8 PRP) and Professor Nicole Westmarland (Durham University), the programme features:
Keynotes from  Dr Fiona Vera-Gray (The Right Amount of Panic) and Dr Bianca Fileborn (#MeToo and the Politics of Social Change and Reclaiming the Night-time Economy)
Behind the Scenes of Anti-Street Harassment Campaigns - panel discussion with the people behind Enough, That Guy and Is This Okay?
Risky Places - A New Interventions Showcase - group discussions with leads of innovative projects, including Safer Parks for Women and Girls and Safer Transport Northumbria . To present a project, see CALL FOR PROJECTS below.
ECR poster exhibition from researchers at the cutting-edge of research into policing VAWG in public places. To exhibit, see CALL FOR POSTERS below.
***CALL FOR PROJECTS***
Risky Places - A New Interventions Showcase
Spaces are available for projects on schools, online, the night time economy, and events. Please contact Jo Cassidy (Joanne.Cassidy@merseyside.police.uk) with a brief description of the project (c.50 words) and key details (title, organisations involved, funder, start and completion date)by Thursday 10 June by 4pm.
***CALL FOR POSTERS***
ECR* Poster Exhibition
To present your poster, please contact Eon Kim (eon.kim@manchester.ac.uk) with a brief (25 to 50 word) overview of your poster Thursday 10 June by 4pm. Exhibitors can request assistance with transport and printing costs. Posters should be submitted in size A0 (1189mm x 841mm).
*ECR as per the AHRC definition.
***
SPEAKERS
Chairs
Chief Supt. Ngaire Waine, Chief Superintendent with responsibility of VAWG at Merseyside Police, and Co-Director of N8 PRP, has held a number of challenging senior roles including three as temporary Assistant Chief Constable. A commitment to demonstrating exceptional leadership and delivering innovation has underpinned her career, and she has been recognised for implementing several significant change projects that she has both planned and embedded within Merseyside Police. She has also been a peer inspector for Her Majesty's Inspectorate of Constabulary and the College of Policing and Chair of the Superintendents' Association for the North of England, equipping her with a knowledge of other forces, a network of contacts and an understanding of the challenges for policing beyond her own force.
Professor Nicole Westmarland , Director of Research in the Department of Sociology, Durham University, and Director of the Durham Centre for Research into Violence and Abuse (CRiVA). Prof Westmarland's research investigates male violence against women, and she is particularly known for her work on rape, domestic violence and prostitution, which has underpinned a number of policy changes. Academic advisor and consultancy positions have included Special Advisor to the Joint Committee on Human Rights for their Inquiry into Violence against Women and Girls (2014-15) and the Association of Chief Police Officers (2012-15), Special Advisor to the Government's Victims of Violence and Abuse Prevention Project , and the voluntary position of Chair of Rape Crisis (England and Wales). Prof Westmarland's research has directly underpinned two major government policy reform processes - HM Government Stern Review into Rape, and the Home Office Coordinated Prostitution Strategy.
Keynote Speakers
Dr Fiona Vera-Gray, Assistant Professor London Metropolitan University, author of 'The Right Amount of Panic', 2018, is an activist and campaigner working on violence against women and girls with practice-based background in the specialist sexual violence sector. Her academic work draws together philosophy with empirical research on violence against women and girls. Recent work includes investigating women's lived experience of mainstream online pornography. A regular media commentator on sexual violence and harassment, Dr Vera-Gray has been an expert advisor to the Women and Equalities Committee Inquiry into Public Sexual Harassment and to the Department for Education in the development of the new RSHE curriculum. She is particularly interested in feminist methodologies and ways of disseminating research beyond the academy including through creative means such as theatre.
Dr Bianca Fileborn, (she/they) is a Senior Lecturer in Criminology and an Australian Research Council Discovery Early Career Researcher Award Fellow. Their research is broadly concerned with the intersections of space/place, identity, culture, and sexual violence, and justice responses to sexual violence. She is currently undertaking research on victim-centred justice responses to street harassment; LGBTQ+ people's experiences and perceptions of sexual violence; representations of gender-based violence in music; and safety and violence at Australian music festivals. They are the author of Reclaiming the Night-Time Economy: Unwanted Sexual Attention in Pubs and Clubs (Palgrave), and co-editor of #MeToo and the politics of social change (Palgrave) and the forthcoming Geographies of Gender-Based Violence (Bristol University Press). You can follow Bianca on Twitter @snappyalligator .
Behind the scenes: Anti-street harassment campaigns
Ben Morse, Head of Campaigns for Tackling Violence Against Women and Girls, and Olivia Fox, Senior Campaign Manager for Tackling Violence Against Women and Girls , Home Office, led on the development and production of the Enough campaign.
Adrian Searle is Communications Strategy Manager at Police Scotland, where he led the That Guy campaign. His thirty year career has spanned advertising, branding, marketing, journalism, publishing and economic development. Prior to joining Police Scotland in 2017, career roles included creative consultancy, retail photography and arts marketing. He co-founded and ran a multi-award-winning creative agency for 16 years and a publishing company, designated Scottish Publisher of the Year in 2015, for six years. A campaign he led targeting online groomers was awarded a Scottish Policing Excellence Award in 2018. Outside work, Adrian is involved in new woodland creation and forestry.
Sarah Keaveny is the Head of Communications at Greater Manchester Combined Authority (GMCA.), where she led on the development and production of the Is This Okay? campaign. Sarah oversees the Communications and Digital teams within GMCA, including Greater Manchester Fire and Rescue Service (GMFRS) and the Police and Crime Commissioner function, which is delivered through the Mayor and Deputy Mayor of Greater Manchester. She has worked in communications and PR for a decade, and during this time has gained with significant experience in blue light crisis communications, internal communications and external campaigns. Previously Sarah was a Senior Reporter working on a daily newspaper in the North West of England.
Risky Places: A New Interventions Showcase
D/Chief Supt. Deborah Alderson, is Head of Safeguarding at Northumbria Police. Deborah was programme director for implementation of the National Violence Against Women and Girls (VAWG) Taskforce which formulated the current national framework for delivery for policing, and now leads on delivery of the Northumbria Police response to VAWG. She developed and implemented the MATAC process to tackle the most harmful domestic abuse perpetrators, and led several transformation programmes including 'Domestic Abuse: A Whole System Approach' and 'Operation Encompass: The Next Steps'. Outside of the workplace she volunteers as a mentor with the national charity The Girls Network, with a mission to inspire and empower girls from the least advantaged communities.
Dr Anna Barker is an Associate Professor in Criminal Justice and Criminology at the Centre for Criminal Justice Studies, School of Law, University of Leeds. Her research explores the governance, regulation and policing of public spaces, notably urban parks, with a focus on perceptions of (in)security and fear of crime. She is currently leading Safer Parks for Women and Girls, a project on women and girls' feelings of safety in parks, in collaboration with West Yorkshire Combined Authority. Her areas of teaching include policing, criminal justice processes and criminal justice theory. Twitter: @Barker1Anna .