Description
This event is brought to you thanks to our headline sponsor:

Nobody doing business in 2016 can afford to miss this event. Some tickets already sold out.

Gary Vaynerchuk is back and ready to hustle! Join him on Weds March 23rd to launch his fourth book, "#AskGaryVee: One Entrepreneurs' Take On Leadership, Social Media and Self Awareness".
This VaynerWorld will really be one for the history books, featuring a fireside chat with Gary, an open Q&A session and the first ever taping of an #AskGaryVee show in front of a large audience outside the US.
So if you're an entrepreneur, marketer, start-up, VC, story-teller or someone who just has that hustle, head to VaynerWorld for a night of pure business energy, advice and interaction. Tickets and packages are limited due to capacity so please act soon to avoid disapointment.
Every ticket includes:
- Minimum of 2 #AskGaryVee Books
- Seat for the talk + open Q&A (bring your questions)
- Access to the #AskGaryVee live show taping
- Complimentary Drinks + Refreshments
- VaynerWorld Collectors Item Goodie Bag
- Meet and Greet Opportunity with Gary
- Optional Book Deals + VIP extras (speedy entry / stage seating)
GARY VAYNERCHUK ANNOUNCES VAYNERWORLD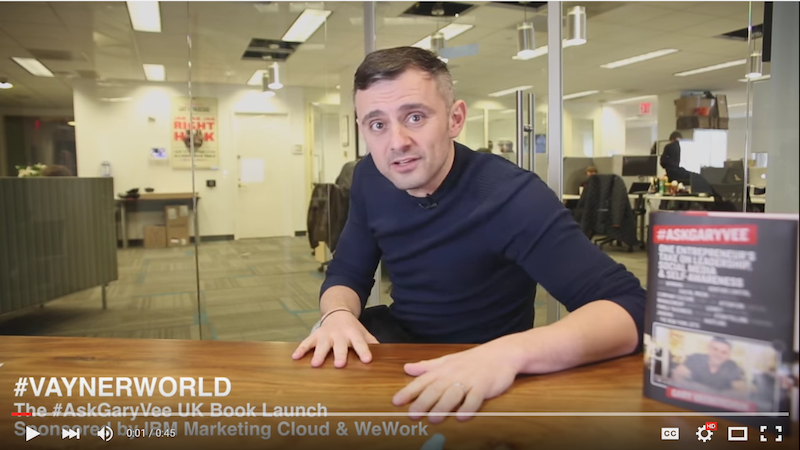 As always, the VaynerWorld team will have some tricks up it's sleeve to make the evening extra special and there'll be some pretty awesome guests in the room too.
Who is Gary Vaynerchuk?
Gary Vaynerchuk builds businesses. As one of the earliest adopters using the web for commerce, he took his family wine business and grew it from a $3M to a $60M business in just five years using pioneering digital, content social marketing techniques. Now he runs VaynerMedia, managing a staff of 600 people across New York, LA and San Francisco established in just 5 years with a London office opening later this year.
Along the way he became a prolific angel investor and venture capitalist, investing in companies like Facebook, Twitter, Tumblr, Uber, and Snapchat before eventually co-founding VaynerRSE, a $25M investment fund.

Gary also hosts The #AskGaryVee Show, taking questions several times a week about social media, entrepreneurship, startups and marketing, giving his answers based on a lifetime of building successful, multi-million dollar companies. It sits alongside the newly launched DailyVee show, an immediately successful fly-on-the-wall documentary which follows him around twice a week during his typically 18 hour hustle packed days. Both episodes garner 30,000 to 50,000 views almost immediately upon launch.

Gary is also a prolific public speaker, delivering keynotes at events like Le Web, SXSW and even the first VaynerWorld which you can watch here.

He was named to both Fortune and Crain's 40 under 40 lists in consecutive years, and has been profiled in the New York Times, Fortune, and Inc.