The Violent Crime Prevention Board (www.vcpb.org) announces the launch of VCP Ventures led by our new board member, Jeremy Chapman
About this event
London— 30 September 2021
The Violent Crime Prevention Board (www.vcpb.org) announces the launch of VCP Ventures led by our new board member, Jeremy Chapman. This will be a one-year business start-up support programme to mark and recognise three years since the launch of the Violent Crime Prevention Board.
The project will run from Wednesday 30 September 2021 to Friday 30 September 2022.
Building on our two previous Business and Enterprise events led by Gisela Abban, we are excited to announce a comprehensive support opportunity for 5 individuals with their new business ideas.
The emphasis will be on an idea that is not just unique, but also responsible in that it has a positive impact, doing some good for society and our planet.
We are looking for applicants to reach out right now and explain their ideas to us including what makes their idea different, why they think it is going to work, why they should receive our support and what they need help with to make it work. As for the application process, this is entirely up to the applicant – all mediums are welcome – applicants can be as creative as they wish.
A virtual launch will take place on 30 September 2021 when the opportunity will be advertised. Applications can be submitted after this date by email to the following email address: vcpventures@vcpb.org and must be submitted no later than the 15th of November 2021 when the application window closes.
There will be various stages to the programme, involving support from and access to senior business influencers, wealth management experts and venture capital firms, plus workshops, and useful resources, advice, mentorship opportunities and much more. This is wonderful one-off opportunity for budding entrepreneurs to connect with 'big business' and genuinely be heard, plus a real possibility for the final applicants to achieve much more with their business ideas.
Jeremy Chapman VCP Ventures lead advises readers, "If you have a great business idea and don't know what to do with it, or who to speak to, then this is for you. It doesn't have to be a complete and refined plan, rather a well thought out and responsible idea. You've nothing at all to lose by trying and it might just open a whole world of opportunities because of the support we have on offer for you. Don't miss this chance to move upwards! We're really looking forward to hearing all about your business ideas".
What exactly is on offer?
The entire programme is layered with support to help you grow your business idea as well as absorb business advice from 'big business' professionals.
The final 5 will receive the following:
• Individual coaching in readiness for the grand final, which will be held at a prestigious London business venue.
• Logo design, business card and stationary pack.
• The exclusive chance to 'pitch' your idea individually to a panel of well recognised businesses, including highly respected venture capital firms Octopus and Foresight, plus Rob Gardner, Director of Investments with St James's Place. These business influencers will personally feedback on your project, to encourage your idea further, provide you with invaluable insight and advice that could lead to discussions around funding as well as the possibility of work experience, internships and more. This is one off opportunity to really interact with senior business figures and benefit from their advice and guidance.
• Lunch will follow in the city of London along with presentations.
For full details and further information and to apply visit: www.vcpb.org
Jeremy Chapman VCP Ventures lead
Angela Herbert, Chair of the VCPB
Andrew Morrison – Communications
Gideon Buabeng – Project Manager
We are delighted to be supported with this project by the following:
St James's Place Wealth Management, Foresight Private Equity, Octopus Ventures, Metropolitan Police, Bedfordshire Police, Whitewater Display, Eoin Corbett Executive Coaching.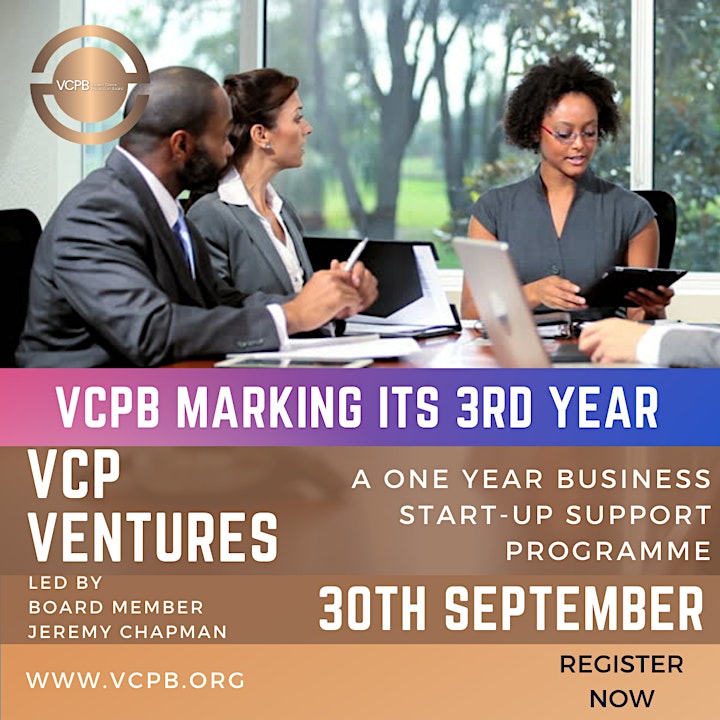 Organiser of VCPB marking its 3rd year VCP VENTURES: business start-up support programme