Description
Ladies and Gents! Vol.10 is HERE!!
Please join us for a night of Artisan vegan Cheeses and vegan wines!
Cheeses + Trimmings
All the cheeses are handpicked and chosen by Moko of 10 Cable St. She tries all the artisan cheeses out there and only serves the best! On average you'll get to try between 8-10 different kinds of cheese from different brands.
F-ish will be adding their 'Smoked Salmon' on to the board as well. You will get enough cheese and trimmings to fill you up so no need to eat dinner beforehand!
You will not regret coming to this event!
As its pur 10th one we will be buying extra cheeses so you guys can buy some of the cheeses you try on the night! You'll need to move fast though as stock will be limited!

Wine
Our good friend Tom is back again to show us great vegan wines he's found to try with the cheeses.
I don't know about you, but when I go to my local shops I never know which wines are vegan and are actually good. So, for this tasting, Tom will take some of the stress out of finding affordable, vegan-friendly wine without crossing town.
You will be welcomed with a glass of bubbly followed by 4 generous tasters.
Our wine expert Tom will talk you through the choices while you nibble on amazing cheeses and trimmings.
*There will be other drinks available for you to purchase through the night.
Tom the wine guy
There are three things you need to know about Tom.
1: He loves wine... maybe a little too much.
2: Although he will probably wear a tie, he isn't a wine snob.
3: As a vegan, he thinks that putting animal bits into wine – or anything else for that matter – is weird.
Over the last decade his wine adventures have taken him from selling wines at Oddbins in Edinburgh to chasing grape skins out of a winepress with a powerhose in Kent, and from talking his way past armed guards at a vineyard in Ethiopia to marketing the world's most expensive wines in London.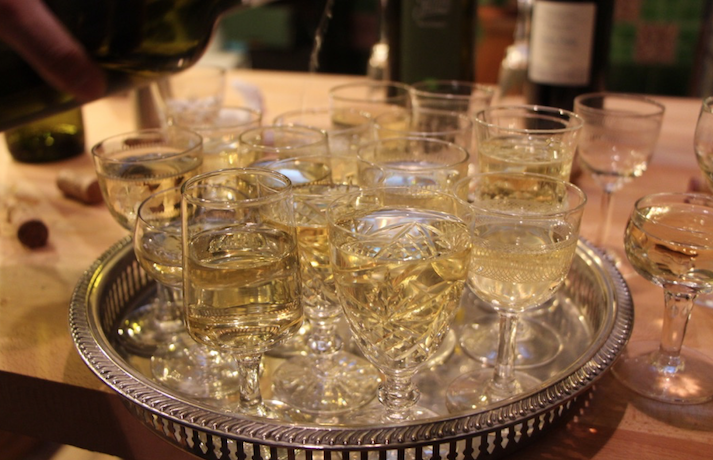 Hope to see you there!!
Every single one of these events has sold out so far so don't wait too long to book your spot!
( We now offer a discount for over 65's! Email us to take up on this offer! : )
Please get in touch with any other questions : )
As usual, if you book separately with your friends please let me know so I can organise for you to sit together : ) And don't be afraid to come alone!
Most of the cheeses we served are made using nuts, please speak to us before booking if you have any allergies!
Doors open at 7 pm* sharp and tasting/ eating will start at 7:30.
If you arrive early there are a couple of bars you could go and check out below!
What some of our guests said about our last event : )
' I went to the second Vegan wine and cheese event organised at 10 Cable Street. The place and table presentation were lovely. Some of the cheeses amazing and I particularly loved the description of the British wines that Tom made. Such a great event! I won't miss the next one and I'm planning to invite some friends as well! Thank you, Moko for being such a lovely host!' -Bee
'Wine and Cheese event was fabulous! So much food! Learned loads about wines. Even bought some wine and cheese for my own soirée in a few weeks! (Hope it lasts till then!) Moko is such a fabulous host and is focused on vegan and eco-events, which is excellent! Looking forward to checking out other events at this venue!' -Meredith