Learn the secrets of Nepalese cooking with Urmila in her online cookery class!
About this event
ANNOUNCEMENT: After a long search, we found a fantastic space in the heart of London which ticks all the boxes to create the Migrateful Kitchen, where all our classes, events and training sessions can be held. A place that can finally be a "home away from home" for all our migrant chefs. Help us to build our very own cookery school in the heart of London by donating to our crowdfunder: https://www.spacehive.com/migrateful-cookery-school-a-long-term-home 🍽
Join Urmila in preparing a wonderful Nepalese meal for her new online cookery class! She is a wonderful teacher, chef and story-teller. She will share the secrets to traditional Nepalese dishes. This is your chance to learn a brand new cuisine, support an amazing cause, and eat great food!
The class will be conducted as an interactive virtual cook-along. The classes usually range from 1-2 hours long. The chef will lead the group step by step through the recipes; stopping frequently to answer questions, share anecdotes, and provide feedback on your dishes!
Before the class we will send you a list of ingredients, quantities and equipment so you can join ready to learn! We will also send you a reminder email 3 days before the class takes place that will include the Zoom link, titled "Your upcoming online Migrateful Class". You can also find the Zoom link on the Online Event Page, accessible through the link included in the Eventbrite reminder email.
Urmila's cook-along dishes will be Egg Curry and Aloo Achar
Equipment List
2 saucepans
2 chopping boards
1 frying pan
Blender
Grater
Ingredients List
3 eggs
1 ½ onion
3 medium red tomatoes
Handful of frozen peas
3-4 green finger chillies
4 potatoes
¼ cucumber
2 carrots,
1 parsnip
200g green peas
2 lemons
100g of sesame seeds
1 garlic clove
Fresh coriander
Vegetable oil
Salt
Spices:
½ tbsp coriander powder
1 ½ tsp turmeric powder
¼ tsp fenugreek
½ tsp garam masala
½ tsp kasmiri powder (optional)
1 ½ tsp chilli powder
½ tsp cinnamon
2 bay leaves
½ tsp ground cumin
½ tsp ground coriander
Message from Urmila: "My name is Urmila Nagarkoti. I'm from Nepal. I grew up in a very small beautiful mountain village called Dahapokhari close to Kathmandu. Some people from my village are very wealthy and others are very poor. I come from a very poor family. We often struggled to have enough food and clothes to wear. Even though we had nothing we were very happy. We didn't have enough money to go anywhere so we just stayed in our village. When I was older I went to the capital city of Kathmandu to look for work. I got a job and managed to save money to give to my family. They were so happy. First I went to Bahrain then I arrived in London. I have a working permit here. I want to earn money to send back to my family in Nepal. I really love London. I love cooking. I learnt how to cook from my mother, she is an incredible cook. What is difficult is not being able to speak English. But I am a fast learner, already my English is a lot better. My favourite food is potato, chickpeas and coriander curry. Cooking is my passion. I really miss my family and I also feel the pressure to earn money for them. I am lucky to be here. But it's hard."
Payments made through Paypal can take up to 48 hours to have the order confirmed. To guarantee your spot on a cookery class we recommend using a debit or credit card.
Please note, we only process refunds and ticket transfers if we are notified 7 days before the class takes place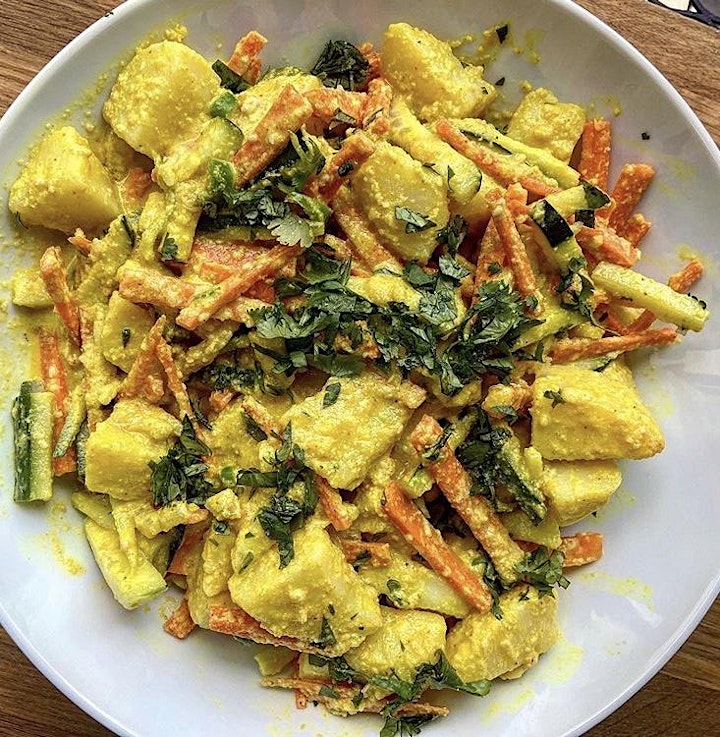 ^ Picture kindly shot by participant @huckleberrybooksandbaking during Urmila's online class
Date and time
Location
Refund policy