Location
NE1 8ST
Room 252, Northumberland Building
Northumbria University
Newcastle upon Tyne
NE1 8ST
United Kingdom
A FREE day-long seminar to explore Vehicle for Energy Services (V4ES), covering research, industrial practices and policy recommendations.
About this event

The increasing penetration of distributed energy resources and electric vehicles necessitates the integration of renewable energy generation and electric mobility in a sustainable urban mobility and energy plan (SUMEP). The realisation of SUMEP needs the use of vehicle for energy services (V4ES), via smart charging and vehicle to grid. V4ES helps improve energy autonomy, reduce carbon footprint, defer upgrade of grid infrastructure, and reduce cost of ownership and use of both energy and transport.
The successful implementation of V4ES relies on
Technical Advancements
Regulatory Support
Viable Business Models.
This day-long seminar aims to explore these different dimensions of V4ES from the aspects of research insights, industrial practices and applications, as well as policy recommendations.
Join us at at V4ES, Northumbria University, on Fri 8th Nov 2019.
Programme and Venue
> Click here to view the programme.
> Venue: Room 252, Northumberland Building. Click here (City Campus - Northumbria University) to view the map. (The Nothumberland Building is Building no 19 on the map, next to the Sport Central)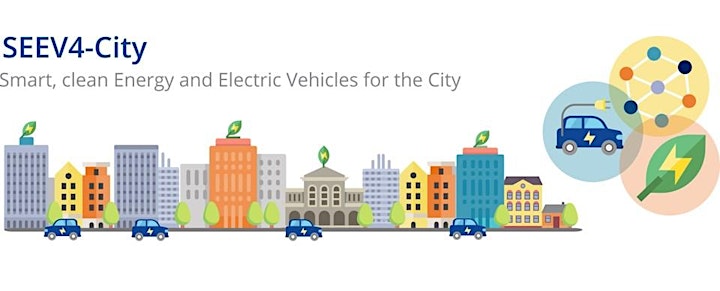 Themes:
Lessons learnt and pilot experience in SEEV4-City project
Advances in V4ES research
Industrial insights
Policy recommendations and regulatory support
Agenda
09:00 – 09:30 Arrival / Refreshments
09:30 – 09:40 Welcome
Dr. Richard Binns, Northumbria University
09:40 – 10:00 The need for V4ES and context
Ghanim Putrus, Northumbria University
10:00 – 10:20 e4future: large-scale demonstrator on V2G
Myriam Neaimeh, Newcastle University
10:20 – 10:40 Lessons learnt from operational pilots
Esther van Bergen, Cenex Netherland
10:40 – 11:00 Lessons on V4ES in a UK home
Chris Rimmer, Cenex UK
11:00 – 11:20 Refreshments
11:20 – 11:40 Amsterdam action on clean air and climate
Doede Bardok, City of Amsterdam
11:40 – 12:00 Developing and delivering lower emissions strategies; a local authority perspective
Chris Randall, Leicester City Council
12:00 – 12:20 Policy recommendations and regulatory support to local authorities with EV uptake in Sustainable Urban Mobility Plans
Florinda Boschetti, POLIS
12:20 – 12:40 V4ES business models from the perspective of the automotive industry and EU regulation
Jayson Dong, AVERE
12:40 – 13:30 Lunch and networking
13:30 – 13:50 Powering Johan Cruijff ArenA stadium with EV batteries
Tim Oosterop, Amsterdam Arena and Jan Winkler, Mobilityhouse
13:50 – 14:10 Smart charging applications for E-bus depots
Stefan Haass, Siemens
14:10 – 14:30 Stationary storage, second life batteries, energy autonomy and grid support
Warren Hayes, Connected Energy
14:30 – 14:50 Refreshments
14:50 – 15:10 V4ES business models, considering battery degradation
Kotub Uddin, Sterling and Wilson
15:10 - 15:30 DSO view, interaction and impact of V4ES
Iain Miller, Northern Powergrid
15:30 – 15:50 Quantifying variables preventing an accurate energy model
Colin Herron, Zero Carbon Futures
15:50 – 16:15 Questions and Discussion
Richard Kotter, Northumbria University