Join Orrick for a deep dive on all things venture capital, as they demystify what it is and how you can use it to grow your business
About this event
Many of today's biggest and brightest companies (including Google, Facebook, and Airbnb) used venture capital in their early days to fund and grow their ideas.
Europe is now the fastest-growing region of venture capital investment globally, and the UK start-up community is driving much of this growth. In fact, in the first half of 2021, £12billion was invested by venture capital funds into UK startups.
But what exactly is it and how does it relate to your ideas?
The team at Orrick want to speak to you, the next gen of founders, entrepreneurs, and creators about the venture capital industry, how it relates to growing your side-hustles and businesses, and the journey of a venture capital-backed company from "seed" to "unicorn" status.
In the session, you will learn about:
The venture capital industry and how venture capital firms work
The different ways that companies are funded and how they grow
How venture capital deals come together and raise money for your ideas
The types of deal terms that are negotiated between startups and venture capital firms (including breaking down some of that jargon!) from both an entrepreneur's and venture capitalist's perspective
This event is part of Creativity Works, a Mayor's Fund for London programme supported by Citi Foundation and delivered by Create Jobs at A New Direction.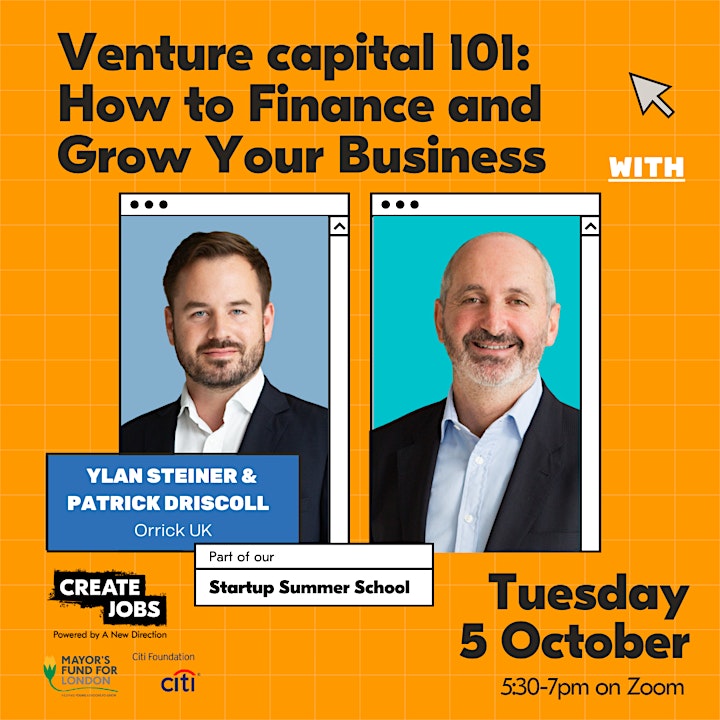 Organiser of Venture Capital 101: How to Finance and Grow your Business