Venture Creation - DisruptEd: Exploring Emerging Tech for Education
Description
Are you working on emerging technologies that can be applied in education?
Are you passionate about the next generation of educational tools and platforms at a global level?
Do you have innovative ideas that can be used for creating the next generation of learning experiences?
Unveil new business opportunities with global potential for the next generation of educational technology at our upcoming Venture Creation Weekend (VCW) run in partnership with Cambridge English. This three-day intensive event will bring together technology and innovation entrepreneurs who want to address challenges in the education sector and apply new technologies at global level.
The CJBS Entrepreneurship Centre Venture Creation Weekends provide a hands-on experience where aspiring entrepreneurs can find out if their start-up ideas are viable. Bring your enthusiasm and creativity, your best idea and inspire others to join your team! You'll get feedback from our experienced mentors and pitch your idea to a panel of industry experts and investors to find out whether it is viable.
Participants of VCW DisruptEd are welcome to explore technologies in a range of areas including: Speech, Vison, Artificial intelligence, Machine Learning, Big Data, Mobile, Gamification and others.
The winning team will get a prize and an opportunity to apply for the Accelerate Cambridge Programme and receive mentoring from the educational industry experts.
Who is it for?
You have technology that can be applied to education

You need to build a team or get advice from a mentor to develop your idea

You have an idea and want to launch a business

You want to join a startup

You want to get inspired and to learn how to start your venture
Benefits for you
Learn by the act of creating
Build a relevant network
Founder dating: use the weekend to match up with a co-founder
Find and build a team
Learn how to launch a business
Test viability of your idea and get feedback from Mentors and Judges
Enjoy the buzz and have fun!
You can check information on previous Venture Creation Weekends here.
More information about this event is available here.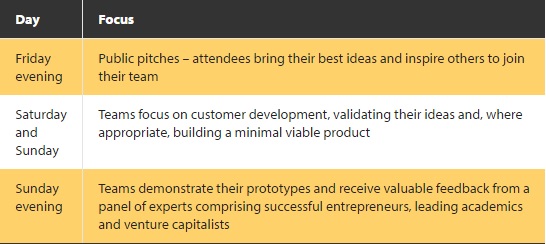 Testimonials from attendees at previous Venture Creation Weekends
"I could not have spent a better weekend anywhere else. The attention to detail of making sure that I was enabled to both learn from the best, and perform at my best was amazing. I highly recommend that anyone either thinking of starting a business or already enjoying a new venture role, should attend this amazing half workshop / half lecture weekend. The icing on the cake is the quality of all the people - both staff, mentors and participants."
"An amazing experience to meet people from different backgrounds, who fundamentally share the end goal of creating a connected device to improve the lives of all."
"This has truly been an unforgettable weekend and the mentorship offered was fantastic. Thank you for bringing us all together it has been an amazing experience to begin our journey. A special thank you to Hanadi ...thank you for inspiring us all."
Cancellation and Refund Policy
If you are unable to attend the event, please ensure that you cancel as soon as possible, as there is a limited number of tickets and others can then attend instead.
Entrepreneurship Centre at Cambridge Judge Business School will honour refunds up to 5 days before the event starts. We do not offer refunds the week of the event due to the need to pre-purchase food/drink and supplies. We apologise for any inconvenience this may cause you. If your ticket is not eligible for a refund, we strongly suggest passing on your ticket to someone else!
If you have any questions please email venture@jbs.cam.ac.uk.