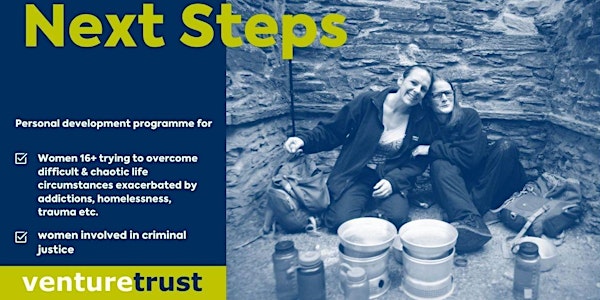 Venture Trust, support for women with experience of domestic violence
Venture Trust, information on how Venture Trust provide person-centred support for women who have struggled with domestic violence.
About this event
As part of our 16 Days of Activism and raising awareness of gender based violence, violence against women and girls. Venture Trust have offered to provide an information session on how they are able to support women who have struggled with domestic violence, to support their recovery and gain skills and confidence.
A brief overview of how we work:
- An initial call or joint meeting with the referrer and participant
- Three assessment meetings, to make sure you are in the best place to work with us and that you are choosing to work with us voluntarily and you have all the information to be ready to work towards a wilderness journey
- Phase 1 – after the successful assessment meetings we will meet with you between 2-6 more times prior to you attending a wilderness journey, depending on the date of this. We can meet with you fortnightly or weekly, but with a focus on working towards a wilderness journey and meeting more regularly as the date approaches.
- Phase 2 – The immersive wilderness journey! This is five days of fun, challenge and personal development out in the beautiful Scottish wilderness. With a strong dedicated staff team, one to one support, outdoor activities, opportunities to learn outdoor skills like cooking and tent building alongside important team building and social skills. Each participant is on a unique journey and we help you take time out to focus on you and what next steps will take you in the direction you want to go. People who have taken part often report feeling much more confident and clearer in focus after the wilderness journey, feeling like they can make more positive next steps. Each person gets a certificate, a really positive strengths focused course report and action plan.
- Phase 3 – after the wilderness journey you will meet back up with your outreach worker for around 4-6 more meetings to help you achieve some of your goals in the action plan. It is also our role to help link you into any other organisations which could help you further reach your potential or provide appropriate ongoing support.