Verdant - Virtual Exhibition
About this event
We are pleased to announce a virtual exhibition organised by ArtCan entitled:
"VERDANT"
This exhibition is designed to bring together an aesthetically beautiful collection of floral and botanical artworks, not only in antithesis to such difficult circumstances worldwide over the last year and a half, but as a celebration of the flora which have given us so much strength during these times.
Curated by Kate Enters and Catherine Sweet
Exhibition Run: 1st – 30th November 2021
ArtCan Virtual Gallery
Contact:
info@artcan.org.uk
The Zoom link will be sent via email to registered attendees.
This event is recorded – please keep your video off if you do not wish to be seen.
ArtCan
ARTCAN
ArtCan is an artist-led, non-profit arts organisation with members across Britain and internationally. Our work is supported by the efforts of artist-member volunteers, contributions from our Founder Friends and Friends of ArtCan and with the valued guidance of our Board of Trustees. ArtCan has expertise in producing collaborative art exhibitions in London, across Britain and internationally. Our exhibitions complement the work of established galleries by enabling talent to gain experience and skills. We work with galleries, but also seek new spaces where art becomes a part of everyday life and with the aim of involving audiences in an organic and personal way. ArtCan's artist-centred ethos means that our model does not involve charging membership fees or commissions on sales, to help artists focus on developing a sustainable practice.
Follow us:
ArtCan
Website: artcan.org.uk/
Social Media: @artcanorg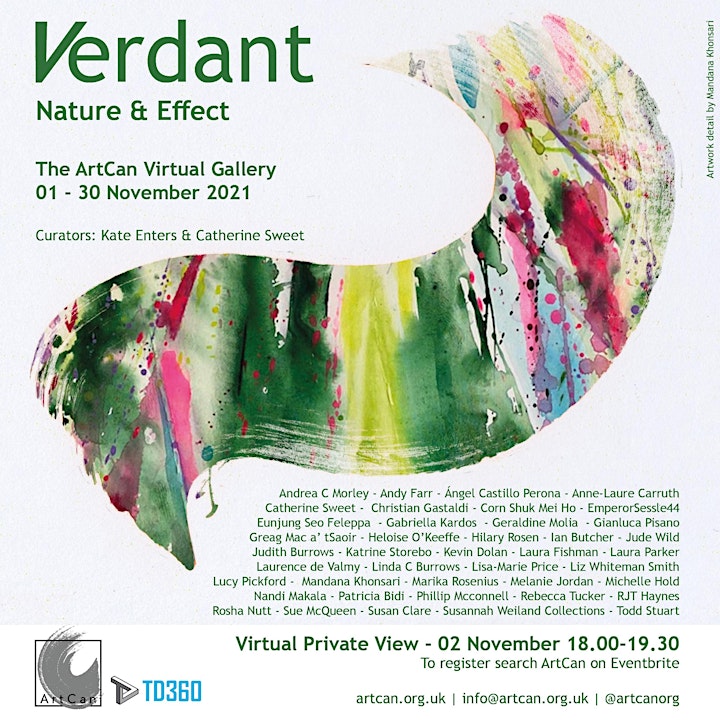 Organiser of Verdant - Virtual Exhibition Private View