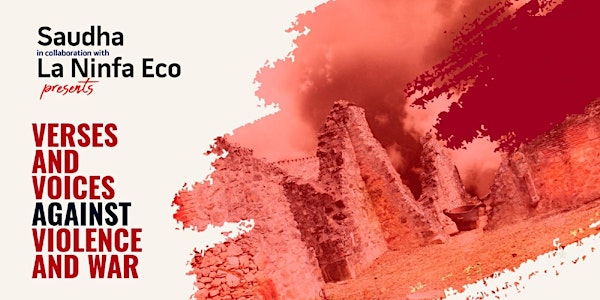 Verses and Voices Against Violence and War at Oxford
Event Information
Location
West Oxford Community Centre
Botley Road
Oxford
OX2 0BT
United Kingdom
Artists' responses to the war and violence through performances.
About this event
Saudha Society of Poetry and Music (www.saudha.org), a leading organisation of global arts and music here in the UK in partnership with a global literary platform La Ninfa Eco is hosting this extra-ordinary event of a wide range of performances to protest the war, the rise of fascism, violence and brutality through #Arts #Music #Dance #Literature and other art forms.
Curated by poet T M Ahmed Kaysher, this event will feature artists' responses to the war e.g. (Russia vs Ukraine and all other wars and violence happening in the world) through performances, insightful and analytic presentations from well-known musicians, poets, writers, filmmakers, theatre-practitioners, academics, painters, dancers, from different cultural traditions.
The event begun at Rich Mix, London and It's touring to Oxford, Birmingham, Leeds and other big cities.
This is a free event but the seat needs to be confirmed through eventbrite ticket.
Please contact 07828190551 for detail.
Date and time
Location
West Oxford Community Centre
Botley Road
Oxford
OX2 0BT
United Kingdom