Description
Perform Better, the UK's leading and most innovative supplier of Performance Monitoring and Training Equipment, will be hosting The VertiMax Certification Course which delivers the product knowledge and the coaching knowledge and skills to effectively and safely utilise the Vertimax product range - while training athletes and clients in a general fitness setting.
PRESENTED BY Chris Gorres, a Performance Consultant from Virginia, USA who has worked with a number of NFL and NBA Athletes and is an experienced presenter on the Vertimax Certification Courses.
VERTIMAX is a revolutionary concept in training that offers a superior new training technology that is both safe and highly effective while developing functional strength, speed and vertical jump abilities.
VERTIMAX is a patented training system that has the versatility to enhance performance in all aspects of human movement in sports and physical therapy.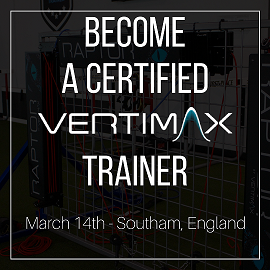 PROGRAMME FOR THE VERTIMAX CERTIFICATION COURSE
The VertiMax Certification Course delivers the product knowledge and the coaching knowledge and skills to effectively and safely utilize the Vertimax product range while training athletes and clients in a general fitness setting.
1.Technology Overview & Benefits: Participants are presented with a VertiMax technology and applications overview to gain a better understanding of how VertiMax technology stops band resistance from increasing exponentially as the band is stretched. New training applications for resistance bands are presented resulting from the improvements VertiMax technology provides.
2. V8 & Raptor Product Overview: Participants are educated on the proper function and maintenance of the VertiMax product line. Safety procedures for both the V-Series platform product and Raptor products will be reviewed along with product configuration options that trainers may configure in order to match desired training protocols.
3. Qualifying Trainees: A testing protocol will be presented which after subjecting trainees to, will allow trainers to identify areas of weakness and strength. The results from the testing protocol will allow trainers to develop a more customized training protocol on the VertiMax products which will both constrain the training programme safely within the trainee's capabilities while addressing the weaknesses identified by the testing protocol.
4. Training Protocol and Goals: This section of the course provides an effective understanding how training with VertiMax can provide benefits to a trainer's clients and how these benefits will impact the achievement of goals. Additionally, with an effective knowledge of the technology and its relationship to benefits, the section will review the basic processes to programme VertiMax correctly into their training regimens and understand essential exercise progressions models of the technology and specific training systems.
5. Sports Performance Training: VertiMax has a long standing history in Sports Performance with the original VertiMax being designed to improve jumping ability and lower body triple extension power development. Based on the information outlined in the previous sections of the course, this section will review in more detail how VertiMax Training systems can be applied in specific training sports performance training modalities and specifically to certain sports.
6. Injury Prevention and Functional Training: Preventing injury is critical component of success with your clients. In this section, we will outline some priorities associated with injury prevention that should be considered with your clients as you use the VertiMax Training system. Additionally, the VertiMax Training Systems versatility allows for applying functional training concepts and to create unique and standard functional training exercises using the VertiMax Training systems.
7. General Fitness: In working with general fitness clients, VertiMax allows for very creative programming and creation of training variety in a wide scope of the latest general fitness training paradigms. In this section, we relate the use of the VertiMax in the different training modalities that we have previously reviewed and identify which training paradigms that these modalities can be applied. Example exercises are also provided to further illustrate these concepts
8. Group Training Concepts: Training in groups is an essential part of working with clients in a sports environment as well as in your general fitness paradigms. In this section, we illustrate group training examples for the basic training modalities and how they are applied using the different VertiMax Training systems.
For Further Information:
Perform Better on 01926 813916 or email: Workshops@performbetter.co.uk