Victoria Stilwell, The Power of Positive Training

Saturday, 6 April 2013 at 10:00

-

Sunday, 7 April 2013 at 17:00 (BST)
Event Details
Victoria Stilwell Seminar
Sat 6th & Sun 7th April 2013
10am - 5pm
Guide Dog Centre Atherton, Nr Manchester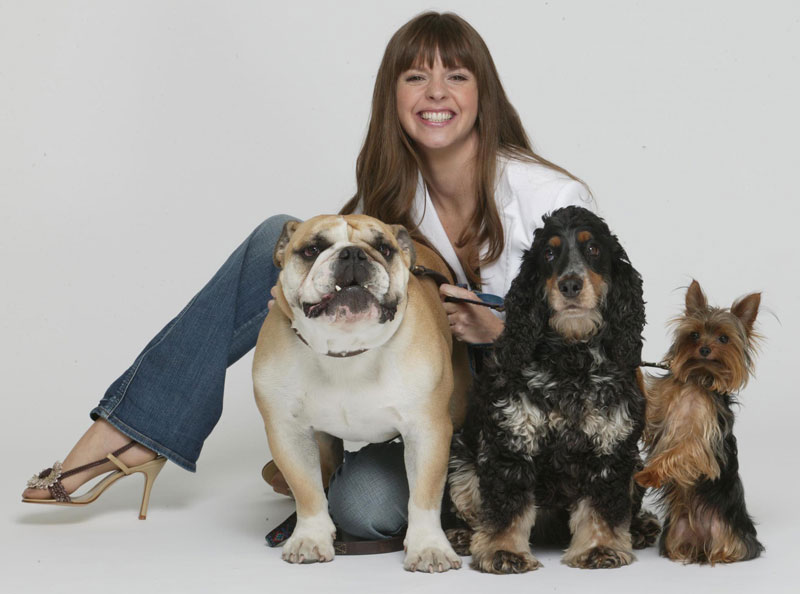 Jo Pay (Standish Dog Trainer) is delighted to announce that Victoria Stilwell is coming to the UK for a very special two day seminar.  Jo is a Victoria Stilwell Positive Trainer running her own successful training and behaviour business in the North of England.
Victoria Stilwell, host and trainer of the hit television series It's Me or the Dog will be giving a fascinating and insightful seminar on the Power of Positive Training.  Teaching with kindness is her core philosophy, whatever the breed and whatever the problem. Learn how you can increase your understanding and strengthen the bond with your canine companion in a humane and effective way and find cutting edge teaching ideas and solutions for any behaviour problems that your dog might be having.  Victoria will also take you behind the scenes of It's Me or the Dog, giving you a unique look at how her hit television show, now airing in fifty countries around the world, is filmed.  This is a fun, educational and entertaining seminar that will take you deep into the canine mind. 
The seminar will include the following:
The Power of Positive Training
Behind the Scenes of It's Me or the Dog

The Bond – Exploring the Human/Canine Relationship

What is Positive Training?

The Dangers of Dominance

How to Make Learning Fun for you and your Dog

The Power of Positive Motivation

The Canine Senses – Learn how your Dog Perceives the World

Why is Play so Important?

Understand your Dog - Learning Canine Body and Vocal Language and Improve your Communication

Solutions to Common Behaviour Issues such as Excessive Barking, Chewing, Jumping Up, Stealing, Door Dashing, Mouthing, House Soiling.

Question and Answer Session
Day two will include:
Stress, Anxiety and Aggression in Dogs
Stress, anxiety and aggressive behaviour in dogs is an emotional response that is much misunderstood and therefore mismanaged, putting strain on the human/ dog relationship with sometimes dire consequences for both.  As more and more dogs are living in domestic situations, there is an increased pressure on them to behave well in all social situations and environments.    These social pressures can sometimes be difficult for dogs to cope with, leading to confusion, anxieties and stressors that have a negative impact on a dog's life.   What can be done to curb stress and aggressive response in our canine companions and how can we make a dog's life experience easier?  Victoria Stilwell, will take you deep into the canine mind to help you understand and work through these complex behaviours.  
What is Aggression? Understanding Aggressive Behaviour

Why Do Dogs Become Aggressive? 

The Dominance Myth

Emotional Experience – Stress and Anxiety - Understanding the Canine Nervous System

Categorizing Aggressive Behavior – from Lead Aggression to Resource Guarding

Assessing and Changing Aggressive Behaviour

Dealing with Aggression in a Shelter Environment

Preventing Aggressive Behaviour

Children and Dogs - Safety and Responsibility

Question and Answer Session
Victoria will also be signing copies of her books, It's Me or the Dog, How to Have The Perfect Pet.
This special two day event will cost £105 early bird rate (book before 15th Jan 2013) £120 standard rate from 16th Jan 2013. Daily rate charge is £75. Tea & coffee will be available and a sandwhich & cake buffet will be available each day.
When & Where

The Guide Dog Training School Atherton
Gibfield Park Avenue
Atherton
M46 0SU Manchester
United Kingdom


Saturday, 6 April 2013 at 10:00

-

Sunday, 7 April 2013 at 17:00 (BST)
Add to my calendar
Organiser
Standish Dog Trainer is owned and run by Jo Pay. Jo is part of the  Victoria Stilwell Positively network of dog trainers. She runs a successful dog training & behaviour businesses in the North West of England. You can find out more about Jo at www.standishdogtrainer.co.uk.