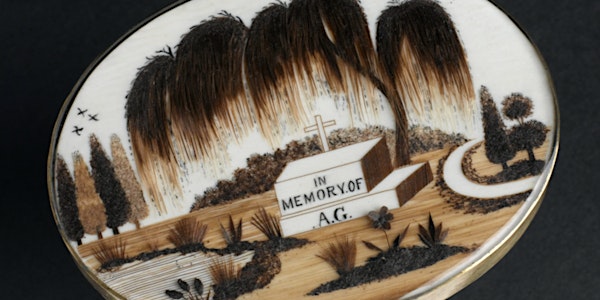 Victorian Hairwork Jewellery Masterclass with Karen Bachman
Refund policy
Refunds up to 1 day before event
Victorian Hairwork: Mourning, Memory Object, and Craft with Master Jeweler, Educator and Art Historian Karen Bachmann, 4 week online course
About this event
4-week online course
Tuesdays, 5, 12, 19 & 26th October
6:30-9:30pm Taught via Zoom by Karen Bachmann
PLEASE NOTE: This class requires supplies, a full list will be emailed upon registration.
In this four week class, students will learn about the history of--and create their own piece of-- Victorian Hairwork.
We will explore--via readings, lectures, and making--the ways in which hairwork functions as a "secular relic," and how this relates to the Catholic tradition of human relics as well as what has been called "the Victorian Cult of Mourning." We will examine the genesis of Speaking Reliquaries, or Redende Reliquaire, and the transformation of human remains into objects of veneration, power, and sentiment. We will trace this idea to the 18th and 19th centuries, when the fascination with preserving human hair became popular as a means of keeping a physical relic or memento of a loved one—living or deceased—near. We will also examine how this developed in the context of Queen Victoria and the cult of mourning she inspired.
This course will also delve into the history of the veneration of human remains as memory objects, and participants will design and create their own memory objects utilizing classic techniques in Victorian hairwork which will be taught over the course of this class. Methods covered will include wire (gimp) wrapping, palette work, and sepia work. Other, less common, materials may also be include such a teeth, nails, pieces of fabric, etc. In this manner, animals or beloved pets may also be honored.
In the final class, students will present their final project.
A supply list will be emailed upon registration.