Description
Why should you join?
Victory Art x RAW Streetphoto Gallery exhibition introduces an exclusive and fresh perspective of Eastern European European art with an emphasis on the Slovak Republic. This exhibition encompasses the designs of a talented young Slovakian girl, Mima who focuses her time and brushwork on mastering collages.Her raw artistic perspective on contemporary society cultural identity and one's place in society through her art. Her artwork is one to not be missed! Not only that, Ambassador His Excellency, HE Roman Bužek is also expected to be an appearance at the exhibition. This exhibition is everything you need to know about Eastern European European Art. Explore the opportunity to learn more about Victory Art and RAW Streetphoto Gallery through this exhibition.

Who is Mima?
She is an artist, a storyteller, a color poet. "I think everyone is a storyteller to some extent and I communicate best visually." Growing up in post-socialist Slovakia in the 90s, western toys and MTV have influenced their visual vocabulary and color sensibility. She composes her pieces as visual color-poems. She is used as a part of her creative process, she uses titles to link her vocabulary to the emotional world of pop songs. Inspired by the themes of cultural self-awareness, childhood memories, aesthetic or 80s pop songs, history, architecture, and everyday human drama, Mima's artwork represents Slovakia's cultural heritage and the concept of national identity as the core of her practice and research.Through practice, she reflects on her own identity and thus attempts to understand herself and others. Her artwork focuses on the history of Slovak culture, its mythology and collective identity in the context of artistic expression. Not having a studio or painting room, she faced a design and started producing collages as narratives of her own. Since then, collages have become a dominant element in her work.
AGENDA:
16.00 Door Opening
16.30 Kickoff by the founder of Victory Art, Viktória Pikovská and
the director of Raw Streetphoto Gallery, Alexey Shiffman
16,40 Official opening of the exhibition by the Slovak ambassador, H.E. Roman Bužek
16.50 Interview of the artist Mima Chovancová and the curator Marthina von Loeben by Aditya Putta
17.00 Drinks and Networking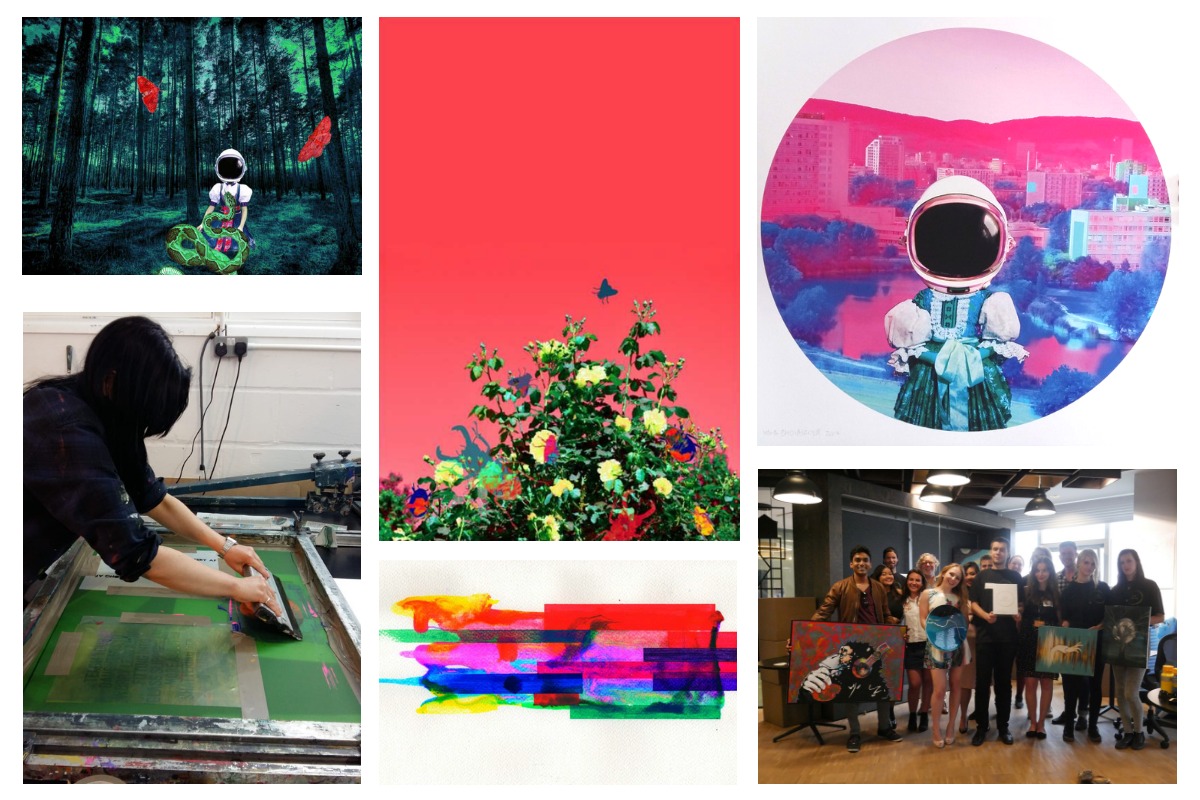 Who is organizing?
Victory Art and RAW Streetphoto Gallery
What is Victory Art?
Victory Art is an initiative to connect uprising Eastern and Central European artists to the global art market. We provide a platform to help the undervalued yet talented artists who lack the opportunity to exhibit and art their artworks. Yet, Victory Art is much more than just a platform. It is a support system created to help these artists with a fresh style and a unique take on art their place in the art industry. We, as Victory Art, believe in these artists and endeavor to take whatever role we need to provide them with a launchpad for them to shine. We create a platform dedicated to bridging the unfortunate gap between talented Eastern and Central European artists and the global art market.
What is RAW Streetphoto Gallery?
RAW Streetphoto Gallery is a platform that creates an opportunity for collectors to discover young and talented photographers. RAW Streetphoto Gallery was created for and in the development of new photographers in the Netherlands. We try to support photographers from Dutch art schools, art colleges as well as international artists and collaborators.


Want to see who's coming? Check it out on our website: https://goo.gl/G8oUYz