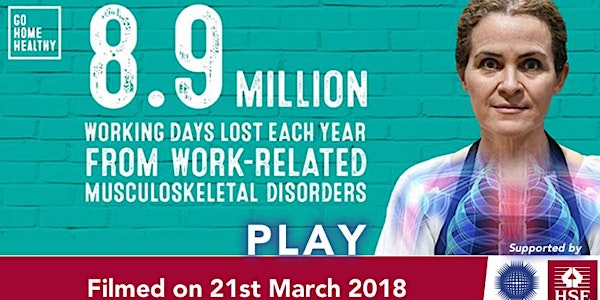 Video Archive: The Work-Related Musculoskeletal Disorders Summit 2018
Refund policy
Refunds up to 7 days before event
Description
We're delighted to announce that the Work-Related Musculoskeletal Disorders Summit 2018 Video Archive is now available to watch online. This summit was filmed on 21st March 2018, from the QEII Conference Centre in London and you can now catch-up on all the speakers and presentations with the #MSDsummit On-demand Archive. There are over 30+ videos in the archive, containing over six hours of presentations - all instantly available to watch now. (Plus all videos will remain online for >12 months.)

About the Summit

Work-Related Musculoskeletal Disorders (MSDs) are the most commonly reported cause of occupational ill health in GB, affecting many workplaces, arising from different work activities and resulting in a variety of ill-health outcomes.
HSE's sights are firmly set on achieving significant improvements in preventing and controlling exposure to MSDs. Everyone has the right to go home healthy from work and we want to enable employers to do the right thing to protect the health of their workers today and for the future.
This summit explains what HSE is doing to achieve this, what you can do about it and what current scientific thinking is starting to shape new and re-energised approaches to help us. Tackling MSDs needs everyone to #WorkRight and share an ambition for workers to go home healthy.
Benefits of Watching

Hear about HSE's position on MSDs

Understand how design solutions can reduce the risks from MSDs

Engage with others facing the same challenges

Understand the risks from the changing workplace and new ways of working
Who Should Watch Online?

Employers Work-Related Musculoskeletal Disorders Summit 2018 Video Archive

Health and safety professionals, occupational health advisors, consultants Trade and sector bodies, unions, designers and manufacturers of equipment and risk solutions and services, training providers

Key industry sectors - construction, health & social care, transport/logistics, agriculture, manufacturing

Academics and professionals working on ergonomics

Occupational health providers

Frequently Asked Questions
Q. What sessions were recorded at the MSD summit?
All sessions were recorded - including every session in the main auditorium and we recorded the keynote presentations in one other room during the afternoon workshop.

Q. How long will video recordings be made available for?
Videos will be made available for viewing all year round. Our aim is to inspire and educate as many viewers as possible.
Q. When will recorded sessions be made available?
We will send you instant access to all recordings. When you purchase online, you will receive a unique username and password that will grant you access to all proceedings. This process is automated and you will receive login details via email within 5 minutes of your order being confirmed.

Q. How will I receive my CPD certificate?
This event is CPD certified, and a certificate will be sent via email to you shortly after registration.

Q. I have another support request - who can I contact?
Our dedicated support team will also be available via support@switchnewmedia.com if you have any technical queries
Many thanks,
The MSD Summit Live Stream Team