VIDEO CHALLENGE: PRESENTING TO-CAMERA FOR YOUR BUSINESS

Friday, 16 June 2017 from 09:30 to 13:00 (BST)
Event Details

Utilising video for business increases social engagement by up to 85% more than using just standard images.
In only 3 years from now, 80% of online content will be video. 
Presenting to camera and being the face of your brand is now more important than ever!
But what does this mean for your business?
THE RED CARPET ACADEMY invite you to:
'Presenting To-Camera For your business Taster Workshop & Video Challenge'
with multi award-winning, International TV and Radio Broadcaster, Leah Charles-King from ITV and The Beat London 103.6fm
---
This is a unique presenter training workshop facilitated by REAL mainstream TV Broadcasters, helping you to gain insight into the practicalities of on-screen presentation PLUS gaining a review of your current presenting status and ways to improve right away.
Do you feel embarrassed or nervous in front of the camera?

Does your mind go blank the moment the record button is pressed?

Would you like to learn professional camera presenting skills to promote your product or service?

Does the thought of speaking to a camera and appearing in front of thousands of viewers for live video streaming terrify you?
---
If you answered YES to any of the above, this mini workshop is for you!
This mini workshop will offer best practices for presenting to camera like a celebrity expert, alongside a video challenge where we provide an opportunity for you to record with us on-camera and receive personal feedback which you can implement the very same day.
Whether you're a complete novice or have already been doing some form of presenting, let us help ensure you're on the right path and that your output soars above the rest! We want to help you to see your own potential through the lens and empower you with knowledge in the right direction! We believe the best way to do this is by learning first hand from Broadcasting Experts who actually do this as their day job.
GAIN INSIGHT TO:
Connecting with an audience you can't see
Being authentic through the lens
Presenting with professional confidence 
Feeling comfortable on camera
On-camera best practices 
Confidently communicating your brand through the lens
This practical morning workshop and networking opportunity is designed to help you discover and develop your own unique presenting style to camera and gain an immediate course of action for your next steps toward online video success.
During the workshop we have EVERYTHING you need! Lights, Cameras, a production crew, plus celebrity presenting expert, Leah Charles-King, who'll be sharing her tricks of the trade of 20 years experience on mainstream television, including ITV, SKY, BBC to name only a few.
We will work with you in presenting your own piece to camera whilst learning best practices to use for creating your own professional online content for live streaming, social media, vlogs, personal websites and YouTube channels.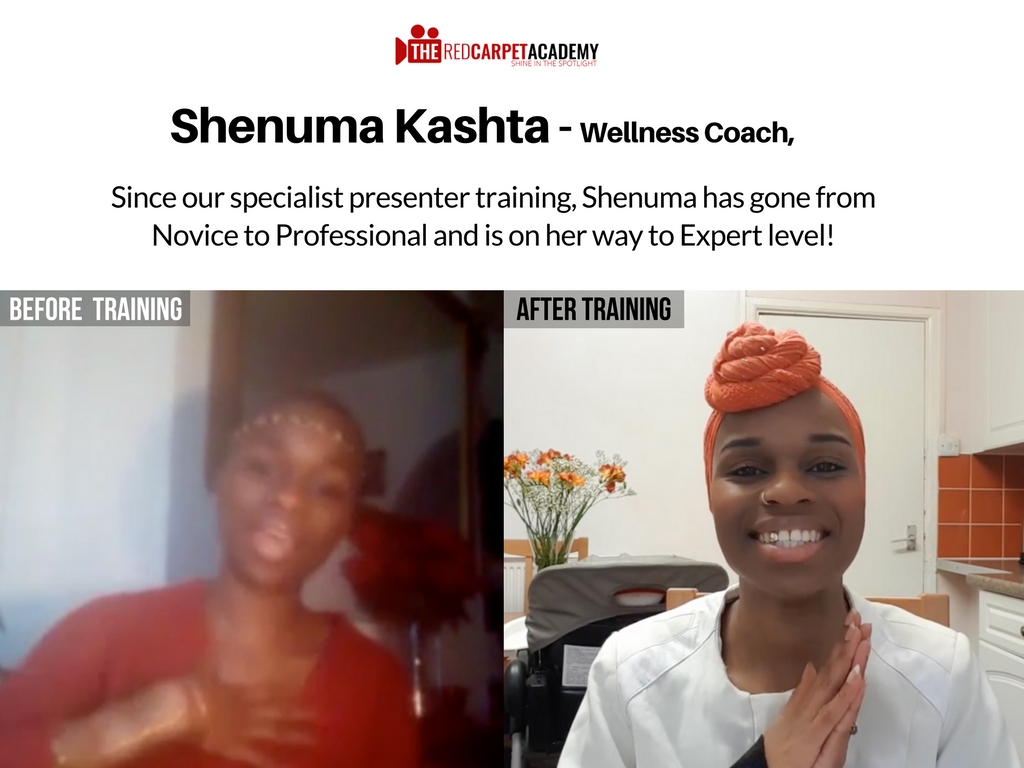 Entrepreneurs, Speakers, Leaders, Coaches, Authors, established businesses & Start-ups

If you're interested in exploring your on-screen presenting options

Those wishing to gain insight to leveraging online media and live streaming

Those wanting to be the face of their brand

Those who want to present professionally to-camera.

Those who are already creating online videos such as Facebook Live

Those wishing to gain personal feedback on their current standard of presenting ability and how to improve

Those who would like a critique of their on-screen persona
When you know how, presenting to camera can be incredibly beneficial for your business as well as lots of fun! Investing only a few hours of your time with The Red Carpet Academy can save you a lot of trial and error in the long run when creating professional online videos

.
This training workshop is led by multi-award winning TV & Radio Broadcaster and Founder of
Leah Charles-King
(ITV, The Beat London, BET International) 
 Watch Leah's showreel here: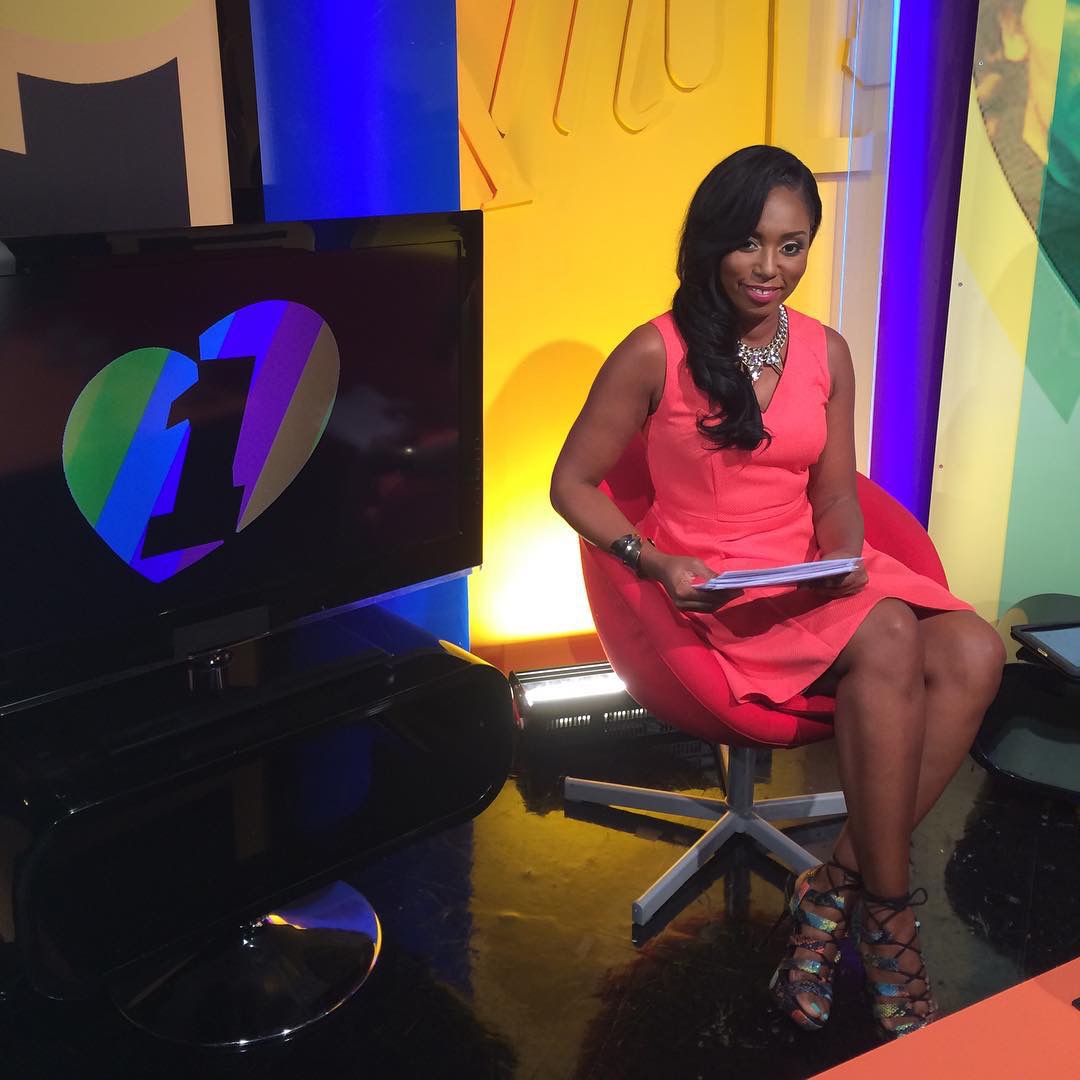 LEAH CHARLES-KING: ITV & The Beat London 103.6fm Presenter & Founder of The Red Carpet Academy
Almost 20 years mainstream experience in the Media industry

Over 65,000 of hours of live, unscripted TV presenting experience

Host of countless speaking engagements for prestigious events nationwide

Produced and presented programs transmitted in Europe, USA and Africa

Seen by a combined estimated TV audience of over 200 million viewers worldwide

Producer credits for live and pre-recorded content for TV broadcasts

Presented and appeared on ITV, BBC, BET, The Disney Channel, MTV, Sky Arts and more

Launched OHTV and BET International on UK television as their first on-screen presenter
WHO WE WORK WITH: 
ITV, BBC, SKY LIVING, CHANNEL 5, QVC, SKY 1HD, BBC NEWS 24, HSBC, BARCLAYS, BAFTA, MTV + MORE.

WHAT DO PEOPLE SAY ABOUT US:
"Leah and the team help you maximize your potential" - SHENUMA KASHTA – Author & Motivational Speaker
"Even though I've been presenting for a while I've learnt a lot from The Red Carpet Academy"- Hamim Choudary aka Sugapuff – TV Presenter 
"If you want to speak to camera in a very professional way come to The Red Carpet Academy"   - CJ SOHAL – Speaker, Author & Coach
ENQUIRIES:
When & Where

The Red Carpet Academy
Shaftsbury Avenue
W1D 7EH London
United Kingdom


Friday, 16 June 2017 from 09:30 to 13:00 (BST)
Add to my calendar
Organiser
The Red Carpet Academy by multi award-winning TV and Radio Broadcaster, Leah Charles-King, will help you achieve your goals by developing and refining your on-camera presence.
Using Video Media for your business is the future, and we're here to ensure you're one step ahead.
No matter who you are, or what you're looking to achieve, the camera can take you there if you let it!  The Celebrity Experts at The Red Carpet Academy will give you the skills to master the art of presenting to camera.
Please scroll down to select your preferred time and date, all our training and events are located in Central London.
Contact us: hello@theredcarpetacademy.com