About this Event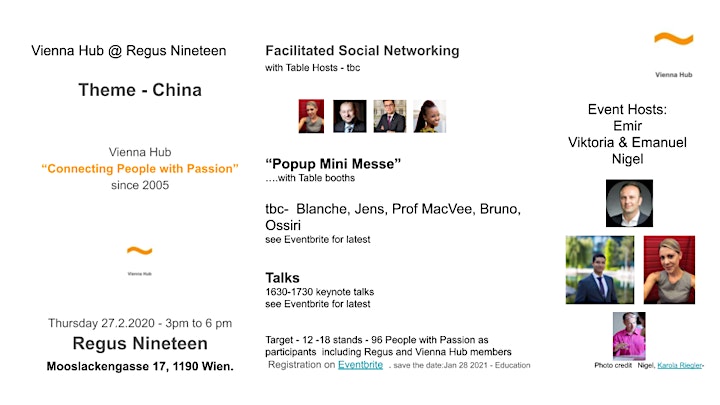 Facllitated Social Networking @ Regus Nineteen with PopUp Mini Messe
Theme "China"
by invitation
Note - This schedule is subject to change in order to maximise value to attendees. One of our USPs is speed. We can organise things quickly. Vienna Hub strives to create value by connecting people with passion. We operate in a state of flux and flow, in a world of "chaos", where we strive to thrive and stay alive.
Agenda outline :-
Following a greeting at the Welcome Table, guests are invited to join another table with a Table Host, and from there to move around other tables and hosts, meeting other guests as they go. Also welcome to visit the presentations and table booths and to visit any talks or presentations they wish to
A. Talks:- Focus time 16:30 to 17:30 , focus theme - China
Inviting 4 interesting speakers ...
Christian Bauer who worked for the Expo 2010 for half a year there and other projects
others tbc
B. Table hosts for Social Networking include:-
Viktoria - Daan- Alex - Aladin - Ceri -
C. Table Booths for mini-messe include :-
Alexandra - Remedies....TCM...
Lingophant, SMART Academy,
Event Partners:- DoBe - Ossiri's -
- their profiles can be seen in the event slideshow
Why China?
Vienna Hub connects people with passion across art commerce sport and education. There are soon to be 10bn people in the world - 20% in China. Its important, So its a main theme. By bringing people with passion together to exchange ideas, conversation and contacts it is expected to create value. As Thomas Power said in 2005 at the launch of Vienna Hub, "if you want to increase Social Capital, just go around and talk to everyone in the room". Well in this room, the focus is on China, so if thats an interest of yours, this could be a great room for you on 30th January