Sales Have Ended
Ticket sales have ended
We wish to advise you that registration has now closed. Should you wish to attend, however, you can join the waiting list (by clicking on 'Register'). If a seat becomes available, you will be notified and will have 24 hours to confirm your attendance, otherwise the available seat will be transferred to the next person on the waiting list. Turning up at the event without proof of registration will result in you not being able to enter the conference. For any questions, please contact us at events@gwec.net. We thank you for your understanding. Kind Regards The GWEC team Chúng tôi xin thông báo quá trình đăng ký đã kết thúc. Tuy nhiên, nếu muốn tham dự, quý vị có thể tham gia danh sách chờ (bằng cách nhấp vào 'Đăng ký'). Trong trường hợp có ghế trống, quý vị sẽ được thông báo và yêu cầu xác nhận tham dự trong vòng 24 giờ, nếu không ghế trống này sẽ được chuyển cho người tiếp theo trong danh sách chờ. Nếu không có bằng chứng về việc đã đăng ký, quý vị sẽ không được vào tham dự hội nghị. Mọi câu hỏi cần giải đáp, xin vui lòng liên hệ với chúng tôi tại event@gwec.net. Chân thành cảm ơn sự thấu hiểu của quý vị. Trân trọng, Nhóm GWEC
Sales Have Ended
Ticket sales have ended
We wish to advise you that registration has now closed. Should you wish to attend, however, you can join the waiting list (by clicking on 'Register'). If a seat becomes available, you will be notified and will have 24 hours to confirm your attendance, otherwise the available seat will be transferred to the next person on the waiting list. Turning up at the event without proof of registration will result in you not being able to enter the conference. For any questions, please contact us at events@gwec.net. We thank you for your understanding. Kind Regards The GWEC team Chúng tôi xin thông báo quá trình đăng ký đã kết thúc. Tuy nhiên, nếu muốn tham dự, quý vị có thể tham gia danh sách chờ (bằng cách nhấp vào 'Đăng ký'). Trong trường hợp có ghế trống, quý vị sẽ được thông báo và yêu cầu xác nhận tham dự trong vòng 24 giờ, nếu không ghế trống này sẽ được chuyển cho người tiếp theo trong danh sách chờ. Nếu không có bằng chứng về việc đã đăng ký, quý vị sẽ không được vào tham dự hội nghị. Mọi câu hỏi cần giải đáp, xin vui lòng liên hệ với chúng tôi tại event@gwec.net. Chân thành cảm ơn sự thấu hiểu của quý vị. Trân trọng, Nhóm GWEC
Description
Welcome to the registration page for the GWEC's Vietnam Wind Power 2019!
Vietnam Wind Power 2019 ... an event organised for the industry ... by the industry

Vietnam's establishment of the Feed-in-Tariff in September 2018 has created renewed momentum for the country's wind market and attracted a rush of development projects. There is already 228 MW of installed wind capacity in the country, and the Vietnamese government has set a target for wind development at 800 MW by 2020, 2,000 MW by 2025 and at 6,000 MW by 2030.

However, there are still a number of regulatory challenges to be addressed in order for project developers to be able create Power Purchase Agreements (PPAs) that are bankable from the point of view of international project finance, while the long term potential and system impact of renewables has yet to be fully recognised in the government's long term planning.

During the second edition of Vietnam Wind Power Conference to be held in Hanoi on 11-12 June 2019, experts from the international and national wind industry, financial institutions, high level representatives from government and other competent authorities from Vietnam, will set the scene for discussions on what needs to be achieved to expedite the further development of the wind sector. The event will include the workshop "Accelerating Wind Project Financing in Vietnam" , a half-day invitation-only Offshore Wind workshop and a full-day Vietnam Wind Power conference.

The event is organised by Global Wind Energy Council in partnership with GIZ, the Danish Embassy Hanoi and the Embassy of Ireland.
For full information on the programme, please consult the event website.
---
Chào mừng quý vị đến với trang đăng ký tham dự Hội nghị Điện gió Việt Nam năm 2019 của Hiệp hội Điện gió Toàn cầu (GWEC)!
Hội nghị Điện gió Việt Nam năm 2019 … một sự kiện được tổ chức cho ngành điện gió … bởi ngành điện gió
Việc thiết lập biểu giá FIT (Feed-in-Tariff) vào tháng 8 năm 2018 đã tạo ra động lực mới cho thị trường điện gió tại Việt Nam và thu hút hàng loạt dự án phát triển. Hiện tại tổng công suất điện gió được lắp đặt trên cả nước đã đạt 187 MW và chính phủ Việt Nam đặt mục tiêu phát triển điện gió ở mức 800 MW vào năm 2020, 2.000 MW vào năm 2025 và 6.000 MW vào năm 2030.
Tuy nhiên, hiện nay vẫn còn một số thách thách về mặt chính sách cần được giải quyết để các nhà phát triển dự án có thể tạo ra các hợp đồng mua bán điện (PPA) có khả năng mang lại lợi nhuận từ góc độ tài chính dự án quốc tế, trong khi đó tiềm năng dài hạn và tác động hệ thống của năng lượng tái tạo vẫn chưa được công nhận đầy đủ trong quy hoạch dài hạn.
Tại Hội nghị Điện gió Việt Nam lần thứ hai sẽ được tổ chức tại Hà Nội trong hai ngày 11 và 12 tháng 6 năm 2019, các chuyên gia trong ngành công nghiệp điện gió trong nước và quốc tế, đại diện các tổ chức tài chính và đại diện cấp cao của chính phủ và các cơ quan có thẩm quyền của Việt Nam, sẽ thảo luận về những nội dung cần phải đạt được để thúc đẩy sự phát triển hơn nữa của ngành điện gió. Sự kiện này sẽ bao gồm Hội thảo về Thúc đẩy huy động vốn cho dự án điện gió tại Việt Nam và Hội nghị Điện gió Việt Nam kéo dài một ngày.
Sự kiện này do Hiệp hội Điện gió Toàn cầu tổ chức với sự hợp tác của GIZ và Đại sứ quán Đan Mạch tại Hà Nội.
Để biết thêm thông tin chi tiết của chương trình, vui lòng tham khảo tại website của sự kiện.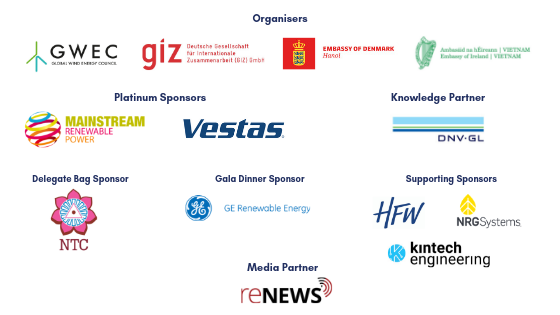 Ticket Prices / Giá vé

GWEC members will be eligible for 20% discount on all ticket types. Please consult the list of GWEC members to check if your company is a member. If so please contact GWEC (carolyn.gill@gwec.net) to for a 'member discount code'. Invoices will be generated by Eventbrite on behalf of Global Wind Energy Council asbl, and will be in Euros. All ticket prices are EXCLUDING any relevant taxes, and service fees generated by Eventbrite.
Các thành viên của GWEC sẽ được giảm giá 20% đối với tất cả các loại vé. Để biết doanh nghiệp của quý vị có phải là thành viên hay không, vui lòng tham khảo danh sách thành viên của GWEC. Eventbrite sẽ thay mặt cho Hiệp hội Điện gió Toàn cầu xuất hóa đơn, và sẽ được tính bằng đồng Euro. Tất cả giá vé đều KHÔNG BAO GỒM các loại thuế liên quan và phí dịch vụ áp dụng bởi Eventbrite.
Need a Hotel?
We've negotiated best rates at the Pan Pacific Hotel, with a limited number of rooms available. We recommend you book early to ensure availability. Only bookings made via the link below will be granted the negotiated rate. All hotel room costs need to be covered by the delegate, and paid directly to the hotel. Global Wind Energy Council is not liable for any hotel room costs, cancellation costs, nor room incidentals. Any hotel rooms cancelled after 14 days before arrival, or no-shows, will incur cancellation costs from the hotel, unless notifified to the hotel. See cancellation policy details in the hotel reservation form at the link below.