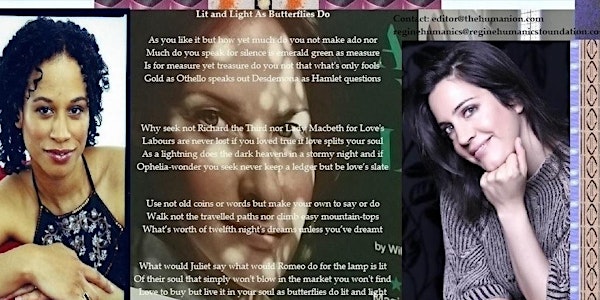 VII London Poetry Festival 2019: October 14-15
Description
VII London Poetry Festival 2019: October 14-15: Monday-Tuesday: 19:30-22:00
Poetry and Music Festival. The Festival started in 2005 and went on for five years; the fifth being held in 2009. Last year the Festival resumed its celebrations of the word and the poetry and music in it so much so that that it contains the perform for the human soul to give it room enough as to be able to flow like the Universe.
The Festival is organised and run by Regine Humanics Foundation Ltd, which is a Not for Profit Social Etnerprise and it is promoted and supported by The Humanion: UK Online Daily: A National International Universal News Learning and Society Newspaper. The Festival tickets are kept at a minimum, at £05.00 to support The Foundation with the costs. The Festival's time is between 19:30 and 22:00.
For all the poets, musicians, performers, musical groups and all those, who love poetry are invited to join us.
Poets and musicians wanting to take part, please, get in touch: editor@thehumanion.com
Volunteers: The Festival needs volunteers. Join us and let us celebrate the word.
For further on the Festival, please, visit http://thehumanion.com/LondonPoetryFestival.htm
The Humanion: www.thehumanion.com
Regine Humanics Foundation: www.reginehumanicsfoundaiton.com
Please, do not hesitate to contact us.
Thank you very much
Munayem Mayenin
Chief Executive Officer: Regine Humanics Foundation Ltd
Editor: The Humanion UK Online Daily
Festival Director: The London Poetry Festival
On Behalf of The Humanion and The London Poetry Festival Team
The Humanion and London Poetry Festival are parts of Regine Humanics Foundation Ltd: We are a Human Enterpsise: Which is registered in England and Wales as a Not for Profit Social Enterprise
Regine Humanics Foundation:Ltd: For a Better Human Conditon for All Humanity Across the Mother Earth