Event Information
Location
Whitespace
36 King's Stables Road
Edinburgh
EH1 2EU
United Kingdom
Description

'When was the last time you asked, "How are you Dad"'
Father's Network Scotland
It is increasingly apparent that women will not succeed in the workplace as they should unless there is a significant change to the perception of, and policy around, fatherhood.
Employers MUST decide how to respond if they are to maximise talent, enhance workforce wellbeing and, ultimately, secure their own bottom line.
JOIN US TO...
Explore social and workplace attitudes towards childcare and masculinity

Boost progression towards gender equality in the workplace

Obtain facts and figures that support

the business case for Diversity and Inclusion
Create easy to implement actions that help achieve equality targets

Connect with an empowered, passionate and motivated network
WHO IS THE CONFERENCE FOR?
- Business / team leaders
- HR Professionals
- Working Dads
WHAT WILL I GET?
Benefits for you as a leader:
A deeper understanding of the challenges faced by working parents

Skills to help support and develop the parents in your teams
Enhanced productivity and overall team performance
A constructive approach to challenging conversations
Recommendations for small changes that deliver huge results
Being an inspirational role model for others
Benefits for your organisation:
Retention and attraction of talent

Amazing employee engagement and loyalty
Demonstrable investment in building an inclusive, family friendly culture
Being seen as a leader, not a follower, in diversity, inclusion and equality

Accessible, scalable tools to help leaders across the organisation manage working parents

Ways to reduce recruitment costs and create a

more attractive bottom line
AGENDA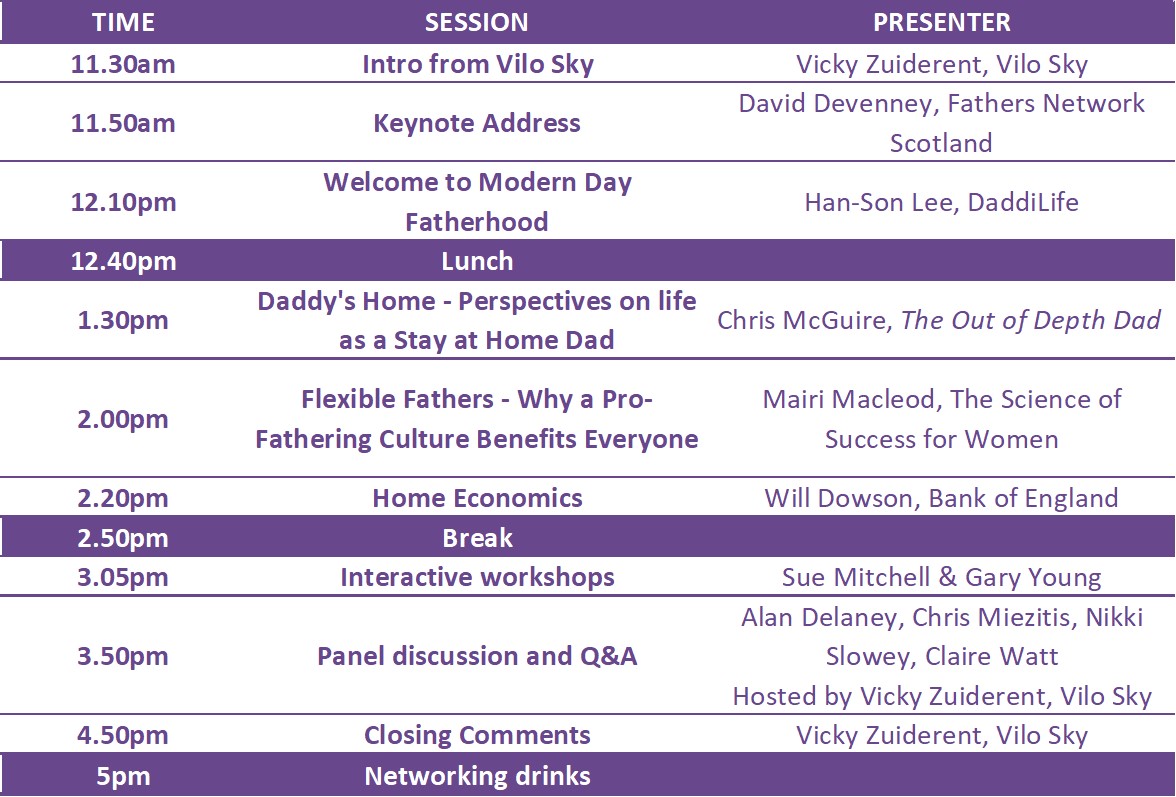 Our incredible agenda covers:
The pressing need for equality and why we do not already have it

Research and statistics on the millennial approach to work and parenthood

The compelling economic value of gender equality

'The Out of Depth Dad' – real life stories from a stay at home dad

Choice from 4 interactive workshops: Ideal working environments and how to make them happen

Keynote address

Panel discussion with industry experts
SPEAKERS
1. Vicky Zuiderent - Co-Founder & Director, Vilo Sky

2. Nikki Slowey - Co-Director, Family Friendly Working Scotland

3. Dave Devenney - Director, Fathers Network Scotland
4. Chris Miezitis - Programme Lead, Fathers Network Scotland
5. Chris McGuire - Author, The Out of Depth Dad
6. Han-Son Lee - Founder, Daddilife

7. Will Dowson - Agent for Scotland, Bank of England
8. Claire Watt - I&D Business Partner, HEINEKEN
9. Alan Deleney - Legal Director, Morton Fraser LLP
10. Dr. Sue Mitchell - Director, Aeona
11. Dr. Mairi Macleod - Speaker & Consultant, The Science of Success for Women
12. Gary Young - Founder, The Mindful Enterprise
Panel Host: Louise Johnston - Co-Founder, Vilo Sky

OTHER DETAILS
The event will run from 11am – 6pm (a networking drinks reception will follow the main conference between 5pm - 6pm).

Lunch and refreshments will be provided.

'Being a role model is the most powerful form of educating ... too often fathers neglect it because they get so caught up in making a living they forget to make a life.'
John Wooden

CONFERENCE BACKGROUND

Whilst not yet won, the battle to remove obstacles for working mothers is at least underway.
The same cannot be said for working dads.
Old assumptions on childcare being the sole preserve of women no longer apply – parenting has changed forever.
'If women want equality in the workplace, it has to be in a culture where men are not afraid, embarrassed and actively discouraged to do a lion's share of childcare'
Chris McGuire, The Out of Depth Dad

We need action. Growth in productivity is at an all-time low. The gap between business norms and employee expectations is widening. Harmful assumptions about masculinity contribute to men being three times more likely than women to take their own lives.
VILO SKY'S LEADERSHIP CONFERENCE – MANAGING TO BE DAD
The message is clear, addressing how 21st Century fathers are treated in the workplace is not an exercise in public relations or good corporate karma. Organisations MUST take the lead in changing culture-wide attitudes to fathers in a childcare role if true gender equality is to be achieved.
'Businesses who fail to offer better work/life balance for parents risk losing top talent to more enlightened competitors.'
The Millennial Dad at Work, DaddiLife

Date and time
Location
Whitespace
36 King's Stables Road
Edinburgh
EH1 2EU
United Kingdom
Refund policy