Description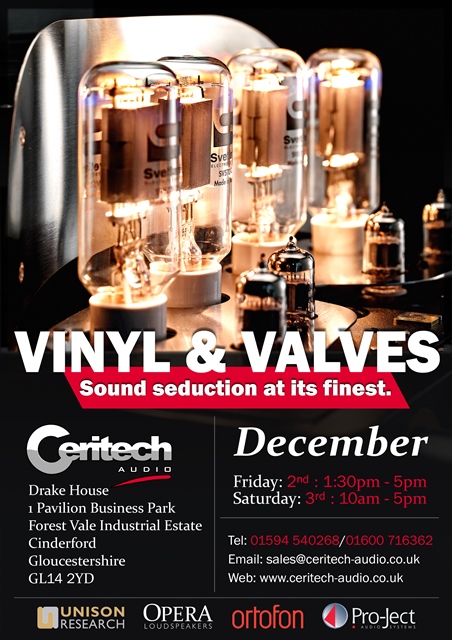 If you enjoy vinyl, you should join us at our "Vinyl & Valves" event on 2nd & 3rd December 2016. Bring your favourite piece of vinyl, and we will clean it for free on our Pro-ject Vinyl Cleaning Machine. You can then hear it in its' full glory on one of our stunning audio systems. We will be joined by Henley Designs, and we will be presenting a range of vinyl and valve based systems from Pro-ject and Unison Research. There will be a free vinyl care crib sheet available to all, and lots of promotions on vinyl, accessories and turntables. If you love music on the vinyl format, you can't afford to miss this free event. We look forward to welcoming you.
Organiser of Vinyl & Valves
Based in Cinderford, in the picturesque Forest of Dean, Gloucestershire, we are one of the UK's premier specialist hi-fi, audio, and home cinema retailers and installers. We have an extensive showroom and bespoke demonstration facilities, and are ideally placed to provide you with the ideal mix of contemporary products and solutions, combined with great personalised service.
Established since 2000, Ceritech Audio is a family business, an independent retailer that cares about the detail. So whether you're an individual with discerning taste, or an architect or interior designer, we can deliver the perfect solution for you.
Step into our showroom and enter a world of delightful sound and vision. We hand pick every product, ensuring our selections offer high quality performance to meet the budget and requirements you define. We look forward to your visit - come and treat your senses!