Description
VIP MASTERMIND SESSION (BREAKFAST with Jackson) 9:00am - 10:15am
This is a private round table mastermind session with Action Jackson. You get private consultation and a Q&A session on how to build a six figure business. You have to come prepared with a maximum of two questions each, the aim is to give you more access to Action Jackson during the day. These session will be held earlier than the main session, so come at 9.00am and be prepared. Breakfast will be served. The mastermind session will only be open to 15 people.
3 silly mistakes that cost me *£10,000 in business ( *hides face)

I am often asked how I started my business of 16 yrs and I am often surprised how much we've achieved as a team and the valuable lessons learnt along the way. These lesson will definitely save anybody wanting to start a business TIME, PAIN & MONEY. That's why I have dedicated some time on the Saturday 27th of May 2017 before ISPEAK2YOUTH SEMINAR for a PRIVATE VIP MASTERMIND SESSION - How to build and maintain a profitable six figure business.

I so EXCITED to be sharing the following :

-The mentor than boosted my profits.

-The book that turned my ideas into RAPID profits.

-3 silly mistakes that cost me *£10,000 *hides face

-The 1st thing you should do before you start your business

-The system I use to make regular income or my business

-How to make your social media at ATM machine for your business.

Come with 2 questions each that you really need to answer for your business.

ISPEAK2YOUTH SEMINAR (Main session) 10:30am Start
Do you have a powerful message that you know could make a significant difference to a young person?
Have you thought about sharing your message in schools, but you have no idea how to get started?
Are you looking to make a full time income where you get to inspire young people to achieve their goals?
If your answer is yes to any of these questions, then you must attend
ISPEAK2YOUTH

.
My name is Jackson,
ACTION Jackson
and I have spent almost 20 years delivering empowering sessions in schools, where I have been able to reach more than
1.6 Millions young people
, and make a significant difference in their lives.
It has been beautiful seeing so many of them develop into inspiring adults and achieve their goals, particularly in a world where young people have increasing pressures and they are not listened to.
HOWEVER... I GOT STUCK...
There were 3 core challenges I had to defeat when I started:

1. I did not know how to package my message in a way that would make schools and young people engage with me
2. I had no awareness of how to get into schools and have them pay me rather then doing free speaking gigs.
3. I did not have a process that allowed me to develop long term relationships with schools so that they could book me back time and time again.
BUT I TOOK ACTION!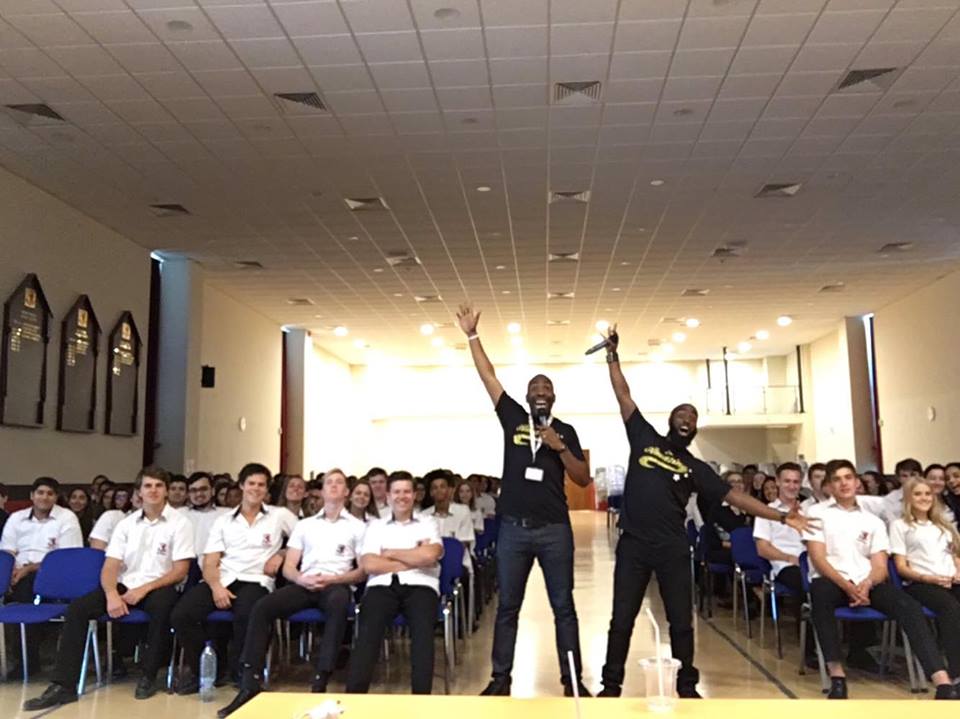 I remember listening to
Les Brown
in 1998.
"Find something you love doing and build your life around it"
I was already a basketball coach, and working with young people. After hearing that message, I knew that this was my calling!
Feeling motivated I approaches 800 schools. I remember eagerly waiting for their response, expecting to be fully booked, both in the short term. I was ready to make a difference!
Then reality hit me. Instead of the 400 responses I was expecting, I received 2.
I was so frustrated, because I had a great message and I was ready to make a difference. I then started to question whether my dream would become a reality.
However, as you can probably guess, my desire allowed me to find a way to make it happen.
After being asked thousands of times
"Jackson' how have you been able to build your dream life around serving young people?"
I have decided to share the process in my FREE Event ISPEAK2YOUTH.
By The End Of This FREE Event You Will Discover:
How to package your message:

You will understand how to show case your story to create impact with young people, leaving them inspired to take action.

Hack

The Mindset of young people:

so you can deliver what they want because you understand exactly what they need
The Secrets of the youth coaching market place:

and how you can start to generate business quickly and efficiently

3 Simple ways to leverage media to gain Exposure:

demonstrate your expertise and get fully booked
About "Action" Jackson Ogunyemi
Action Jackson
is now a motivational speaker and a life coach who has worked with a vast range of people, from students, management teams of major corporations to individuals from different walks of life.
Action Jackson has taken himself to a place where he is known as an expert in motivation and personal development, called upon by companies like
Morgan Stanley
, the
NHS, Local Education Authorities
, schools and colleges, he has assisted thousands of businesses and people to achieve their goals and live their Dreams, his seminars are described as "mind blowing", "entertaining" and "life changing".
Action Jackson has worked with people from, Italy , Spain, Switzerland, Germany, United states, and Africa, Dubai transforming lives with LOVE TRUTH and PASSION. From workshop with 7 attendees to a nationwide audience of 200,000+ Action Jackson is not stopping until he makes your dreams a reality.
Date and Time
Location
The Wesley Euston Hotel
81-103 Euston St, Kings Cross
London
NW1 2EZ
United Kingdom