Location
Casino 36
56-58 Temple Street
Wolverhampton
WV2 4AQ
United Kingdom
Join in the celebrations as we countdown to 2023 in style. Join the Group 'VIP STUSH' today!
About this event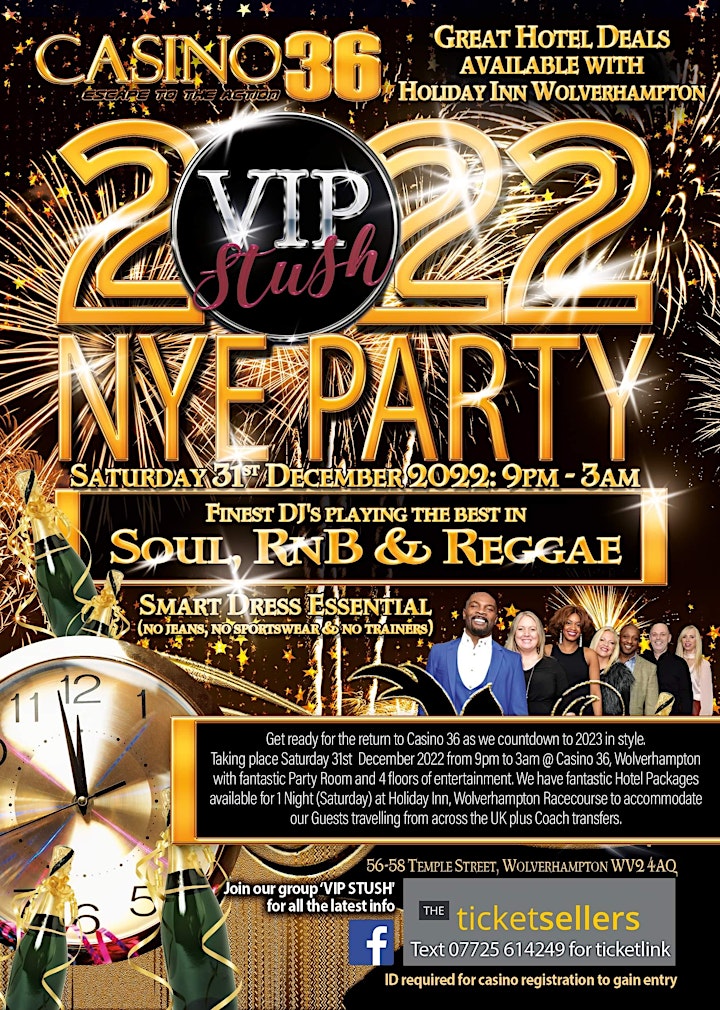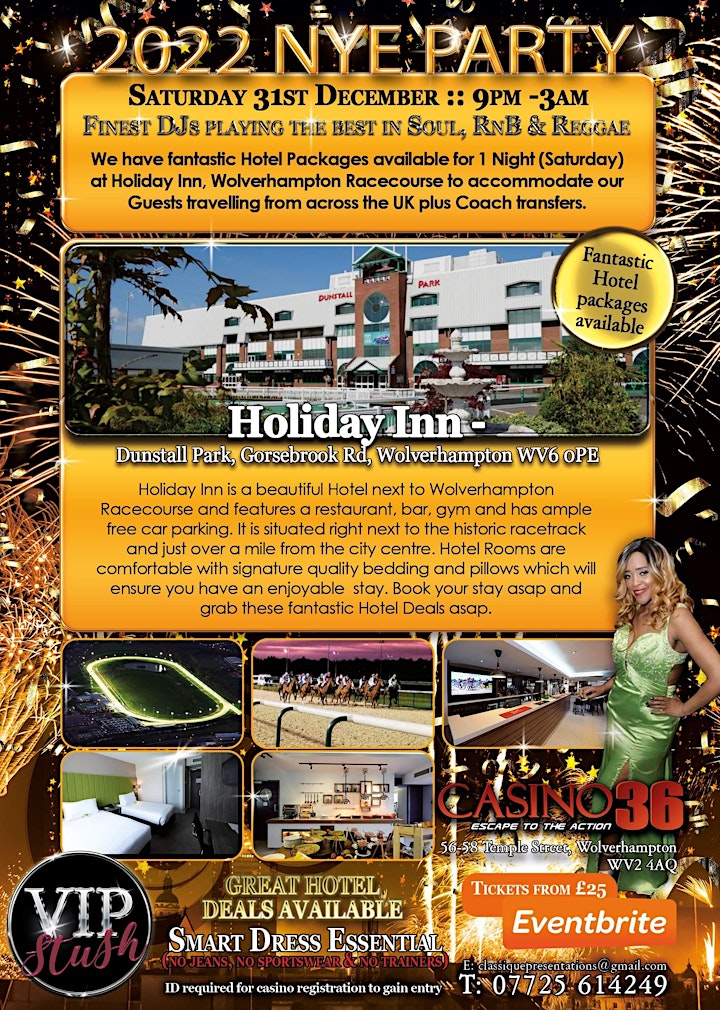 Get ready for the return to Casino 36 as we countdown to 2023 in style.
Taking place Saturday 31st December 2022 from 9pm to 3am @ Casino 36, Wolverhampton with fantastic Party Room and 4 floors of entertainment. We have fantastic Hotel Packages available for 1 Night (Saturday) at Holiday Inn, Wolverhampton Racecourse to accommodate our Guests travelling from across the UK plus Coach transfers.
Holiday Inn is a beautiful Hotel next to Wolverhampton Racecourse and features a restaurant, bar, gym and has ample free car parking so grab these fantastic Hotel Deals asap. It is situated right next to the historic racetrack and just over a mile from the city centre.
You will receive a warm welcome as you step into vibrant open lobby where you can grab a tasty bite from café menu or watch TV in the Media Lounge. Alternatively, plug in your laptop and catch up on work at the E-Bar with free Wi-Fi or simply kick back with a Starbucks latte. Hotel Rooms are comfortable with signature quality bedding and pillows which will ensure you have an enjoyable stay.
So book asap as everything about this Event is VIP Class 💯👌
PARTY ROOM ⬇️
Enjoy our stunning VIP Champagne Lounge downstairs with the finest DJ's playing the very best in Soul, RnB & Reggae Music to keep you dancing until 3am. You can order drinks from the bar and also food from the restaurant.
'VIP STUSH New Year's Eve Party' gives you something to look forward to as you most certainly do deserve a great night out 💃🏼🕺Guests will be able to socialise, dine, drink and dance as this will surely be quite a celebration to remember ! So ensure you do not miss out and attend the big New Year's Eve Party. See below itinerary:-
*******************************************
Saturday 31st December ⬇️
2pm - Check into Holiday Inn, Wolverhampton Racecourse
9pm - Coach Pick Up Coach picks up Guests from Holiday Inn, Wolverhampton Racecourse to transport and drop off at Casino 36 Wolverhampton
9pm - Party Night Enjoy the finest DJ's playing the very best in Soul ,RnB Music & Reggae🎧 🎶
3.15am (Sunday 1st January 2023) Coach departs Casino 36 Wolverhampton to transport Guests and drop off back to the Holiday Inn, Wolverhampton Racecourse
********************************************
Sunday 1st January 2023 ⬇️
7am to 11am - Hot Buffet Breakfast
11.30am - Check out
************************************************
Check out the flyers and get booking as it's a special New Year's Eve Celebration. Secure your Hotel Package with a Deposit Payment of £50 for 1 Night. Our Deposit Payment Scheme is available for a limited time only so GET BOOKING NOW‼️
Hope to see you soon🙂