Virgin StartUp Masterclass: How to build a knockout brand

Tuesday, 7 January 2020 from 18:30 to 21:00 (GMT)
Event Details
Virgin StartUp Masterclass – How to build a knockout brand
About this class 
At Virgin we've built business after business off the back of our irresistible brand and we want to share our expertise with entrepreneurs and start-ups to help them create the Virgin's of the future. 
Having a great business idea alone is no longer enough. Customers now want to know the story behind the business, what it stands for and why they should care! It's why so many of the best new businesses are putting brand front and center of what they do! 
As a startup, it's really important to consider what your brand stands for, what your values are and what you want to present to customers… getting this right helps shape everything that you do going forward!
You don't need a multi-million pound budget to start building your brand either.  This master class will show you how you can start to develop a brand that's attractive to customers on little or no budget.
Who is this for?
You have a great business idea and want to develop a coherent brand before telling the world about it.
Or maybe, you're creating a website, landing page or social media presence for your business and want to know what style will work.





You could be working on your business plan and want to know exactly what your business stands for and who it will appeal to. 
Or perhaps you already have a product and want to create a brand brief that will help you design packaging for it. 





You could already be running a business but want to get serious about your brand.
Masterclass – Course Outline
Part one – Brand Basics 
- What is a brand?
- Why is a brand important?
- What is essential to a brand?
- What is your brand proposition?
 
Part two – Building Your Brand

- Brand checklist
- Creatively designing your brand strategy
- Building your brand
Part three – Start with 'Why'
- 'Why' do you do what you do?
- 'How' do you do what you do?
- 'What' do you do?
Part four – Your Brand Proposition
- What is your brands unique selling point?
- How you can pitch your brand in 10 words? 
- What is your defining brand paragraph?
Takeaway
You will leave knowing not only the key aspects of building a great brand but with tons of examples of other businesses that have done it successfully.
You will also have started to develop your own coherent brand proposition - what your brand stands and how you can use this to game-changing effect.

Preparation
This is an entry-level class, but you should ideally come with a project or a business idea you're ready to work on so that you can build your brand proposition as you go through the masterclass.
You might want to bring a laptop as well, so you can work along as you go through the course.
About the instructor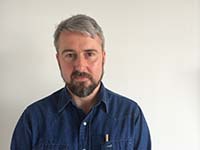 This course will be delivered by Scott Leonard. Scott is the Creative Director at The Champion Agency, which is responsible for developing the latest Virgin StartUp brand. Here's his bio…
Big Issue art editor (SW) at 21. Mother's first creative hiring – co-created Creative Circle campaign of the year and Advertising Grand Prix of the Year. Headhunted to Amsterdam and co-created the world's first branded, global multi-platform game. Moved to Wieden+Kennedy Amsterdam to run the Nike creative team across the Mediterranean. Back to London to become the brand guardian for Wanadoo, then creative consultant at Momentum Films. Wrote the poster Make Tea Not War that is now part of the Victoria & Albert museum collection. Lead creative St Luke's, helped set up Albion London and then Creative Director at DNA. Joined Ogilvy & Mather as Associate Creative Partner, developed two documentaries at More 4 and created the first personalized, digital billboard in the UK. Global Creative Director for Berghaus and Brand Director for Pfizer UK. Resigned to become Brand Director at Streetcar; successfully transitioning it through to Zipcar. Mentor on the Google digital experts programme. Founded The Champion Agency in May 2012 – the UK's only creative agency and social enterprise championing young creative talent. Guest speaker at King's College London, On Purpose, Social Enterprise UK and School for Social Entrepreneurs. 
Terms and Conditions:
i.      By buying a ticket, you consent to being filmed, recorded and photographed at the event as a member of the audience and to footage and photographs of you being used by Virgin StartUp in any medium for the promotion and marketing of Virgin StartUp and the Virgin group.
ii.      Views expressed by speakers at the event may not be the views of Virgin StartUp. Event materials are provided on an "as is" basis and Virgin StartUp makes no warranty regarding the accuracy or completeness of those materials.
iii.      Speakers and attendees are subject to change and we do not guarantee that any specific speakers or participants will appear at the event. However, we will always try to find a suitable replacement if one of our key speakers or participants is unable to attend.
iv.      You attend the event at your own risk. You are responsible for safeguarding your property when attending the event. Virgin StartUp will have no liability for property lost, stolen or damaged at the event.
v.      You must be aged 18 or over to attend the event and may be asked to show photographic identification to prove your age.
vi.      Tickets can only be transferred or exchanged once purchased, as long as the request is made 7 days before the event is due to take place.
 vi.      Whilst we cannot guarantee that our events will be at venues offering disabled access, please do let us know as far as possible in advance, of any requirements you may have in relation to access or any other disability requirements and we will do our best to accommodate your needs.
When & Where

Virgin StartUp
The Battleship Building
179 Harrow Road
W2 6NB London
United Kingdom


Tuesday, 7 January 2020 from 18:30 to 21:00 (GMT)
Add to my calendar
Organiser
Virgin StartUp is the not-for-profit Virgin company for entrepreneurs. We provide advice, funding and mentoring to entrepreneurs across the UK looking to start or scale their business.