Join us at our next MeetUp event as we uncover what it takes to build an irresistible brand
About this event
**TO ATTEND THE EVENT, CLICK HERE TO SIGN UP FOR A FREE TICKET**
Our next MeetUp, delivered in partnership with Virgin Money, is for founders who want to build businesses which have impact.
For 50 years, Virgin has built business after business off the back of an irresistible brand. Join us at our next MeetUp event as we uncover what it takes to build a brand that people love. To build purposeful brands which take people on a journey, foster community and embody spirit and soul.  If you're committed to building a knockout brand for your business, then join us on May 19th as we hear from a panel of amazing speakers who are doing just that!
Maybe you're at the start of your founder journey and are seeking some inspiration to get the creative juices flowing. Or you know what you want, but aren't sure how to get there. It could be that you're thinking about rebranding your business, but you don't know where to begin.
Rest assured, you've come to the right place. 
Who's on the panel?
Celia Pool is the co-founder of period brand DAME. A B Corp certified startup, DAME are on a mission to become the world's first climate positive period product, and are taking their community of followers and customers with them with their laser sharp, purpose-driven communications – check out their Instagram account to see the brand bought to life.
Nathan Perry is the co-founder of Denzels– a Virgin StartUp-funded businesses who recently announced investment from Holly Branson! Denzels produce super-healthy dog treats from natural ingredients and have built a cult following of dogs and their owners alike.
Tom Tapper is the CEO and co-founder of Nice and Serious – a creative agency working exclusively on projects which amplify social and environmental causes. From international brands like IKEA, Unilever, Innocent and Ben & Jerrys, to pioneering charities like Greenpeace, WWF, Rainforest Alliance and Parkrun, Tom knows first-hand how to build brand-led campaigns which cut through.
Here's how it will run: 
6:00PM–6:05PM · Introduction | Ben Keene and Andy Fishburn, Managing Director of Virgin StartUp
6:05PM–7:00PM · Panel Discussion | How to build an irresistible brand
7:00PM–7:55PM · Breakout Sessions x 3 ,(55 mins long):
1) Ask Virgin StartUp anything - Ask us anything about Virgin StartUp
2) Post Panel Hangout - Debrief on the panel discussion with other guests & friends
3) Startup Mentor Q&A with a Virgin StartUp Mentor
7:55PM–8:00PM · Close | Andy Fishburn
What is a MeetUp?
Our MeetUps are designed for digital, and free to attend. A time for our community to come together, learn from experts, founders and each other, to find inspiration and guidance, and to come away with practical solutions to act on.
Alongside the panel discussion, there'll be a chance for audience questions before we break out into post-panel sessions, where you can take time to reflect on the interview, explore the themes of the discussion, ask questions of each other and learn more about Virgin StartUp.
We will also have a StartUp Mentoring session taking place with one of Virgin StartUp's Mentors.
To attend, you need to sign up for a free account with Hopin and register using the link below or by clicking here.
**TO ATTEND THE EVENT, CLICK HERE TO SIGN UP FOR A FREE TICKET**
Terms & Conditions: 
i. Speakers and attendees are subject to change and we do not guarantee that any specific speakers or participants will appear at the event. However, we will always try to find a suitable replacement if one of our key speakers or participants is unable to attend.
ii. Views expressed by speakers at the event may not be the views of Virgin StartUp. Information and materials shared are provided on an "as is" basis and Virgin StartUp makes no warranty regarding the accuracy or completeness of these.
iii. By ordering a ticket and attending the online event, you consent to being recorded and photographed – either by film or screen casting - as an attendee and participant and to any subsequent footage and photographs of the event being used by Virgin StartUp in any medium for the promotion and marketing of Virgin StartUp and the Virgin group.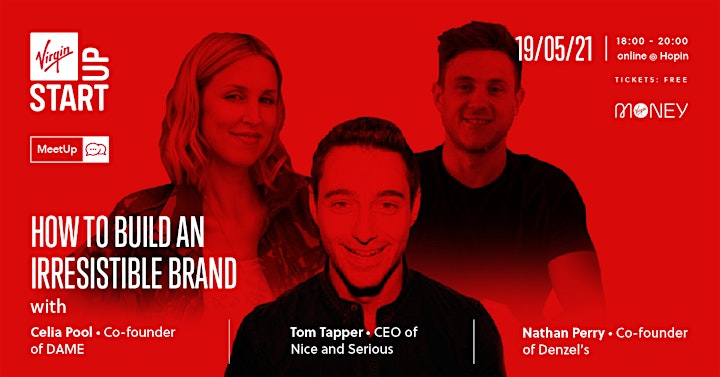 Organiser of Virgin StartUp MeetUp | How to build an irresistible brand